Whether you're dealing with rapid growths, planned inventories or seasonal peaks, you need to find a way to maximize your warehouse storage space. Since upgrading your warehouse isn't always an option, finding cost effective solutions is critical. If you're in the shadows about maximizing warehouse space and efficiency, here are three things that can greatly help you.
Plan
One of the first things you have to do is to create a plan. To start, you need to have a clear idea of how much space you are going to work with. Measuring out the available space will help you utilize it more efficiently, particularly when it comes to costs and operational safety.
Aside from measurements, you should also know the most favorable storage conditions for your finished and raw goods. Take note of the products you can store next to each other without the risk of cross contamination. Make sure that their new storage spaces have proper odor and temperature control.
Any Layout For Your Needs
Sections Out Floor Space Into Zones
Anticipate
Maximizing your warehouse storage space isn't an easy job and if you're not prepared to face the problems that typically go with the process, it becomes even more difficult.
One of the most common issues you have to anticipate is the height and floor space of your warehouse. If you are working with a tight space, you become at risk of losing even more floor space particularly if you'll be working with masonry and wall studs. Aside from that they tend to occupy large areas, they also pose structural problems, especially at a high level.
You also need to anticipate the mess they can leave and the number of hours your business needs to be down due to construction. Cost and flexibility are also major factors you have to consider.
Make Sure Construction Is Quick
Construct
Instead of relying on wall studs and masonry, you can try Flexiwall in maximizing your warehouse storage space. This material offers cost effective solutions to make the process less of a headache.
One good reason is that it's flexible. You can set it up at any height, length or design without the structural problems that come with your regular construction materials. It also takes less space and can even be used in between your existing racks. You can redesign and move them around in case you need to make further changes in your warehouse.
Flexiwall is made from reinforced fire-rated PVC combined with glass cloth panels. It can be attached or suspended to your warehouse's existing steel work. Because of this, you'll get faster installation without the need to construct additional suspended ceilings. It also requires less planning. There will be less mess and downtime, too.
Have Quick Acess to All Zones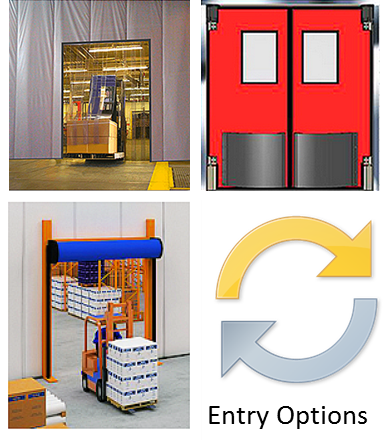 Entry Options
If you are using larger static position curtain walls in your warehouse that will not roll side to side then using entry points is ideal. These openings allow people and product into the curtained area quickly and with little effort. The most common entry and exits are strip curtains, swinging doors or powered roll up doors. Strip doors being the most common and economical. Each version features a freestanding frame that anchors into the floor and seals to the curtain wall.
Curtain Track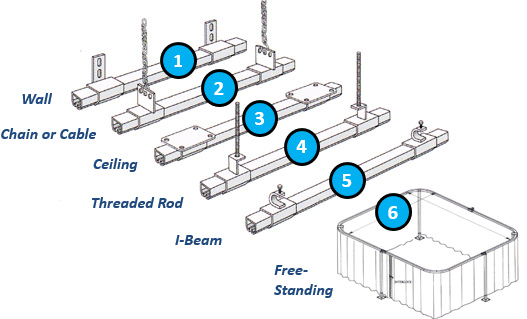 16 gauge galvanized steel tracks
Nylon roller hooks for easy opening
6 mounting styles to connect to various structures
Free standing hardware for up to 20' in height
Static Mount Hardware

Aluminum Angle - Use with self tapping Tek screws to pinch curtain to angle.
Grommets Only - You can then use many DIY methods to hang the curtains.
Beam Clamps - Clamps onto the flange of beams, joists and purlins.