Used For Welding and Ovens
Exhaust Hood Welding Strips
Exhaust hoods in welding areas help keep harmful fumes from  welding operations contained and funneled to the top and away from workers.
Oven Exhaust Hood Curtains
Most commonly used in restaurants for pizza ovens and but also in a variety of other baking ovens. The strips direct the heat away from the workers.
Strips Come In Different Colors and Widths
Weld Strip Colors
Welding strip colors vary based on customer preference. The amount of UV light blocked varies slightly from one color to another but all help reduce harmful UV rays. The darker the shade, the more UV light that it will block. Please remember, welding pvc strip curtains are not a substitute for welding helmets. They are made for indirect viewing of welding operations.
Tinted Bronze Weld
Tinted Aztec Red Weld
Tinted Blue Weld
Tinted Orange Weld
Tinted Bronze
Opaque Black
Opaque Blue
Opaque Green
PVC Strip Widths
Strips come in several different widths and thicknesses depending on the height of your opening and the type of traffic that will pass through it. The strip thickness is an important part of picking a strip for your PVC strip door so that entry and exit is quick and easy. The two most common sizes are below.
8" width x .080" thick (Most Common)
12" width x .120" thick
Static Mount
Header Mount
Wall Mount (

Most Common

)
Universal Mount
Threaded Rod Mount (Just a Feature of Universal Mount)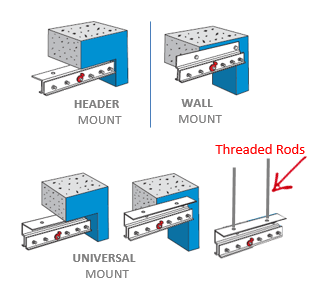 Free-Standing Mount
Supported from the floor up
Used in open floors when you can't support from the exhaust hood.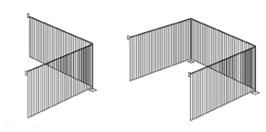 Rolling Hardware
Allow the strips to roll out of the way
Ideal for complete access when strips are not needed
Note the strips roll like a barn door and do not fold up
Tube Mount
Fits up to 2" diameter pipe
Each pipe clamp is 4" wide and holds 2 strips (overlapped)