OVERVIEW
Welding booth strip curtains are used for welding booths where welders are lined up in individual booths or welding cells. These welding strips are often used at welding trade schools or for industrial manufacturing, where multiple welders are working in close proximity.  They contain welding sparks, grinding sparks, blasting or any other harmful by products from welding.
Industrial And Educational Uses
Colleges And Trade Schools
Welding booth PVC strips are used in high schools, colleges, and trade schools all over the country. By using the AKON welding PVC strip curtains, these training facilities can provide a safe learning and work environment. Regardless of your needs, we can furnish and provide the correct weld strips to keep your students or staff safe.
Industrial and Manufacturing
Welding is a growing industry and AKON is the leader in providing safety weld strip curtains for major manufacturing facilities. Unlike trade-schools, manufacturing facilities have a demand for strip curtains of all shapes, sizes, and configurations to meet your demanding production needs.
Hanging Welding Curtains
In addition to welding booth strip curtains, you can also utilize hanging welding curtains. These are used when complete access below the strips is required. These strips hang from above using threaded rod drops every 4' into the universal strip curtain hardware. This setup provides a low cost solution and complete access.
Tinted Red 

Bulk Roll
Darkness: 2 out 4
Cost: $$
Tinted Bronze

Bulk Roll
Darkness: 3 out 4
Cost: $$
Tinted Orange 

Bulk Roll
Darkness: 2 out 4
Cost: $$$
Tinted Blue 

Bulk Roll
Darkness: 2 out 4
Cost: $$
Tinted Green 

Bulk Roll
Darkness: 4 out 4
Cost: $$
Static Mount
Header Mount
Wall Mount
Universal Mount
Threaded Rod Mount (Just a Feature of Universal Mount)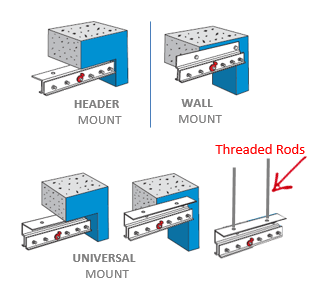 Free-Standing Mount
Supported from the floor up
Used in open floors when you can support from above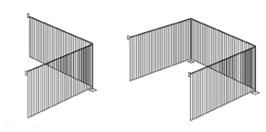 Rolling Hardware
Allow the strips to roll out of the way
Ideal for complete access when strips are not needed
Note the strips roll like a barn door and do not fold up
Tube Mount
Fits up to 2" diameter pipe 
Each pipe clamp is 4" wide and holds 2 strips (overlapped)