OVERVIEW
USDA Strip Curtain Curtains and Doors are made up of compounds that meet federal requirements for incidental contact with meat, poultry and dairy products. They meet USDA, NSF, CFIA-ACIA, and FDA requirements.
Designed For Speed and Flexibility
Quick Access Without Opening
USDA, FDA and CFIA food processing strip curtains and doors allow quick access between food packing lines or doorways. Unlike the AKON solid curtain USDA curtains which roll side to side on a curtain track, the strip curtains you can walk through. This allows for quick access for people and products.
Update
The USDA passed the onus of compound compliance/approval to be under FDA provisions, specifically Title 21 CFR (Code of Federal Regulations). Since the USDA does not approve equipment or materials, we have material that meets CFR 21, which ensures that the compounds used are FDA certified raw materials. The AKON curtains are Title 21 CFR compliant and carry a UFL-94 Fire Cert.
Mounting Options
Fixed Mounts - This hardware is the most common and can mount to existing structure or be supported from above with threaded rods.
Free-Standing - If it is not possible to attach to existing structure or hang the strips from above and you can use floor mounted hardware. 14' is the maximum allowed height for the freestanding style.
Sliding Tracks - If you have enough space, you can use the rolling hardware which will allow the strips to be moved completely out of the way. Keep in mind, if you have a 10 foot strip curtain, you'll need 20 feet of track to move it completely out of the way. You can also use a radius corner to make an L-shape to store the food grade strip curtain off to the side.
USDA Strip Curtain Wall Uses
PVC Rated For USDA and CFIA Use
UV stabilized
Meets California Fire Marshall codes
Strips are overlapped to prevent cross spray
Quick to hang pre-punched strips
Static mount strips or rolling strips for clearance
Easy to replace damaged USDA Strips
USDA temp strip curtains are rated for -20 F
USDA low temp strip curtains are rated for -40 F
Common Applications
Walk-in coolers
Refrigeration divider walls
Stockroom storage strip curtain walls
Forklift traffic divider
Food processing facility divider
Sanitation strip curtain divider for wash down
Clean room strip curtain partitions
Static Mount
Header Mount
Wall Mount
Universal Mount
Threaded Rod Mount (Just a Feature of Universal Mount)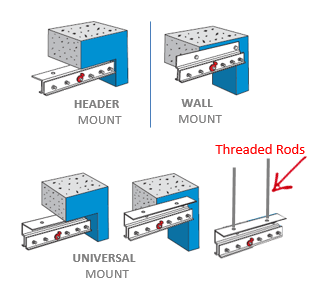 Free-Standing Mount
Supported from the floor up
Used in open floors when you can support from above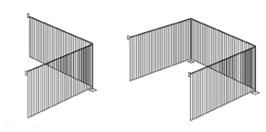 Rolling Hardware
Allow the strips to roll out of the way
Ideal for complete access when strips are not needed
Note the strips roll like a barn door and do not fold up
Stand Off Hardware
Commonly used for roll up drums near dock doors
Hardware is extendable outwards to accommodate door drum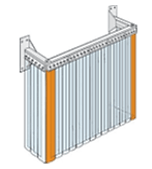 Tube Mount
Fits up to 2" diameter pipe
Each pipe clamp is 4" wide and holds 2 strips (overlapped)