Are you looking to divide up the space in your garage? Then you can use our line of garage divider curtains which are quick to install and inexpensive. Constructed from heavy-duty vinyl, these garage curtains will divide up your garage space or allow you to partition off your work area. They can also come supplied with a clear vinyl see-through panel which will allow you to see right through them.
Benefits
Protect a vehicle from potential damage
Protection from flying debris
Divide up work space for different tasks
Create a neat and organized appearance
Create an area of privacy in the garage
Form walk ways from doors
Save on heating and cooling with insulated version
Commonly Know As
garage division curtain
garage organizer curtain
garage screen curtain
garage privacy curtain
garage splitter curtain
Insulated Garage Divider Curtains
You may also choose to have an insulated garage divider curtain. These curtains have insulated padding that will retain hot air or cold air. This will save on energy costs and still will allow full access from one side to the other.
These insulated garage partition curtains typically run all the way from the floor to the ceiling and Velcro attachment to the adjacent fixed walls. This complete seal ensures that the curtains keep in as much hot or cold air as possible. There are also several materials you can choose from based on your preference for color, material thickness, and functionality.
Different Track Options
You can choose from several different curtain track styles based on your garage layout. Our line of rolling track allows your curtain to roll from side-to-side with ease. Or if your budget is tight we can supply a steel cable and hang your garage curtain from that.
Hardware
Curtains
Colors
Accesories
Benifits
Layouts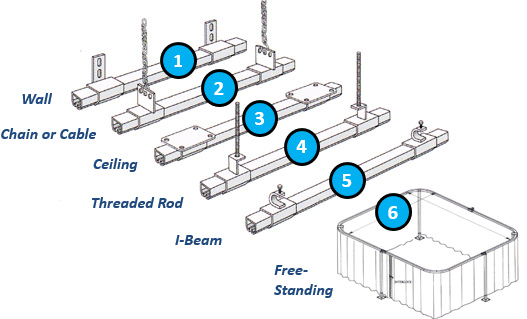 Rolling Hardware
16 gauge galvanized steel tracks
Nylon roller hooks for easy opening
6 mounting styles to connect to various structures
Free standing hardware for up to 20' in height
Static Hardware
Aluminum angle - Use with self tapping Tek screws
I-beam clamps - Clamps onto the flange of beams, joists and purlings