OVERVIEW
Industrial canvas welding curtains are made for heavy duty welding applications, unlike vinyl welding curtains that are designed only for light-duty to medium duty welding. The canvas weld curtains are constructed of flame retardant fiberglass and has a temperature range of 350°F to 3000°F, depending on the type of material. These curtains are an ideal solution for keeping your workers safe and also for blocking heat sources. Made for close proximity where heavy welding sparks will hit the curtains.
12oz – Canvas Duck – Olive Green & Blue
Industrial Grade Canvas
Blocks most UV radiation
Weight: 12 oz./sq. yd
Thickness: 0.025″
Temp Rating: 350°F
Color: Olive green
Meets CPAI-84 section 6, CFM
Certified Flame Retardant
Grommeted on top side 12″ apart
Flame, water, and mildew resistant
Also available in multiple standard sizes, custom, and rolls
Water repellent and mildew resistant (Pyrosnuff treatment)
Great resistance to adverse environments
Easy Install
Welding curtain walls come with grommets at the top, making hanging the welding curtains quick and easy with or without the curtain track.
 Welding Certified
AKON welding vinyl walls are certified for welding operations with fire retardant ratings and UV blocking properties.
Protects Welders
Hanging welding curtain walls are ideal for protecting welders from arc flash and sparks that present a safety hazard.
Control Noise
The tinted PVC welding curtains protect your eyes from welding UV rays and also reduce noise due to the thick PVC they are made from.
Portable Canvas Welding Screens
If you need to move your canvas welding curtains around, then you can use canvas welding screens. The shields are made from the same industrial canvas welding curtain material as the side-to-side curtains.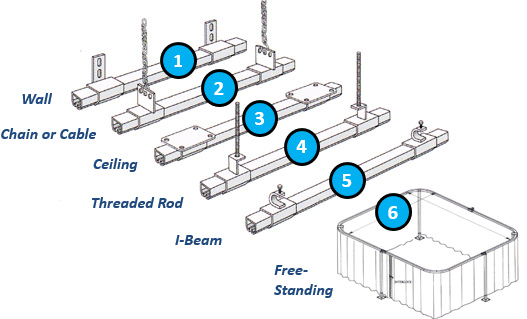 Rolling Hardware
16 gauge galvanized steel tracks
Nylon roller hooks for easy opening
6 mounting styles to connect to various structures
Free standing hardware for up to 20' in height

Static Mount Hardware
Aluminum Angle - Use with self tapping Tek screws to pinch curtain to angle.
Grommets Only - You can then use many DIY methods to hang the curtains.
Beam Clamps - Clamps onto the flange of beams, joists and purlins.