OVERVIEW
Welding curtain walls generally cover larger areas where it is not feasible to use portable welding screens. These curtains are fabricated from welding Vinyl which will block the harmful UV rays from welding in addition to being fully fire retardant. The curtain walls come in any size and shape as they are made to order. They can be very small or up to hundreds of feet in length.
Designed For Speed and Flexibility
Welding Curtain Wall Benefits
Industrial welding curtain walls are designed to resist flying sparks from arc welding and grinding operations while also providing a line of sight to both sides of the curtain.
Create a safe work area
Protection shields others from bright arcs and sparks
A quick solution for dividing work areas
Improves efficiency by defining work areas
Can be taken down and reused in other locations
Welding Curtains for Safety
AKON premium welding curtains allow you to meet required safety regulations. This line of sight is tinted with a UV blocking film to protect your eyes from indirect viewing.
Flame resistance as required by (NFPA-701, CFM, ATSM E-84 class I)
5 year warranty on all Manufacturing defects
All designs are OSHA approved welding curtains
Welding and spark resistance
Made in the USA

Easy Install
Welding curtain walls come with grommets at the top making hanging the welding curtains quick and easy with or without the curtain track.
 Welding Certified
AKON welding vinyl walls are certified for welding operations with fire retardant ratings and UV blocking properties.
Protects Welders
Hanging welding curtain walls are ideal for protecting welders from dangerous arc flash and sparks that present a safety hazard.
Control Noise
The tinted PVC welding curtains protect your eyes from welding UV rays and also reduce noise due to the thick PVC they are made from.
Choose From Many Configurations
Hanging Welding Curtains
Hanging welding curtains can be used to isolate individual or multiple welding booths or they can be used as a single dividing welding wall. AKON can take your design and make the hanging welding curtains into almost any configuration depending on your needs. When hanging from above you have the advantage of a completely open space when the welding curtains are retracted. They also have the ability to roll around the corner utilizing a radius corners.
Material Options
There are three different material options for the vinyl welding curtain walls. These include an opaque non-see through material and a tinted material which allows limited line of sight through the curtains. The tinted material is a 14mil welding grade vinyl and the opaque material is an 18oz welding grade vinyl. You can also choose canvas welding curtains better known as hot works welding curtains for close proximity heavy welding.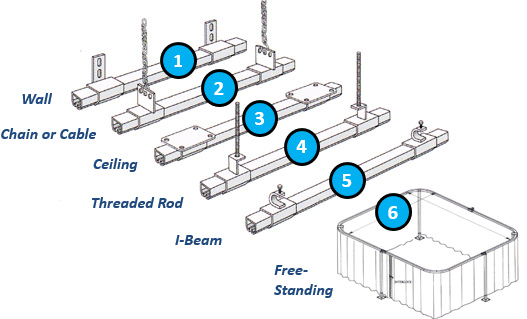 Rolling Hardware
16 gauge galvanized steel tracks
Nylon roller hooks for easy opening
6 mounting styles to connect to various structures
Free standing hardware for up to 20' in height

Static Mount Hardware
Aluminum Angle - Use with self tapping Tek screws to pinch curtain to angle.
Grommets Only - You can then use many DIY methods to hang the curtains.
Beam Clamps - Clamps onto the flange of beams, joists and purlins.