OVERVIEW
Industrial Insulated Curtains come in many sizes and custom shapes. Depending on your needs, these insulated industrial partitions curtains can be custom designed to match the exact width and height that you require. They are a great alternative to permanent walls as they are quicker to install, move, and take down.
Insulated Curtain Enclosures
Conserve Energy With Flexibility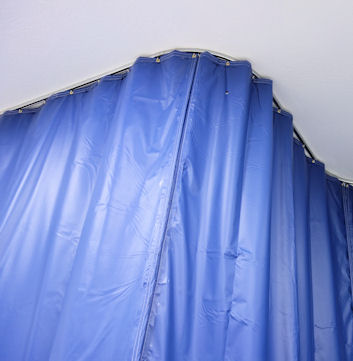 Benefits
Huge energy savings
Keep your shop or factory warm or cool
Easy to move and customize
Prevents condensation
Doubles as noise control
Less expensive than rigid walls
Quick to install and take down and store
Applications
Cold storage freezer curtains
Walk-in freezers and coolers
Industrial cold room seperation
Dividing rooms into temperature zones
Insulated shop curtains
Temperature Zoning
Create temperature zones for storing products at different temperatures or to create a more comfortable work environment.
Humidity Control
Effectively control humidity levels within your facility for food products or for better manufacturing processes.
Separate Tenants
Zone or lease out your warehouse to tenants who need to be kept separated due to their different operations.
Control Noise
Insulated curtains are also dual purpose noise control curtains due to the thick batting they are made from.
Folds Up and Stores Nicely
Operation
To help the insulated curtain wall fold up neatly, the curtains are guided via the curtain track which comes in a variety of different mounting styles. The industrial insulated curtains can be mounted to your ceiling, wall face, or can even be suspended from above using threaded rod or chain. Full height vertical Velcro is also optional for attachment to side walls. Also optional are magnet or Velcro splits for quick access.
Premium Accordion Folding Insulated Curtain
If you need a premium look with super clean edges then you can choose our accordion insulated curtain. This model has sealed pockets to house the insulating batting which allows it to fold up in a more controlled manner. The appearance of this thermal industrial curtain is also more aesthetically appealing due to the way that it is produced.
Temperature Control R-Values
You can choose from 3 different R-Values for our insulated divider curtains. R-Value is the capacity of an insulating material to resist heat flow. The higher the R-value, the greater the insulating power. As a general rule the longer you plan to have your thermal curtain installed the higher R-Value you should choose. This will give you the best ROI on your investment. If however your need is short term then it is best to use the less expensive R-Values as long term energy savings will likely not be gained.
R3 – Standard Separation –

Retractable and Stationary

R6 – High Separation –

Retractable and Stationary

R9 – Highest Separation –

Stationary 
Floor Engagement
Cold air can get under a normal curtain that rests just above the floor and that can allow cold air to get under the curtain. This reduces the effectiveness of the temperature control curtains. Using a floor sweep to engage the floor prevents this issue by controlling the flow of air from one temperature zone to another. The 8" tall sweep Velcros onto the bottom of the curtain and hangs 6" below it. It can be replaced in the future or replaced with a taller or shorter sweep if you need to use the insulated curtains in another location with a different elevation.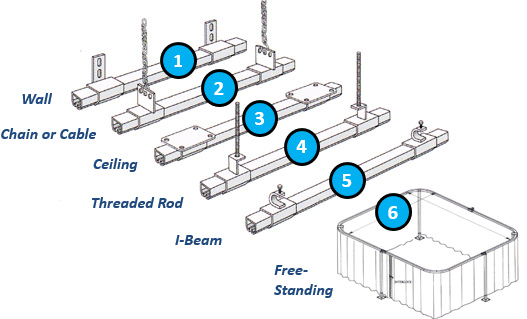 Rolling Hardware
16 gauge galvanized steel tracks
Nylon roller hooks for easy opening
6 mounting styles to connect to various structures
Free standing hardware for up to 20' in height

Static Mount Hardware
Aluminum Angle - Use with self tapping Tek screws to pinch curtain to angle.
Grommets Only - You can then use many DIY methods to hang the curtains.
Beam Clamps - Clamps onto the flange of beams, joists and purlins.