OVERVIEW
Using our line of industrial wash bay curtains will allow you to contain the over-spray from power washing and even painting processes. These curtains are an ideal solution for applications where complete 1, 2, 3 and 4 sided enclosures are required. Common applications are vehicle wash bays, truck wash bays, garage wash bays, and other industrial uses. For food processing facilities, please look at our USDA Grade Wash Down Curtains.
Designed For Speed and Flexibility
Vehicle Wash Bay Curtain Benefits
Wash bay curtains are designed to contain the flying mud, water, and debris from wash down applications. Containing these elements into a defined car wash enclosure ensures that other areas stay clean and dry. Some other benefits include:
Inexpensive versus fixed walls
Quickly deployed with industrial roller curtain track
Available in many colors to match your shop or automotive dealership
Generally improves working conditions
Quickly pushed out of the way when not needed
Washing curtains are easy to clean and replace if needed
Wash Bay Curtain Features
The car wash bay curtains have several features which make them long lasting and economical solutions for wash bays.
Durable 18oz Vinyl reinforced with a polyester mesh scrim
Clear 20mil Vinyl vision panel to allow a line of sight
Vinyl meets NFPA 701 & California State Fire Marshall Standards
Strong 16 gauge galvanized steel track which resists rusting
Hemmed edges for a clean finished look
Resistant to almost all wash down chemicals
5 year Warranty on all curtains!
Lifetime Warranty on all Hardware!
Wash Bay – Hardware Options
There are several methods that you can use to support your wash bay curtains. These include our roller track which can be supported from above as shown on the graphic to the left.
Akon also offers a free-standing wash bay curtain which is supported from the floor. Please keep in mind that free-standing welding curtains can only be 10′ in height.
Click here to view all of the curtain mounting options.
Curtain – Optional Components
Custom logos can be added for a professional look
Many colors to choose from
Chain weights to minimize curtain movement
Vision panels to allow line of sight
Floor sweeps to keep water from getting past the curtain
Walk through strip doors can also be included
Common Questions
Should I include the Vision Panel?
Are the curtains easy to wash when dirty?
Should I include the Vision Panel?
It's important to consider how you intend to use your wash down curtains. For instance if you have an unsightly work area then you might not want to choose the clear vision panel. However, if you want to increase safety and allow for a brighter work area than the vision panel would be ideal. Note: The vision panel is no additional cost.
-Back to Top-
Are the curtains easy to wash when dirty?
These wash down bay curtains are very easy to clean due to the nature of the material they are made of. The Vinyl is very smooth which means you can generally clean them by simply washing them off with a hose. If you need to clean them further, simply use a mild detergent and a rag to wipe them.
-Back to Top-
Hardware
Curtains
Colors
Accesories
Benifits
Layouts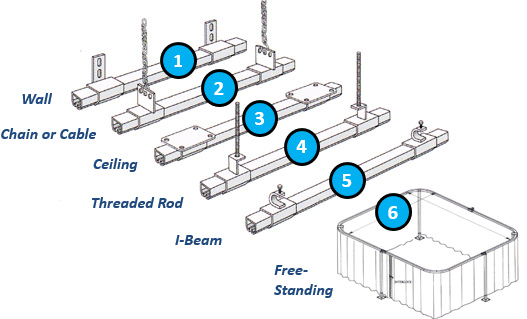 Rolling Hardware
16 gauge galvanized steel tracks
Nylon roller hooks for easy opening
6 mounting styles to connect to various structures
Free standing hardware for up to 20' in height
Static Hardware
Aluminum angle - Use with self tapping Tek screws
I-beam clamps - Clamps onto the flange of beams, joists and purlings