OVERVIEW
Does your shop have a saw dust problem? Use our Woodworking Curtains for your wood shop. These Vinyl curtains are quick to install and are much less expensive than rigid walls. You can also pull them back when not in use freeing up your work space.  The curtains come in a variety of colors and feature a clear strip in the middle to see through increasing safety and allowing light in.
Control Dust At The Source
Woodworking Curtains Control Dust
Your workshop can be clean and dust free with the installation of these inexpensive Vinyl Woodworking Curtains. The material is an 18oz Vinyl that is fire retardant and very robust. The curtains come in all shapes and sizes and are custom made to your exact dimensions. Chain pockets are also an option to help weigh down the curtain if your wood shop is drafty. In addition, strip doors can be added for entry and exit which eliminates the needs to open and close the curtains.
Easy Install
Woodworking curtains come with grommets at the top making hanging the curtains quick and easy with or without the curtain track.
 Inexpensive
Woodworking curtains are about 1/3rd of the cost of other separation methods such as rigid walls or panel systems and are easy to store.
Separate People
Dust curtain walls are ideal for separating people to keep them away from the messy dust that is not ideal for inhaling.
Control Noise
Garage dust curtains help reduce noise due to the thick PVC they are made from which makes for a more comfortable work environment.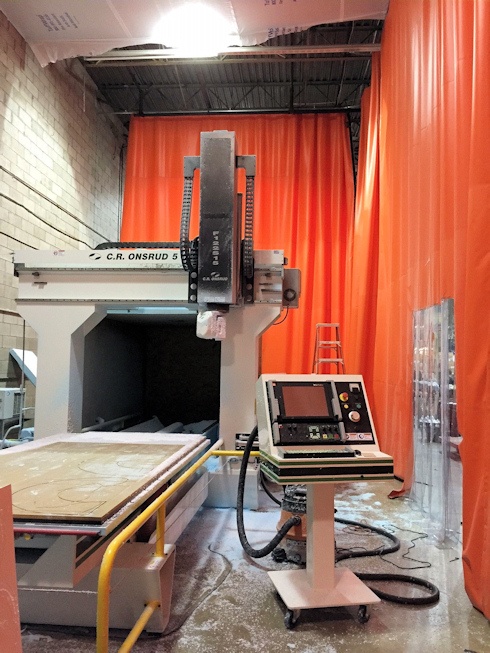 From Floor to Ceiling
Woodworking dust control curtains can be as tall as the ceiling of your facility or as short as the ceiling in your garage. Industrial dust control curtains are generally floor to roof deck to enclose the entire wood working area. If there are obstructions at the roof deck we can even use a curtain valance that is static in position while the lower curtain is operable side to side on the rolling curtain track.
Rolling Curtain Track
There are also several mounting options to choose from for supporting the curtains. The hardware features rolling hooks that roll in a heavy-duty 16-gauge galvanized steel track. The mounting options range from Wall, Chain, Ceiling, Threaded Rod, and Beam mounts as shown in the graphic on the left. If you want to hang the dust curtains with your own hardware we can ship them without any track at all. The wood dust control curtains will allow for full access in your workshop when they are pulled back and stored.
Curtain Track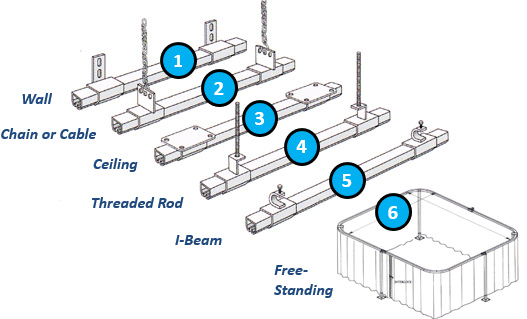 16 gauge galvanized steel tracks
Nylon roller hooks for easy opening
6 mounting styles to connect to various structures
Free standing hardware for up to 20' in height
Static Mount Hardware

Aluminum Angle - Use with self tapping Tek screws to pinch curtain to angle.
Grommets Only - You can then use many DIY methods to hang the curtains.
Beam Clamps - Clamps onto the flange of beams, joists and purlins.