OVERVIEW
Clean Room Curtains are used to isolate clean zones with no build up of static electricity in the Vinyl. Our clean room curtains come in clear, black, white, and tinted colors depending on your preference. All of the clean room plastic curtains show resistivity of 1.8 x 1010 ohm /cm (ambient 50% R.H.) per ASTM D257. This rating makes the static dissipative curtains ideal for the most stringent applications.
Strip curtains allow access into and out of the enclosed area quickly without the need to push back curtains. The strips are most often times clear to allow a line of sight but are also offered in other colors for areas that should be kept private. The clean room strip door curtains are overlapped to ensure the environment maintains separated.
If the strips are all you require without the hardware then simply purchase the clean room bulk rolls. You can create your clean room enclosures by hanging the strips with your own hardware. Colors are available in clear, white, black, bronze-tinted, and frosted ESD.
From small to very large the curtain walls divide up entire walls. You can divide a small enclosure or an entire warehouse for static sensitive processes. ESD clean room curtains are quick to install and a fraction of the cost of static walls. The curtains have grommets on 12″ centers for easy hanging.
ESD Grid Curtains are a 14mil thick Vinyl which is extruded over a static dissipating steel mesh which is then grounded via copper tape. The rolls come in 54″ width but can be heat welded together to form entire walls. The material is clear and allows for a clear line of sight through them. Sold in roll form or exact sizes.
ESD Outgassing Vs Non-Outgassing?
Outgassing

- Anti-static properties are built in not sprayed on so the curtains will need to be cleaned periodically as the anti-static properties that are attached to the plasticizers migrate to the surface. This will not degrade the material as you can't wipe away the anti-static properties as they are part of the polymer. This happens with all ESD curtains on the market. There is also an aroma to the curtains. Cleaning it periodically is highly recommended – every 3-6 months depending on the environment.

Non-Outgassing

- This material which is also called thermoplastic polyurethane is inherently anti-static and is a true non-outgassing esd anti-static curtain. However, the non-outgassing esd curtains are more expensive. Since this material does not outgas the smell would also be considered neutral.
What's the difference between ESD Anti-Static vs Anti-Static Coated?
ESD

- Has anti-static proprieties that are part of the PVC and can never wear off. (Most Expensive, Longest Lasting and Highest possible Anti-Static Properties). ESD comes in 2 styles which are Outgassing and Non-Outgassing.

Anti-Static Coated

- Has a sprayed on Anti-Static Coating which with enough time and friction might wear off. (Least Expensive)
Does AKON offer spray-on ESD inhibitors?
No. Spray-on inhibitors wear off in a short time. The ESD-resistance properties in ESD materials are part of the formulation of the vinyl. That means the ESD-resistant properties are permanent. They do not wear off.
What is surface resistance?
Surface resistance is a measurement of how easily an electric charge can travel across a medium. Conductive materials are those that have a surface resistance of less than 1 x 105 ohms/square. Dissipative items have a surface resistance of more than 1 x 105, but less than 1 x 1011 ohms square.

Antistatic materials are generally referred to as any material which inhibits triboelectric charging. This kind of charging is the buildup of an electric charge by rubbing or contact with another material.

An insulative material is one that has a surface resistance of greater than 1 x 1012 ohms square
Can ESD curtains be used outdoors?
No. they are not ideal for outdoor use: The sun causes the anti-static properties to bloom and migrate to the surface making the strips greasy and cloudy
Solid Curtain Hardware
---
Static Mount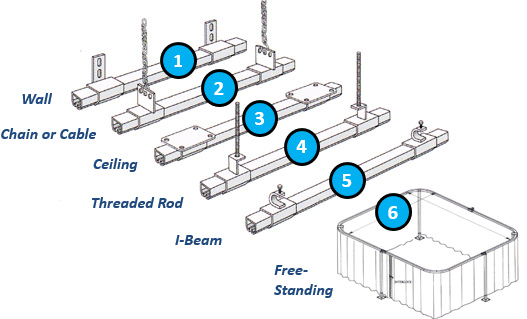 Rolling Hardware
16 gauge galvanized steel tracks
Nylon roller hooks for easy opening
6 mounting styles to connect to various structures
Free standing hardware for up to 20' in height

Static Mount Hardware
Aluminum Angle - Use with self tapping Tek screws to pinch curtain to angle.
Grommets Only - You can then use many DIY methods to hang the curtains.
Beam Clamps - Clamps onto the flange of beams, joists and purlins.
Strip Curtain Hardware
---
Static Mount
Header Mount
Wall Mount
Universal Mount
Threaded Rod Mount (Just a Feature of Universal Mount)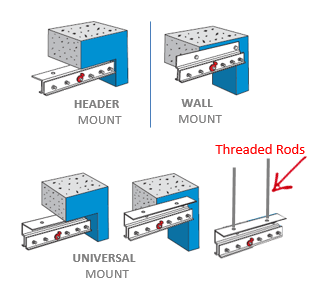 Free-Standing Mount
Supported from the floor up
Used in open floors when you can support from above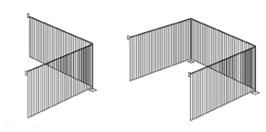 Rolling Hardware
Allow the strips to roll out of the way
Ideal for complete access when strips are not needed
Note the strips roll like a barn door and do not fold up