OVERVIEW
RF/EMI Shielded Curtains are the ideal solution for protection for RFID Isolation, pre-compliance testing, secure communications, and temporary shielding situations in a customizable and lightweight design. Available in solid curtains or strip curtain designs. Create protection zones based on your layout you provide to AKON. Protect windows from radiofrequency waves, protect machines and personnel from harmful electromagnetic exposure. Also designed and used as covers custom made for EM reflective protection. The strip curtain setup allows for better RFID scanning when mounted on the exterior of your scanner tunnel assembly lines.
Single wall construction
Color: Grey or Black
USA fabricated
RoHS compliant
Made to Order
Thickness: 0.130 mm (.0048") nominal
Silver, copper, nickel plated (Ag/Cu/Ni) ripstop nylon, lightly coated with Acrylic 40
Surface Resistivity: 0.006 ohms/sq" max, - 0.004 ohms/sq" avg, cpk>38
Shielding effectiveness: -70 to -75 dB on average from 400 MHz to 18 GHz.

Price: $
Double wall construction
Color: Grey or Black
USA fabricated
RoHS compliant
Made to Order
Thickness: 0.260 mm (.0096") nominal
Silver, copper, nickel plated (Ag/Cu/Ni) ripstop nylon, lightly coated with Acrylic 40.
Surface Resistivity: 0.006 ohms/sq" max, - 0.004 ohms/sq" avg, cpk>38
Shielding effectiveness of -85 to over -100dB on average from 400 MHz to 18 GHz.

Price: $$
Below is the IEEE® 299 standard test of a walk-in tent performed by an independent laboratory for Double Layer Material.
If you need to also reduce noise with your RF/EMI shielding curtains then you can add a sound reduction lining.
This protective layer adds antistatic properties to your curtain. The Electrostatic Discharge (ESD) Protective Layer reduces the opportunity of static build up that could damage sensitive components.
Add on outdoor skins to use your outdoor RF/EMI curtains in the weather. This will allow you to make the curtains more versatile for indoor and outdoor use as needed.
Add a sports black nylon skin for a softer more aesthetically appealing appearance for commercial and residential applications.
Custom Made For Your Application
Options
Single or double layer for added blockage
ESD (electrostatic dissipative) fabric layer
RF shielding ceiling or window covers
Grounding straps
Copper foil tape
Cleaned to IEST-STD-CC1246E
RF shielded vents
Magnets, grommets, or Velcro attachment
Benefits
Provides an average attenuation of -85 dB in the range of 30 MHz to 1 GHz and -80 dB in the range
of 1 GHz to 11GHZ.
Made with RoHS compliant conductive fabric
Tightly woven silver, copper, nickel fabric
NFPA-701 approved for flame resistance
Made in the USA
Constructed using top of the line material
Customization to meet your exact needs
Curtain Track For Movement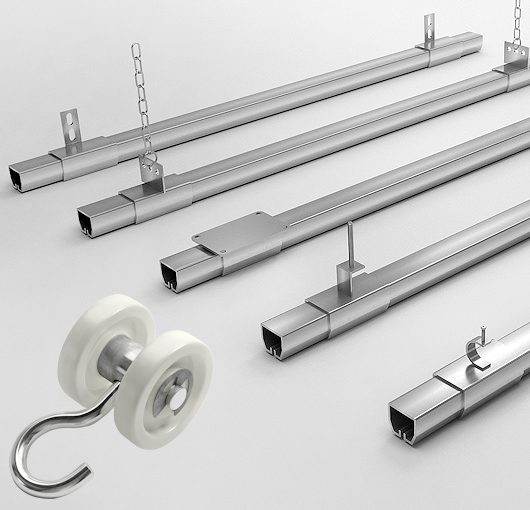 Hanging Track
Industrial Curtain Track with roller hooks allows you to roll the emf curtains side to side which allows maximum access to both sides of your work area. The heavy duty curtain track is modular in design and easily bolts together.
Free Standing Track
When hanging your rf blocking curtain track from above is not possible then you can support it from the floor up so you can have full access above. Free standing emi blocking curtains are supported from the floor up with base plates. The freestanding uprights are spaced every 8 to 10 feet allowing for complete access when the curtain is pulled back.
Easy Glide Rollers
The roller hooks allow the curtain to easily roll from side-to-side with minimal friction. These emf barrier curtain hooks are spaced equally at the top of the curtain into fit into the grommets. When not needed the curtain can quickly be removed from the hooks unlike clamp on rollers.
Easy Installation
Each track comes with end stops that contain the rollers inside of the curtain track. The track should be supported approximately every 5' with a track support. The farther apart the track supports, the greater the deflection. If you have a relatively low height rf curtain (about 7' tall or less) then you could space the supports out to about 8' apart.
Choose A Style To Get Started
RF/EMI Blocking | Curtains
Cover Openings
RF EMI blocking custom made curtains can be mounted in a static position or roll open with the use of our AKON curtain track. Side to side movement allows for the rf curtains to be rolled out of the way as needed so people or product can move into and out of the rf clear zone. The curtains feature grommets at the top just like a traditional curtain for easy mounting and removal.
Cover Openings
Window RF EMI covers attach to the wall or door around the window using grommets, magnets or hook and loop tape. An economical option that is easy to apply, remove or store when needed. Made from the same material as the EMI hanging curtains but used to cover openings.
Grommets – Inserted into your custom cover, allowing the cover to hang on hooks or trolleys
Hook & Loop Tape – Applied along the edges of the window; sticks to the wall or door, providing full coverage
Magnets – Applied to the edges of the cover and the wall or door, securing the curtain in place
RF/EMI Blocking | Strip Curtains
Pass Through RF/EMI Strips
Using the same rf material as the curtains but in strip form allows for products to quickly be moved into and out of an area for testing. When manufacturers produce electronic chips and wireless parts these devices can then be quickly tested when isolated. You can then make sure the radiofrequency signals are focused on the individual part that is being tested. This is common for assembly lines requiring RF Isolation.
RF/EMI Blocking | Enclosures
Complete Enclosures
Special applications require a complete RF/EMI enclosure. These are a less expensive option to a traditional rigid wall enclosure. The RF/EMI enclosure also has the ability to be relocated as needed which allows for greater flexibility as testing needs change. The enclosure offers -90 dB shielding effectiveness making it a great solution for many technology companies. The portable RF / EMI shielded enclosures offer: EMC pre-compliance or conducted and radiated emissions testing, wireless device testing, temporary EMI shielding, and secure communications.
Curtain Track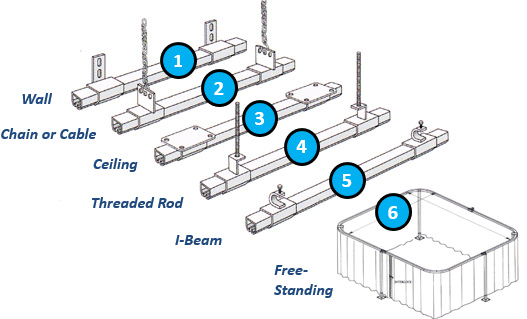 16 gauge galvanized steel tracks
Nylon roller hooks for easy opening
6 mounting styles to connect to various structures
Free standing hardware for up to 20' in height

Static Mount Hardware
Aluminum Angle - Use with self tapping Tek screws to pinch curtain to angle.
Grommets Only - You can then use many DIY methods to hang the curtains.
Beam Clamps - Clamps onto the flange of beams, joists and purlins.
Drop Ceiling Mount
Chain or Cable Track Hardware is ideal for drop ceilings
Cables are dropped down from structure above at any height
Track support tab sticks above the ceiling tiles for clean install
Heavier duty than the aluminum and light I-Beam tracks on the market