OVERVIEW
Industrial Curtain Track with roller hooks allows you to roll the industrial curtain side to side which allows maximum access to both sides of your work area. The heavy duty curtain track is modular in design in that it comes in 2,3,4,5,6, 8 and 10' lengths that easily bolt together.
Industrial Curtain Track
Akon can supply several different types of industrial curtain track mounts to hang your curtain (See Below). These tracks are made from strong 16 gauge galvanized steel or stainless steel for USDA Curtains. The heavy duty curtain tracks come in 2,3,4,5,6,8 and 10 foot lengths which splice together to form any length. This track utilizes radius corners to form enclosures or floor plates to be free-standing.
Curtain Track Corners
Almost any configuration is possible with the use of the 90-degree radius corners. These 24" radius corners allow the curtain to roll from one side to the other with ease. Hard 90 degree corners are also available.
Curtain Track Supports
Depending on your needs, you can choose from many different track supports. The track supports are what holds the curtain track up. These supports clamp/bolt onto the straight track and are spaced about every 5' to 8' depending on your industrial curtain weight. See the different styles below.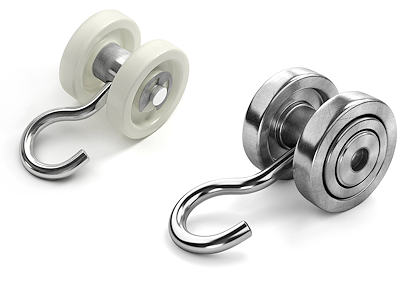 Industrial Curtain Hooks
The roller hooks allow the curtain to easily roll from side-to-side with minimal friction. These industrial curtain hooks come in two styles which are Nylon or Steel wheels with ball bearings. Nylon Rollers have a 40lb capacity while the steel rollers have a 75lb capacity. The steel wheels are utilized for very heavy curtains. They are spaced every 12" in the track.
Ceiling Mount
This mounting style works best when you want to mount the industrial curtain directly to your ceiling.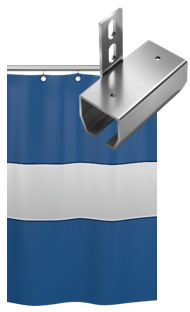 Wall Mount
This industrial curtain track mount style is ideal when the curtain will attach to a vertical surface, such as a wall or wooden trusses.
Chain or Cable Mount
This mounting style works best when the curtain will hang down from a tall ceiling or when you need to get below obstructions.
Threaded Rod Mount
Like the chain or cable mounts, the threaded rod can be used to hang below obstructions or to drop down from tall ceilings. Note: Anchors for all-thread rods can be found here.
I-Beam Mount
This mounting style works best when attaching to I-Beams or the trusses of the roof. Set screws are used to clamp down the mount.
Aluminum Angle
Aluminum angle and Tek screws hold the curtain up. The angle is clamped to the joists or anchored into the roof deck. Then self taping Tek screws are screwed into the angle through the curtain grommets with a washer to pinch the curtain to the angle.
Side-to-side movement: NO
I-Beam Clamps
The I-Beam clamps allows for mounting to any flange such as joists, purlins, and of course I-Beams. The eye hook then goes through the grommets and into the bottom of the clamp.
Side-to-side movement: NO
Mounting Ideas (Not Supplied by AKON)
Tension Cables
You can hang your curtain using aircraft cable, S-hooks, and cable turnbuckles to tighten the cable. The S-hooks go through the curtain grommets. Not supplied by AKON but readily available from most hardware stores and online stores.
Side-to-side movement: YES
Magnetic Curtain Hooks
Magnetic curtain hangers can support 65lbs for each hook. They are a versatile option for hanging  curtains that don't require any drilling. They also allow you to quickly take them down when not needed. You would only need a few of these to support a long stretch of curtain. Not supplied by AKON but readily available from most hardware stores and online stores.
Side-to-side movement: NO
Construction
The curtain tracks are constructed from galvanized steel that is used both indoors and outdoors. Unlike most curtain track hardware which is lightweight and made for light duty use, our industrial curtain track hardware is heavy duty and made to last. These tracks are made for industrial abuse. The steel curtain track is 16 gauge thickness. (Note 16 gauge = 0.0635 inches).