OVERVIEW
The heavy-duty industrial curtain walls are easy to roll from one side to the other. This retractable barrier can be opened and closed in only a few seconds. These industrial vinyl curtain walls are economical and quick to install at only about 1/3rd of the cost of a fixed permanent wall. Designed from various materials based on your application, the industrial curtains are built to last while preserving your budget.
Custom Made Per Application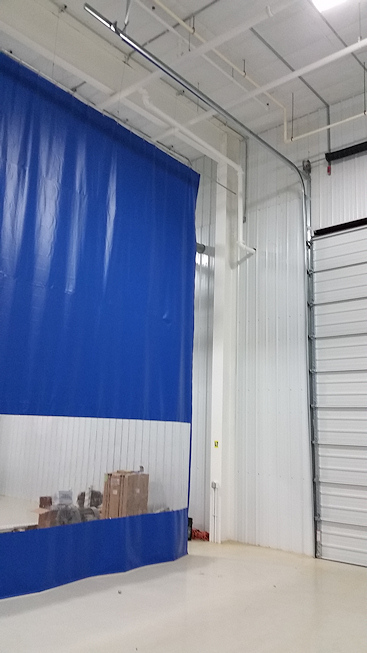 Rapid Access In Any Size
AKON Quick Ship Industrial Curtains are a cost-saving solution for areas needing dust, temperature, and workspace zoning. They can be a temporary or long-term, aesthetically appealing and inexpensive solution. Designed to slide open quickly and easily on their roller hooks, the curtains provide rapid access for products and people to move through. They also meet fire retardant requirements as they are constructed of an 18 oz. Polyester-reinforced vinyl that has the NFPA-701 fire rating.
Less Expensive Than Fixed Walls
Easy Install
Industrial curtains come with grommets at the top, making hanging the curtains quick and easy with or without the curtain track.
 Inexpensive
Industrial curtains are about 1/3rd of the cost of other separation methods such as rigid walls or panel systems and are easy to store.
Separate Workers
Industrial curtain walls are ideal for separating workers for welding, washing, packaging and many other operations.
Control Noise
Industrial curtains help reduce noise due to the thick PVC they are made from, which makes for a more comfortable work environment.
Ideal for Many Applications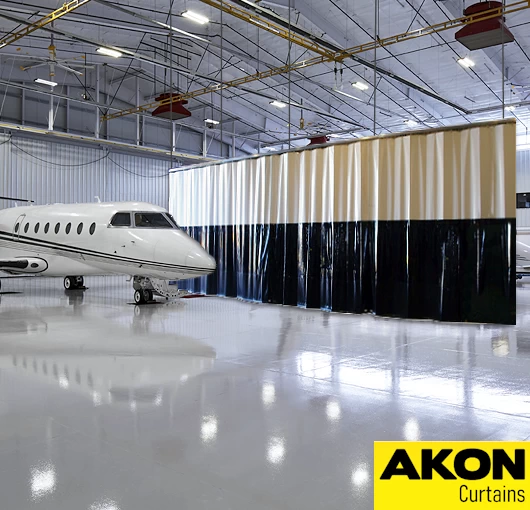 Ideal Solutions For
Dividing up manufacturing space
Temperature control
Dust control
Paint or wash over spray control
Smoke containment
Humidity containment
Welding spark containment
Key Benefits
Less expensive than permanent walls
Can be quickly installed and removed
Ideal for the winter and summer weather
Keeps your workers comfortable
Seal off un-used warehouse space
Reduce heating and cooling bills
Contain dust, over-spray and odors
Designed For Speed and Flexibility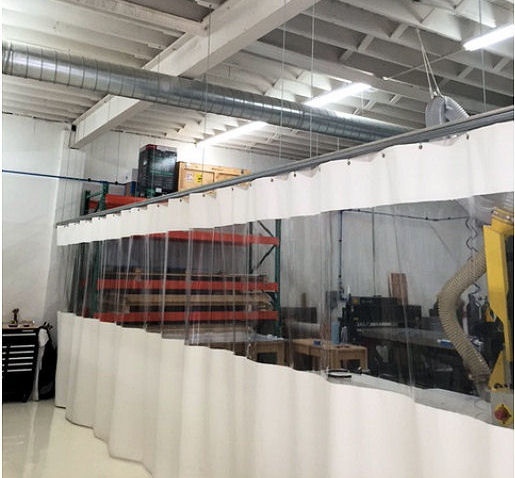 Curtain Wall Applications
Dust containment curtain walls
Machine guarding curtains
Available With Door Options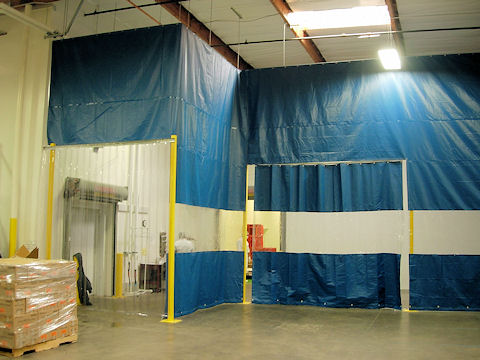 Access Points For Workers
Even though industrial curtains are retractable and are made to easily open and close, sometimes a fixed static position curtain wall can be ideal. With this type of installation, it's essential that foot traffic and motorized traffic still have access to both sides of the curtain. AKON can accommodate this requirement by installing strip curtains, swinging doors, and motorized roll-up doors. These components will allow for quick access without opening and closing the curtain wall.
Walk Through Strip Curtain
Sewn-in clear strip doors are an inexpensive door option for large vinyl curtain walls. Made from 8" wide PVC strips, they are crystal clear and eliminate the need for pushing back the curtain wall for access to the other side. A typical size is 36"w x 72"h but can be as large as 96"w x 96"h.
Solutions For Large And Small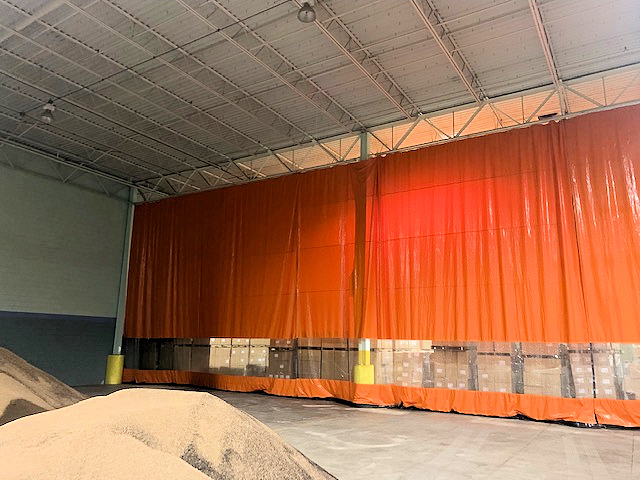 Form Work Areas or Divide Storage
Industrial curtain walls are a quick and easy install solution for making work zones or dividing warehouse space. For example, if a facility has different manufacturing processes in a large area, the curtain walls can form smaller work zones. That will help distinguish between work processes, protect workers and products from other processes, and contain cross-contamination.
Custom Curtain Design
Each industrial vinyl curtain wall is custom designed to your exact specifications. Click the request for quote button at the bottom of this page, and our form builds your quote for you. You can choose your preferred color, width, height, vision panel, and curtain wall material.
Curtain Track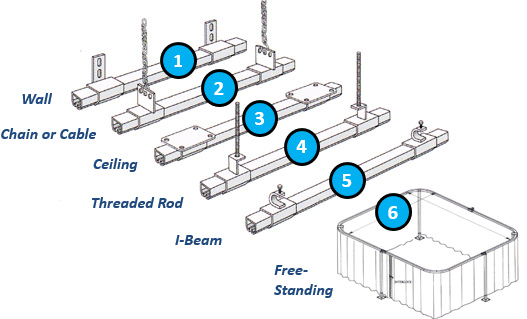 16 gauge galvanized steel tracks
Nylon roller hooks for easy opening
6 mounting styles to connect to various structures
Free standing hardware for up to 20' in height
Static Mount Hardware

Aluminum Angle - Use with self tapping Tek screws to pinch curtain to angle.
Grommets Only - You can then use many DIY methods to hang the curtains.
Beam Clamps - Clamps onto the flange of beams, joists and purlins.