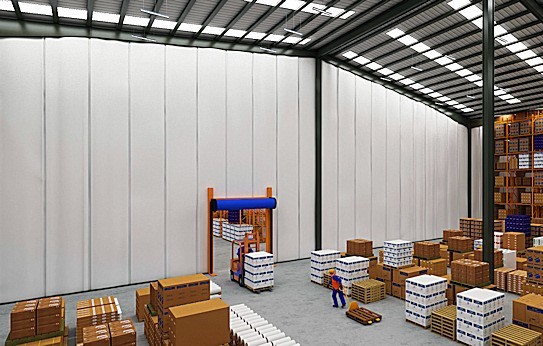 Overview
Akon insulated warehouse curtains allow you to partition and divide your floor space for temperature and humidity control. Unlike fixed rigid walls, the insulated panel curtains can be taken down when not needed for storage or reconfigured for new applications. These insulated curtain walls are often times 1/3rd the cost of fixed rigid panel walls.
Insulated Curtain Wall Benefits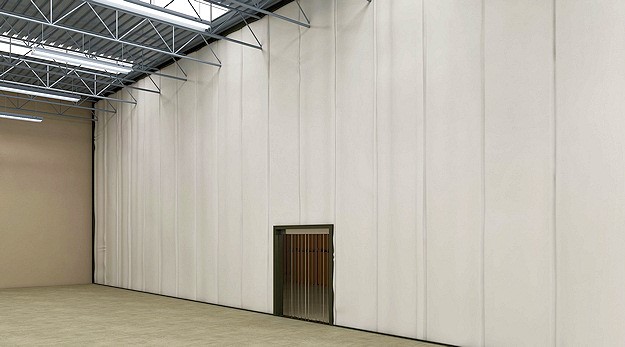 Temperature Benefits
Create temperature zones for employee comfort
Create temperature zones for food products or materials
Easy to install behind your loading dock to reduce heat or cold loss
Keeps consistent temperatures in various zones to save energy
Humidity Benefits
Ideal for food distribution plants to preserve quality of food
Increases comfort for employees
Curtain walls have Vinyl skins which are not harmed by condensation
Certain versions have anti-microbial agent to prevent mold or mildew
Allows mechanical chilling equipment to operate using less energy
Modular Design
Allows you to design and redesign temperature spaces
If storage needs change, the walls can be easily moved
Make spaces larger or smaller with modular 5′ wide panels
If not needed, the entire wall can be stored in pallet boxes
Unlike fixed walls no demolition is needed for redesign of layout
Manage Work Flow and Tenants
Warehouse insulated curtains are ideal for temporary tenants
If you lease out your warehouse, the curtains can divide work space
They are also ideal at creating work areas for designated products
Construction and R-Values
Construction
The industrial insulated curtains have a thermal batting inside of two outer layers of reinforced Vinyl. The material is fire retardant to meet requirements set forth by most local and state regulations. Batting thickness depends on your required warehouse temperature separating needs.
R-Values
AKON insulated curtains can provide temperature separation up to 40F. The thicker the batting, the higher the R-value you will achieve. We help you determine which R-value to choose based on your desired temperature zones and the duration you will need to use the insulated warehouse dividers. For instance, if your needs are short term, it is best to choose a lower R-value to reduce your expense.

Installation and Obstructions
Installing The Curtains
The curtains come in panels that are '5 to 6' in width that Velcro together. Once connected they form walls that can be in almost configuration. They run from the roof deck to the floor or from the bottom of the joists to the floor. Using aluminum angle is the most common mounting method. You simply connect the angle to the structure and then use Tek screws with washers to pinch the curtain panels every 12″ to the angle. Need an installer? Ask AKON for one of our national installers to install your wall.

Obstructions
It is not uncommon for obstructions like bar joists to be in the way of the curtain wall. When this happens, you can simply field cut the curtains to fit around the obstruction. Then you use the field cutting patch tape to seal the curtain. If you need to field cut, be sure to add the field cut patch tape to your order.

Entry Options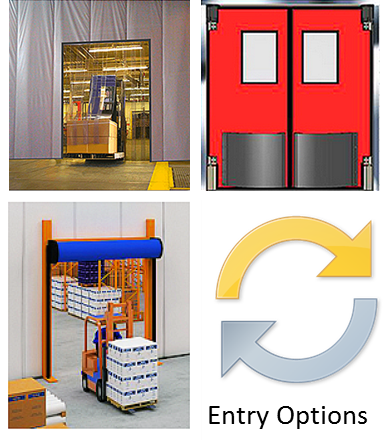 Entry Options
Insulated warehouse dividers are static position curtains. That means they do not roll side to side to allow people or material in. Rather, the curtains feature entry and exit locations. The most common entry and exits are strip curtains, swinging doors or powered roll up doors. Strip doors being the most common and economical. Each version features a freestanding frame that anchors into the floor and seals to the curtain wall.

Common Questions
Questions and Concerns
Do you attach the curtains to the floor?
No, the curtains do not attach to the floor. Instead, they feature a floor sweep that engages the floor to maintain a proper environmental seal.
I need to see through the curtain can I add vision windows?
Yes, you can add vision windows to allow a line of sight to the other side.
I need to roll the entire curtain open. Can I do that?
You can't do that with these insulated panel curtains. We do however have retractable insulated curtains that can be pulled back.
Can I install this myself?
Most warehouses perform their own installation as there is no welding and only basic tools and a man-lift are needed. If however you need an installer, just ask your AKON sales person and we will have one of our national installers contact you.
Photo Gallery
View other Warehouse Curtains