OVERVIEW
When complete coverage is needed for painting and sanding operations then the AKON automotive paint and sanding station is the solution. These enclosures are large enough for cars and trucks to pull into with enough room around them for equipment and associates to work. Featuring a clear 20 mil reinforced ceiling supported from above with a single cable attached to your existing structure.
The paint prep station provides a contained environment which will allow the rest of your shop to remain clean from overspray and dust created from sanding. It is also an ideal solution to meet new guidelines for aluminum auto body sanding operations.
Designed For Speed and Flexibility
Key Features
#1 – The curtains can roll completely open for quick entry and exit
#2 – A single cable drop from above holds up the clear ceiling
#3 – Velcro is attached on the sides of the curtain track for a complete seal
#4 – A floor sweep engages the floor to contain dust, paint and sparks
#5 – The prep station can be floor mounted or hung from above with cables
#6 – A Velcro or magnet split at one or both ends for vehicle entry and exit
The Leader In Curtain Spray Booths
Ideal Applications
Paint prep station curtains
Prep booth curtains
Retractable paint booths
Detailing Wash Bays
Under Coat Bays
Grinding and Sanding Bays
Under Coating Curtains
Aluminum Grinding and Sanding Station
Benefits
Less expensive than rigid walls like drywall and fixed panels
Allows for different work processes in zoned areas
Improves air quality and worker conditions
Easily roll the curtains out of the way when not in use
The spray paint curtains meet all fire codes and regulations
Easy Install
Painting and sanding enclosures come as a complete kit and are easy to install with no welding required and only basic tools are needed.
 Inexpensive
Akon dust enclosures are about 1/3rd of the cost of other separation methods such as rigid walls systems and are easy to store.
Separate Workers
Dust enclosures are ideal for separating workers that are performing dust creating activities from those that are not.
Control Noise
The curtain enclosures are also dual purpose noise control curtains due to the thick vinyl they are made from.
Installation
Installing the prep booth enclosure is quick and very easy. You will find that the track hardware bolts together in a modular fashion and then the roller hooks are inserted. Once the track is assembled and hung you can now easily attach the prep station curtains via the grommets located at the top of the curtain. Then hang the clear ceiling curtain and Velcro its perimeter to the track. Quick and Easy!
Maintaining The Curtains
The automotive paint and sanding station curtains are made from a slick material much like a shower curtain. The material can be easily wiped off when it becomes dusty and washed down when it becomes dirty. If the paint shop curtains become really dirty you can wash them down further with a cleaning agent. The curtain wall material is also mildew proof  and resistant to most chemicals. In addition, if they become torn from a sharp object we offer clear patch tape to repair the rips.
Aluminum Dust
Aluminum dust is now part of new car frames and dealing with that dust is a critical consideration for auto body shops. The processing of these aluminum body cars and trucks requires a completely sealed off area. Our aluminum repair enclosure curtains will enclose these work areas where grinding, sanding, and prep work  is taking place. Keeping the rest of the shop clean.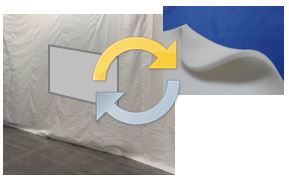 Filter Panels
The AKON body shop curtains can also include 4′ x 4′ filter panels to allow for negative pressure generated inside of the curtain enclosure due to ventilation systems. These replaceable curtain filters Velcro onto the curtain and can be replaced if and when they become too clogged to function. They keep your air clean and safe for the environment.
Budget Price
Size: 20′w x 10′l x 10'h
Hanging Style: $2,800
Free-Standing Style: $4,800