OVERVIEW
New and Replacement Prep Curtains for Prep Stations. Maximize your floor space and contain paint and water spray with AKON prep booth curtains. The auto body curtains are the ideal solution for prep stations and industrial customers all around the country. Once installed, the curtains create work stations or work stalls that will contain sparks, paint, water overspray, aluminum dust, steel dust and most chemical sprays.
Create Prep Work Zones In Your Shop
Quick To Deploy And Store
Free-Standing Prep Booth Curtains
Keep Prep Work Areas Clean
The Leader In Body Shop Prep Curtains
Strong With Quick Deployment
Ideal Applications
Paint prep station curtains
Prep booth curtains
Retractable paint booths
Detailing Wash Bays
Under Coat Bays
Grinding and Sanding Bays
Under Coating Curtains
Benefits
Less expensive than rigid walls like drywall and panels
Allow different work processes alongside each other with work cells
Improve air quality and worker conditions
Easily roll the prep curtains out of the way when not in use
The automotive prep curtains meet all fire codes and regulations
Quick to install and take down and move if necessary
Five year warranty on the curtains
And a lifetime warranty on track hardware
Designed For Speed and Flexibility
Common Layouts
Curtains for paint prep booths or for any of the other applications mentioned above can be laid out in several different configurations. They can be single sided, double sided, triple sided or four sided to create complete enclosures. You simply inform AKON about your desired prep booth design and we will have it fabricated exactly as you need it.

Optional Components
Floor anchors to secure the prep curtains to the floor
Many custom colors to choose from to match your facility
Clear vision panels allow line of sight through the curtains
Chain weight pocket ensures prep curtain will not blow around

Key Features
18 oz coated vinyl material is standard
16 gauge galvanized steel hardware which resists rusting
Rolling curtain hooks allow for Easy Roll movement
Hems are reinforcement on edges
Vinyl is reinforced with polyester scrim for longevity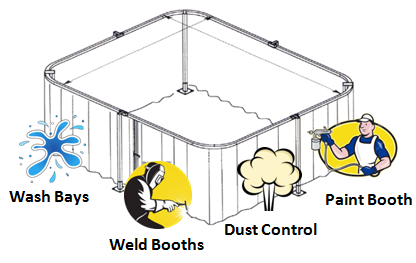 Filter Panels
The auto body prep stations can also feature filter panels in sizes of 4′ x 4′ or 4′ x 2′ to allow for negative pressure generated inside of the curtain enclosure due to ventilation systems. These replaceable curtain filters Velcro onto the curtain and can be replaced if and when they become too clogged to function.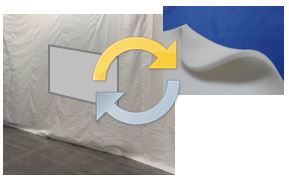 Aluminum Dust
Aluminum dust is now part of new car frames and dealing with that dust is now a critical consideration for auto-body shops. The processing of these aluminum body cars and trucks requires a completely sealed off area. Our aluminum repair enclosure curtains will divide these work areas where grinding is taking place from the rest of the shop.
Maintaining The Curtains
The prep curtains are made from a slick material much like your shower curtain. The material can be easily wiped off when it becomes dusty and washed down when it becomes dirty. If the curtains become really dirty you can wash them down further with a cleaning agent. The curtain wall material is also mildew-proof and resistant to most chemicals. In addition, if they become torn from a sharp object we offer clear patch tape to repair the rip.
Build Your Prep Curtains Now