Optional Features
Clear Vision Panels
Vision panels can be added to allow for a clear line of site through the curtain. Standard vision panels are 54" in height but can be made to any size.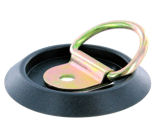 Anchor Straps
Velcro straps hold your curtain in place if wind is present or a more secure curtain is required. These anchors feature Velcro straps which loop through a D-ring which is anchored into the cement floor. Typically spaced every 4'.
Curtain Valances
A valance is made from the same material as the lower curtain. They are used to seal the opening above the curtain. This is generally the space from the roof deck to the bottom of the joist or purling. They can be rectangular or follow the slope of the roof.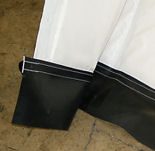 Floor Sweeps
A floor sweep seals the open area between the curtain and the floor. It attaches to the main curtain by Velcro. They are 6″ tall and as wide as the entire length of the curtain. These are ideal for controlling dust, fumes, odors and other undesirable elements.
Seal Velcro
Seal Velcro also known as adhesive Velcro sticks onto your curtain and can be installed in the field. Please note that this is not ideal for cold temperature applications or high-frequency use.
Chain Weights
If you have a slight breeze or are power washing near the curtain then we can add a galvanized 3/16" chain weight to the bottom of the curtain.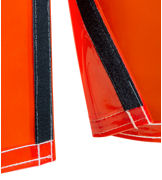 Velcro
Velco is used to connect curtain sections together to form larger curtain walls. The velcro also serves as an access points for larger curtains and makes them easier to install.
Magnets
Seal magnets are an idea way to attach curtains to each other or adjacent steel walls and beams. Best utilized in dusty areas that would clog up Velcro.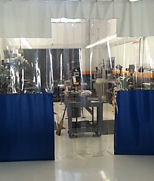 Sewn In Strip Doors
Strip doors that are sewn into the curtain are ideal for light foot traffic. This allows for quick movement of people into and out of the industrial curtains.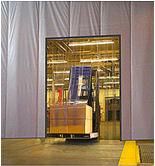 Free Standing Strip Doors
For motorized traffic a free-standing steel frame strip door is ideal. The steel frame takes the stress off of the curtain wall ensuring longevity and performance for motor traffic and high use.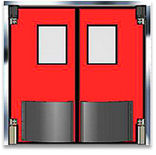 Swinging Impact Doors
A free-standing industrial swinging door can also be provided for access. Also known as impact doors, these heavy duty doors can take a lot of abuse from carts, fork lifts or heavy foot traffic.
Roll Up Doors
Supported with a free-standing steel frame the power roll up doors can be opened and closed via remote from a fork lift. Door styles and prices vary based on frequency of opening and closing, speed requirements and size.