OVERVIEW
Contamination in the workspace can be dangerous for the health of workers and clients alike. Because of this, any company or facility that handles hazardous chemicals must prepare in advance. One way to do so would be with AKON's custom made decontamination curtains. They will keep dangerous materials inside and protect the environment outside your working facility. Whether you need them for a food factory, laboratory, the hospital's special emergency room, or elsewhere, the curtains will help in maintaining a safer environment for all. You will be able to separate a large room into different zones, each with its own type of operation.
Contamination Spray Containment
Easy Install
The curtain walls come with grommets at the top, making hanging these contamination curtains quick and easy. Minimal tools are required.
Environmental
Protecting the environment is critical when contamination takes place. These curtains are very quick to deploy either side to side or by rolling them down.
Protects Bystanders
Chemical curtain walls are ideal for protecting bystanders from any dangerous chemical sprays that present a safety hazard.
Physical Barrier
The curtains form a physical barrier in almost any design you need as it relates to your application and decontamination needs.
You Control Hazardous Situations
The decontamination curtains will divide the workspace into different compartments and isolate them. By doing this, you can store different materials, make private spaces, and keep the work away from other rooms. The custom made decontamination curtains are perfect for chemical, medical, and environmental industries. You can create an entire enclosure or put the curtains at the entrance of a specific room. By doing this, you can continue to conduct specific operations in specific rooms without worrying the materials in one area could negatively affect the entire facility.
Preventing cross-contamination is of vital importance in the food industry. You will also have temperature control. Precise separation is important for both the workers' health and the foods' freshness. The curtains will contain light which can cause damage to some commodities. Specific products like fruits, cheese, medicine, or soft drinks could get spoiled in no time if direct sunlight shines towards them.
By placing such barriers, you will prevent any type of harmful pollution from reaching the outside environment or other rooms within the building. Every compartment will function without causing interferences to its neighbors and without being affected by them either. The decontamination curtains are also great at helping you maintain an organized procedure, as you can put custom signs which direct workers.
All AKON decontamination curtains are custom made. You have a variety of options when choosing the size, dimensions, colors, mounting options, accessories, and more. The curtains will offer strong protection without blocking your way. Airlocks will make it easy to transport large equipment. You will also be able to create secure access points for the transportation of contaminated items. No material will enter or leave the area without your knowledge. The curtains will also contain non-chemical nuisances such as dust, odor, and moisture.
Decontamination Curtain Benefits
Inexpensive unlike fixed walls
You can quickly deploy them with an industrial roller curtain track
You have  different colors to choose from so your new curtain can nicely match your facility
The working conditions will improve greatly
Protection against hazardous chemicals, temperatures, light, moisture
You can quickly move them away
You can quickly clean them
It is possible to re-purpose them for other compartments
Ability to purchase more curtains and attach to existing curtains
Divide work areas quickly
Easy movement through facility rooms
Industrial curtains improve worker safety
Contain air migration, odors, dust, overspray
Custom made with your sizes, dimensions, colors, and more
Lifetime warranty on all hardware and 5-year warranty on curtains
Decontamination Curtain Features
Our decontamination curtains offer a safe working environment for any facility. Their superior protection will keep hazardous chemicals in check. The features include:
Durable 18oz Vinyl reinforced with a polyester mesh scrim
Clear 20mil Vinyl vision panel to allow a line of sight
Vinyl meets NFPA 701 & California State Fire Marshall Standards
Strong 16 gauge galvanized or stainless steel track which resists rusting
Hemmed edges for a clean finished look
Resistant to different dangerous chemicals
Every Curtain has a 5 year Warranty!
The Hardware has a Lifetime Warranty!
You have a great choice of layouts as well. We can supply you with any type you wish. Some common configurations can include straight, 2-sided, 3-sided, 4-sided, and multiple straights. You can make a sketch and submit it in our request-a-quote form (click the yellow button below).
Curtain – Optional Components
You can change the way your custom curtain looks in different ways. Choose a unique color, texts, and more. The bonuses include:
Choosing between different colors
You can also add warning signs on your decontamination curtains to prevent anyone entering from the outside
Chain weights will keep the curtains stable and prevent hectic movement
You can ask for vision panels which will allow a clear line of sight
By using floor sweeps, it will help control contaminated water from migrating to the outside zone
We can also include walk through strip doors
Curtain Track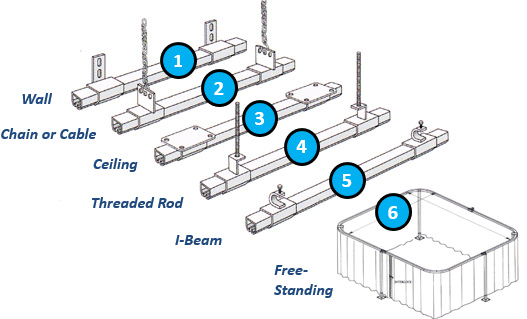 16 gauge galvanized steel tracks
Nylon roller hooks for easy opening
6 mounting styles to connect to various structures
Free standing hardware for up to 20' in height
Static Mount Hardware

Aluminum Angle - Use with self tapping Tek screws to pinch curtain to angle.
Grommets Only - You can then use many DIY methods to hang the curtains.
Beam Clamps - Clamps onto the flange of beams, joists and purlins.