OVERVIEW
Akon supplies industrial warehouse divider curtains for warehouses of all sizes and shapes. We can supply standard vinyl warehouse curtain dividers to divide up space or provide insulated curtain walls which are ideal for creating temperature zones. Akon can provide expert advice and solutions which will result in a successful smooth installation. In addition to educating you and your staff on the benefits and limitations of these large warehouse dividers, you will receive one of the most economical curtains on the market.
Modular In Design
One of the key benefits of warehouse divider curtains is their ability to be installed and utilized until your application or needs change. The warehouse curtains can then be taken down and stored on pallets or reconfigured for another application. The industrial warehouse curtains simply Velcro together in sections making them easy to manage and reconfigure.
Warehouse Divider Curtain Benefits
reduce your warehouse heating and cooling bills
seal off unused floor space for future use
vinyl warehouse dividers are less expensive than fixed walls
contains dust from wind and work processes
contains paint over spray for large scale painting projects
contains smoke from assembly and manufacturing processes
control humidity for more comfortable work conditions
maintain a comfortable temperature for workers
great for cold storage warehouses and distribution centers
Insulated Warehouse Curtains
If your primary objective is to insulate or divide temperature zones in your facility, then you can install our insulated warehouse divider curtains. These curtains come in 5' wide panels which Velcro together and have R-Values which range from R3 to R15. The insulated warehouse divider walls also come with all of the standard features of the non-insulated dividers but have an inner double batting antimicrobial core.
Features
flame retardant fabric prevents accidental fires from sparks

available in any height or width

can be designed to mount with grommets or hook & loop

can separate temperatures up to 40 degrees.

mesh panels can be added for windy environments

modular in design for future application needs

the warehouse divider curtain can be anchored to the floor

divider curtain sections can be Velcro connected
Access Options
Most warehouse curtains are stationary due to their size. As a result, an access point is required for forklift traffic and personnel traffic. The most economical solution is a industrial strip curtain entrance. These are clear vinyl strips that form a barrier between both sides while still allowing traffic through. For infrequent access, a simple Velcro spilt can be added. Powered roll-up doors and industrial swinging doors are also available. View all entry options here
Photo Gallery
Click below to view some common configurations
Hardware
Curtains
Colors
Accesories
Benifits
Layouts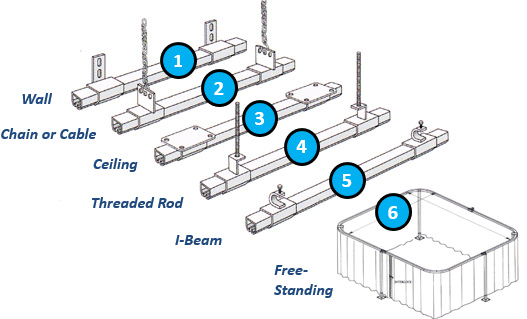 Rolling Hardware
16 gauge galvanized steel tracks
Nylon roller hooks for easy opening
6 mounting styles to connect to various structures
Free standing hardware for up to 20' in height
Static Hardware
Aluminum angle - Use with self tapping Tek screws
I-beam clamps - Clamps onto the flange of beams, joists and purlins