Outdoor

Hanger Curtains

AKON understands the requirements of curtains used for aircraft hangars. This aircraft hangar curtain covers large openings and can be operated quickly with simple drop cords. The high quality Vinyl material used to fabricate the aircraft hangar partitions ensure they provide protection from the elements. They also protect the inside of the aircraft hangar and at a fraction of the cost of operable fixed doors.
Indoor

Hanger Curtains
Dividing space inside aircraft hangers using our aircraft hanger divider curtains is a quick way to make work zones or privacy areas. These very large hanger curtains are made in any size up to 100' tall and come in many different colors to match your company colors. They can be static in position or roll side to side for complete access when using our industrial curtain track.
Aircraft Hangar Containment
Custom Made Per Application
The curtains are completely custom made to fit any size and shape. There are also plenty of choices when it comes to curtain colors. AKON fulfills special orders such as custom printed curtains that are very useful for aircraft carriers in promoting their brand. The durable partitions can be removed in case of operational changes or if more space is needed in the hangar area due to a new fleet acquisition.
Benefits
Avoid large expenditures from roll up and slide out rigid doors.
Efficient temperature control saves on utility bills
Special curtain material prevents dust and odor buildup
Fast open and close time facilitate air transport operations
Smoke and humidity level control
Cheaper maintenance with high re-usability
Plenty of choices
Select from a range of different curtain materials
Many different colors available
Choose the mounting style that best fits your needs
Several accessories available to increase performance
The curtains allow for integration of automatic operating controls (not provided by AKON)
Order AKON curtains to cover any structural layout possible
Cost Savings
Businesses evolve all the time and the requirements can change in a very short span of time. AKON's aircraft hangar curtains are easy to install, affordable to maintain, and provide faster operation than solid doors and partitions reducing aircraft operations time. The installation cost is also only a fraction of comparable roll-up doors and sliding doors.
Reinforced For Wind Stress
Webbing
Heavy Duty mildew resistant webbing
Runs the entire length from top to bottom
Reinforces the super duty curtain
Spaced every 4 feet for superior strength
Anchors
Super duty anchor plates attaches to the webbing
Straps go through the D-Rings for attaching
Anchors into the cement for wind loads
Can be driven over or counter sunk for heavy traffic
HD Rollers
Quad steel rollers spaced every 4 feet
Rated for 125 pounds of force each
Bolted to the webbing for stress point relief
Galvanized outdoor rated curtain track
Mesh (

optional

)
Optional wind mesh panels for additional wind relief
Optional back flap installed on back side of mesh
Flap keeps the breeze out but allows stronger winds through
If no mesh is needed

curtain can all be solid
Unmatched Performance
So far on the market there are no hangar curtains competitively priced that are listed as outdoor super duty curtains for windy areas, though a lot claim this. These inferior curtains have grommets that will rip out as they are not properly reinforced with webbing. AKON super heavy duty aircraft hangar curtains are designed based on our experiences with how curtains have failed in the field from our years of experience. We have developed a wind blocking curtain that takes the stress off of the curtain material and puts it back on the hardware to relieve tearing and curtain failure.
Outdoor Curtain Strength
This super heavy duty outdoor curtain features an optional mesh section in the middle to allow some wind to blow through to reduce the stress on the curtain. The mesh also has an optional back flap to help control free-flowing breeze when it is not windy out.
We also triple stitch sew heavy duty webbing straps vertically every 5 feet the full length of the curtain from the roller hooks all the way down to the anchor plates. This takes the majority of the stress off of the curtain and places it on the hardware at the top and the bottom of the curtain. The quad steel wheel rollers are each rated for 125 pounds of force. Anchor plates at the bottom are bolted into your concrete and also have exceptional strength for wind loads.
Materials
Hem can hold anywhere between 25-35 lbs per square inch
The hardware can handle approx 75 lbs per foot of span
22 oz PVC coated fabric with Mesh Wind Panel
Ideal for temperatures going as low as -22° F  or -30° C
Color options available
Curtain Track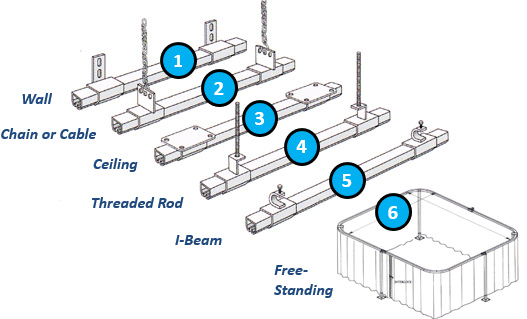 16 gauge galvanized steel tracks
Nylon roller hooks for easy opening
6 mounting styles to connect to various structures
Free standing hardware for up to 20' in height
Static Mount Hardware

Aluminum Angle - Use with self tapping Tek screws to pinch curtain to angle.
Grommets Only - You can then use many DIY methods to hang the curtains.
Beam Clamps - Clamps onto the flange of beams, joists and purlins.
Choose A Style To Get Started