OVERVIEW
Preventing the loss of cold air from your cooler or freezer and reduces your energy bill while keeping your food or beverages cold. Using a butcher curtain will eliminate this expensive air loss. The freezer door flaps hold the cold air in and prevent warm air from entering. The butcher doors also meet the Energy and Security Act of 2007 which requires strip doors on all new walk-in coolers and freezers.
Butcher Curtain Mounting Options
Stud Mount - Mounts to the underside or face of the freezer or cooler and is ideal for wide openings. To replace worn-out strips simply remove lock nuts from the studs.
Tube Mount - For up to 6' wide openings and mounts to the face or underside of the freezer or cooler. To replace worn-out strips simply remove one end bracket and then you can slide off the strips and easily replace them.
USDA, NSF, CFIA Grade PVC
The PVC is extremely clear allowing for a clear line of sight.
NSF and USDA approved butcher door strips.
The plastic stays flexible even at low temperatures.
Butcher curtain strips maintain sanitation inside and out.
Common Uses
Walk-In Freezers
Walk-In Coolers
Personnel Openings
Supermarkets
Restaurants
Bakeries
Food processing plants
Update
The USDA passed the onus of compound compliance/approval to be under FDA provisions, specifically Title 21 CFR (Code of Federal Regulations). Since the USDA does not approve equipment or materials, we have material that meets CFR 21, which ensures that the compounds used are FDA certified raw materials. The AKON curtains are Title 21 CFR compliant and carry a UFL-94 Fire Cert.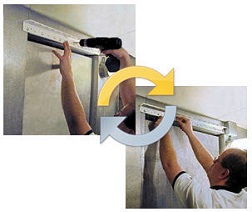 Both styles of mounting hardware are very quick to install. Only basic tools are required to attach the hardware to the freezer or cooler. The studded hardware hangs the butcher curtain strips on studs with lock nuts. The tube mount style only requires a few screws on the right side and the left side of the opening.
Free flowing air in a controlled temperature zone is the number one cost for most food processing facilities and retail outlets. The butcher curtain flap doors eliminate this unnecessary expensive and are one the of the quickest to install solutions. With an excellent ROI and ability to fit almost any opening these clear food grade strips are found in almost all facilities with coolers and freezers.
The unique composition of the low temp butcher curtain strips stays flexible to -20° F and the standard strips stay flexible to 0° F. The PVC material is nonporous making for an extremely slick surface. This is ideal as it helps prevent bacteria buildup. Standard grade PVC comes in 6" and 8" widths. Low-temperature PVC comes in 6" and 8" widths.
Curtain Track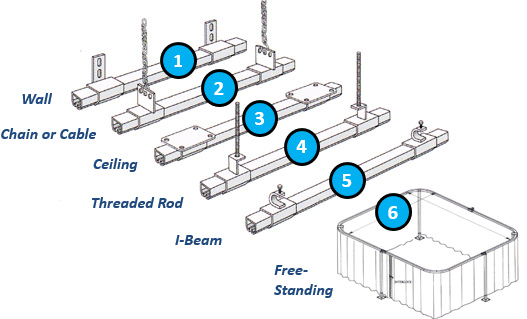 16 gauge galvanized steel tracks
Nylon roller hooks for easy opening
6 mounting styles to connect to various structures
Free standing hardware for up to 20' in height
Static Mount Hardware

Aluminum Angle - Use with self tapping Tek screws to pinch curtain to angle.
Grommets Only - You can then use many DIY methods to hang the curtains.
Beam Clamps - Clamps onto the flange of beams, joists and purlins.