Food operations demand sanitary curtains that meet Canadian Food Inspection Agency (CFIA) standards. AKON sanitation curtains are specially-designed for areas requiring barriers that will not spread or harbor the growth of bacteria.
A solid barrier
Unlike standard PVC curtains, this CFIA-grade material is nonporous. When spraying down machinery you can be sure that what hits the 40-mil curtains will not soak into them and allow bacteria to grow. The sanitary curtains also have no stitched hems—the heat-welded seams have no pockets to allow contamination or buildup.
Stainless-steel track
AKON's CFIA-grade curtains are mounted by 304 stainless steel rods with hangars that leave no place for buildup or bacteria growth and resist corrosion. The open track combines ease-of-movement with consideration for biological contamination.
Clean, divided environments
Don't worry about overspray contaminating other areas of your operation and shutting down your entire workplace for cleaning. CFIA-grade curtains allow you to create solid barriers to wash individual areas and machines without interrupting other operations.
Curtains Made to Your Specifications
Custom-made to your standards
Like all of our curtains, our antibacterial PVC curtains can be made to suit almost any length and height, and a number of mounting options to suit your facility's needs. Using a 90-degree corner you can have up to four joined barriers, forming either a straight line, L-shape, U-shape, or enclosed square. Curtains and tracks can also be sold separately.
Flexible and tough
AKON curtains can quickly divide areas in less time and for a lower cost than building a solid wall, and their design assures a high level of sanitation. Plus, curtains can be used for many applications requiring extreme temperatures—from -20F to 150F!
Whether your product is meat, dairy, eggs, or any other industry demanding exceptionally clean working environments, AKON's CFIA-grade curtains can save time and money while increasing safety for customers and workers alike.
Designed For Speed and Flexibility
Curtain Track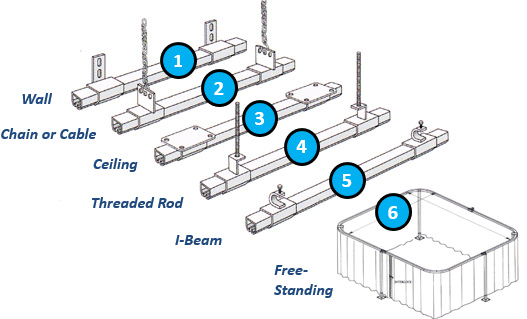 16 gauge galvanized steel tracks
Nylon roller hooks for easy opening
6 mounting styles to connect to various structures
Free standing hardware for up to 20' in height
Static Mount Hardware

Aluminum Angle - Use with self tapping Tek screws to pinch curtain to angle.
Grommets Only - You can then use many DIY methods to hang the curtains.
Beam Clamps - Clamps onto the flange of beams, joists and purlins.