OVERVIEW
If you want to divide your manufacturing space into smaller areas or create a secure working environment, avoid using tarp curtain walls. They won't last long and might put your employees or goods in danger. Their material is cheap and thin; not a good investment for your facility. If you are seeking a better long-term solution for curtain walls, we will help you out. Our blog will go over seven different reasons on why you should not purchase a tarp curtain wall and provide a better alternative.
Here Are 7 Reasons You Should Avoid Buying A Tarp Curtain Wall
Tarps are thin. They are more susceptible to physical damage than other types of curtain walls. If you need strong protection against wind, rain, snow, or wild animals, tarps will eventually let you down. They could do the job if you plan on using them for short periods of time but will fail in the long run.
Moisture and leaks. Tarp curtain walls will quickly wear out in most conditions. That can lead to tiny holes appearing on the surface. Droplets of water will begin to leak in and eventually reach your equipment. Even a new tarp wall can leak near seams or grommets.
They do not block light. Exposure to sunlight will greatly shorten the lifespan of a plastic tarp. While everything might seem ok on the outside, the material will start deteriorating on the inside. The Sun's UV rays can also cause damage to your materials and valuables.
They fray. The tarp curtain wall might begin unraveling near the edges if other items are in constant contact with it. Over time, large rips could occur and leave your goods without proper protection against moisture, sunlight, wind, wild animals, or unauthorized access.
Mold and mildew buildup. Since most tarp curtain walls are not waterproof, there is a risk of fungi growth inside the facility. Mold and mildew buildup can pose serious health hazards to employees as well as cause damage to paper or wall paint.
Weak against the wind. If you live or work in a windy area, avoid using tarp curtains as outside walls. The material is light. Should a powerful storm occur, your wall could get blown away.
There make wrinkle noises in the breeze. If your facility activities require concentration, don't buy a tarp curtain wall. The wrinkle noises will devoid the area from peace and quiet.
A Great Alternative: AKON's Industrial Vinyl Curtain Walls
Superior Protection
AKON's vinyl curtain walls are long-lasting and heavy-duty. They are easy to roll from one side to the other. You can open and close the retractable barrier in only a few seconds. Unlike fixed permanent walls, the vinyl curtains are 70 percent cheaper. Unlike tarp curtain walls, the vinyl curtains are much stronger. An efficient solution for any budget. Depending on your application, we offer a variety of materials and accessories.
Key Benefits
Less expensive than permanent walls
Quick installation process
Long-lasting and durable
Ideal for the winter and summer weather
Keeps your workers comfortable
Superior protection against moisture, mold, mildew, and the outside elements
Reduce heating and cooling bills
Contain dust, over-spray, fumes, and odors
Available with custom sizes, shapes, colors, accessories, and more
Easy to make, order, and receive
Curtain Track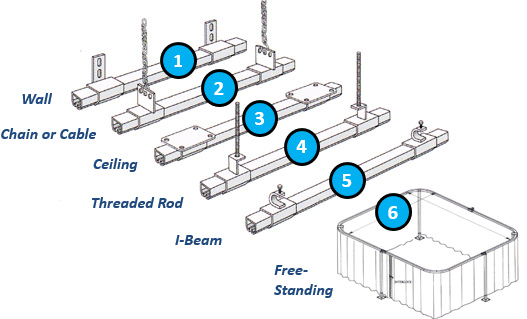 16 gauge galvanized steel tracks
Nylon roller hooks for easy opening
6 mounting styles to connect to various structures
Free standing hardware for up to 20' in height
Static Mount Hardware

Aluminum Angle - Use with self tapping Tek screws to pinch curtain to angle.
Grommets Only - You can then use many DIY methods to hang the curtains.
Beam Clamps - Clamps onto the flange of beams, joists and purlins.
Click Below For A Rapid Quote