Introduction
Statistics have shown that there are many deaths every year in America from food-induced anaphylaxis, this is according to the Food Standards Agency. Over 1,500 deaths are asthma which may be caused by an allergy to certain food. This statement shows that food reactions can be more severe than it's been talked about. Those with food allergies are at great risk, if not careful a simple trace of a food allergen can cause severe symptoms and might, in some cases, lead to fatal symptoms. Food allergens are regulated and assessed by clinical and scientific experts in America, their job is to make sure that foods are not contaminated and safe for consumption.
However, most recorded death from food allergens are consumer based and they likely occur in restaurants and eateries. There are regulations with regards to allergens in the food manufacturing industry to reduce contamination of food in the industry. Foods produced with allergens must be labeled crystal clear, and where there are no possible production facilities, packaging should highlight the potential risk of such food.
Partitioning of Allergen Containing Products
Installing Walls Between Production Lines.
Installing physical board to fully separate production line or create space is one of the most simple and cost-effective solutions to contamination. Quite a number of businesses use this method of segregating production line their facilities.
The Wipe Clean Hygenic panel is often used to generate separate areas for different food production lines. Its tight joint feature enables it to be fitted together to attain a sealed space, thereby minimizing the risk of cross-contamination.
That's not all, another advanced technology manufactured by AKON is the AKON Curtains and Dividers. The curtain is a fixed and portable system that partitions production lines immediately for washdown, or when two production lines are in use to produce products that need separation to avoid cross-contamination. This type of partition is used for odor, dust or transmission particles.
Maintain Ventalation and Equipment
Specialized Equipment
This device is typically used when manufacturing products with both allergen and non-allergen containing food. Scales, Utensils, and storage devices are possible equipment used for separation, although proper labeling should be made to evidently identify which equipment suits the type of food. If a color coding system is not in place, it should be made available to specify the various types of food.
Ventilation
More consideration should be given to the possibility of cross-contamination by air. Facilities that have the same source of air supply face the risk of cross-contamination if the product manufactured is allergen and non-allergen. In a scenario where allergen product is been produced with a non-allergen product in a facility, and they both share the same air supply, there is a high possibility that the air from the allergen products can enter the production line of the non-allergen product and this will certainly contaminate the food. To minimize this risk, a dedicated air condition and extraction system should be put in place. AKON Curtain and Divider should be installed between production areas.
Managing Product Schedules
For businesses that cannot run both allergen and non-allergen product in a facility, they should manufacture non-allergen products first before allergen product. This will reduce the risk attached to cross contamination. It is also advisable to run long production of allergen products to decrease the number of changeovers required. After a long run of allergen product in a facility, there should be a thorough washdown of that facility to eradicate every chance of contamination.
Contain Food Dust Allergens
Facilities where both allergen-containing food and non-allergen containing food are produced within the facility, there is a high risk of contamination but there are ways of minimizing the risk of cross-contamination through partitioning of production lines. Some of these ways of partitioning include:
Making use of different areas of the factory.
Providing barriers to fully separate production lines.
Installing Partitioning equipment.
Impose strict movement of materials in the facility.
Proper planning of production lines and apposite maintenance of equipment between production lines.
Regulating rework and making sure product residual materials containing an allergen is not reworked for an allergen-free product.
Separating air supply in each production lines.
Designed For Speed and Flexibility
Curtain Track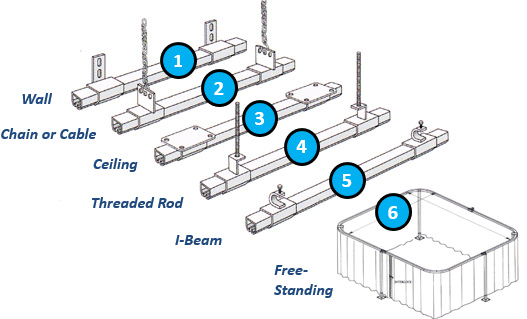 16 gauge galvanized steel tracks
Nylon roller hooks for easy opening
6 mounting styles to connect to various structures
Free standing hardware for up to 20' in height
Static Mount Hardware

Aluminum Angle - Use with self tapping Tek screws to pinch curtain to angle.
Grommets Only - You can then use many DIY methods to hang the curtains.
Beam Clamps - Clamps onto the flange of beams, joists and purlins.