OVERVIEW
Pallet rack curtains are used to hide the contents of the pallet rack for a cleaner look or to simply increase the privacy of what contents are being stored. They are made from 18oz Vinyl which is a very strong and durable material. The Vinyl also looks very professional and industrial with many color options to choose from.
Keep Rack Contents Hidden
Quick to Install and Easy to Use
The pallet rack covers and pallet rack curtains are very easy to operate. Simply walk them from one side to the other side of the pallet rack shelving and the curtain will roll with ease. The curtain rolls on nylon roller hooks which reduce friction and make for easy deployment and retraction.
The pallet racking curtains also come with all the hardware you need for a quick installation. You can choose hardware that can mount to the face of the rack or you can choose from hardware that hangs down from above. All of the hardware is included except the fasteners which vary from application to application.
Rack Curtains Are Quick to Deploy
Pallet Rack Divider Curtains
You can also place the divider curtains in between the shelving to give a backdrop to the racking. These can be hundreds of feet long or as small as only a few feet. Whatever the size we custom make them to meet your application.  Some key benefits are as follows:
Increase privacy
Increase loading safety via forklifts
Makes for a more clean looking warehouse
Very inexpensive
Can be moved to other racks when no longer needed
Informs associates to not remove or add more contents
Cover Only Partial Rack Shelves
Cover Individual Rows
You can use the curtains as rack covers for individual rows. The curtains come with grommets at the top on 12" centers for quick mounting using a simple steel cable. Just run the steel cable from one side of the rack to the other and mount the curtain on the cable. This allows for the curtain to be retracted when not in use.
Clear Vision Panel
Pallet rack cover curtains can feature a clear vision panel for line of sight into the pallet racking. This clear panel is optional at no additional charge. If you want to keep the contents of the racking covered then you can purchase a completely opaque curtain.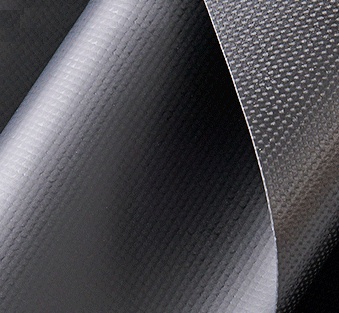 Opaque Vinyl
Industrial grade 18oz opaque vinyl ideal for moderate temperature control and blocking line of sight. $$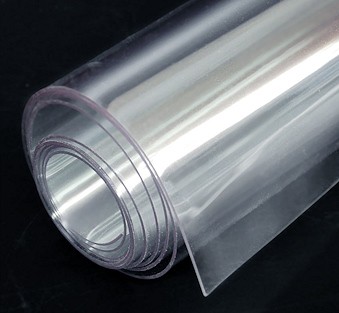 Clear Vinyl
Industrial grade 30mil clear vinyl ideal for moderate temperature control and allowing a line of sight. $$
Insulated Vinyl
Industrial R3 1/2" thick material with 18oz vinyl skins ideal for heavy temperature control and blocking the line of sight. $$
We have pallet racks in our warehouse but we need to separate one product so we are looking for something to divide each pallet rack space. Will these curtains do that?
Yes the curtains are made to divide the pallet racks so that you can keep products on one side separate from products on the other side.
I need to maintain temperature of some parts in a standard pallet rack. I'm thinking about enclosing the rack with a curtain and installing a small heater. Are any of the curtains insulated?
Yes we do offer insulated pallet rack curtains which would divide racking from the top of a cooler, freezer or warehouse roof all the way to the floor. The insulated curtains are ideal for temperature separation from products that very from one pallet rack to other.
Need a large curtain for a teardrop pallet rack we use to store our large steel gauges at our plant.... ideally it would be see-thru. Can they be clear?
Yes the clear material is common and is the same price as opaque material. The clear PVC allows you to see through the pallet rack while still dividing it or covering it.
Curtain Track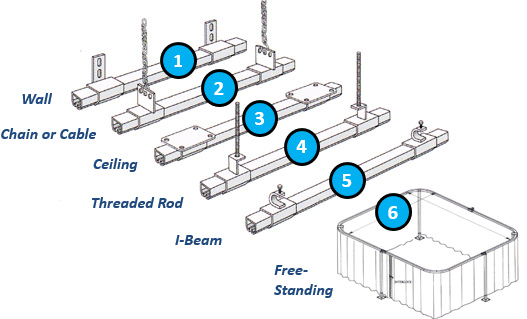 16 gauge galvanized steel tracks
Nylon roller hooks for easy opening
6 mounting styles to connect to various structures
Free standing hardware for up to 20' in height
Static Mount Hardware

Aluminum Angle - Use with self tapping Tek screws to pinch curtain to angle.
Grommets Only - You can then use many DIY methods to hang the curtains.
Beam Clamps - Clamps onto the flange of beams, joists and purlins.