Description
Stocked Industrial Curtains by Akon enables you to maximize the floor space and contain paint spray, fumes, dust, sparks and other debris. The robust 18 oz vinyl curtains are stocked and are the perfect quick ship curtains for your application.
These economical AKON curtains are the best solution for industrial setups, prep stations, body shops and small shops to create work cells of different shapes and sizes for various work tasks. The installation is easy, quick and do not need any special equipment. The curtains also come fitted with a chain pocket so that you can add a 3/16" chain weight. This helps prevent uncontrolled movement of curtain due to negative pressure or washing.
Build Your Curtain Below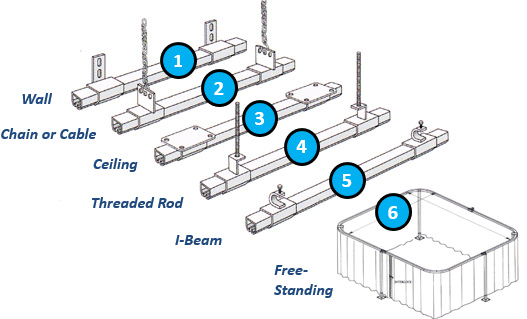 Rolling Hardware
16 gauge galvanized steel tracks
Nylon roller hooks for easy opening
6 mounting styles to connect to various structures
Free standing hardware for up to 20' in height

Static Mount Hardware
Aluminum Angle - Use with self tapping Tek screws to pinch curtain to angle.
Grommets Only - You can then use many DIY methods to hang the curtains.
Beam Clamps - Clamps onto the flange of beams, joists and purlins.