OVERVIEW
Akon provides a complete line of sandblasting curtains which will help you contain your blasting material. Our curtains can be used to surround the sandblasting area or can be installed as a single partition wall. You can arrange the curtains in whatever fashion best suits your application.
The sandblasting curtains are designed of a thick material which will endure the high pressure particle spray. This is very important as traditional curtains would quickly be destroyed by the high velocity spray.
Curtain to Contain Blast Dust
Sandblasting Curtain Installation
Installing the curtains is quick and hassle free. Before installation, and before ordering, you will want to inform Akon on the type of mounting that you require so that we can quote you accordingly. You can choose the style which best meets your needs. The price difference between the 3 styles is not much different, so the advantage of one style over another is really only in function. Typically there are 3 mounting styles.
Hang the curtain from the ceiling
Mount the curtain from wall to wall
Free standing mount which is movable
Quick to Enclose Blasting Area
Thick Durable Material
Curtains which are used for sandblasting are also heavier than a traditional curtain due to the thick material. This is important if you want a free standing curtain as it might be too heavy to move. To help with this problem, we can design the curtains to be fabricated in sections which are not so heavy to move around. If you would like a formal quotation on sandblasting curtains, please call us, or click the button below and we will contact you as soon as we can.
High Grade Curtain Materials
Types of Sandblasting Enclosure Booths
There are several different types of enclosures that can be supplied based on your sandblasting application.
Free-standing enclosures with floor plates
Four sided enclosures supported from above
Any size of sandblasting curtain height and length
Magnet split entrances
Easy to replace curtain panels if and when damaged
Curtain Track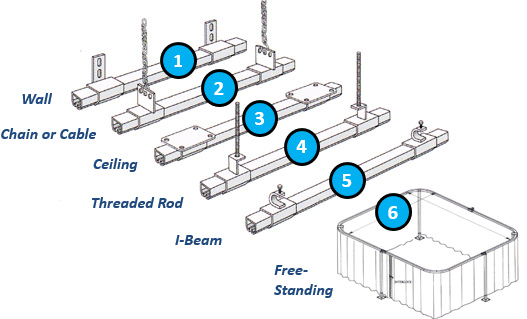 16 gauge galvanized steel tracks
Nylon roller hooks for easy opening
6 mounting styles to connect to various structures
Free standing hardware for up to 20' in height
Static Mount Hardware

Aluminum Angle - Use with self tapping Tek screws to pinch curtain to angle.
Grommets Only - You can then use many DIY methods to hang the curtains.
Beam Clamps - Clamps onto the flange of beams, joists and purlins.