OVERVIEW
Sand Sandblasting enclosures and shot blast enclosures can be designed from curtains which are more flexible and a lot less expensive than rigid wall enclosures. While not designed to be used as a backdrop to stop a direct hit from the media they are perfect for containing the dust created by the shot blasting and sandblasting dust.
Quick to Deply to Contain Dust
Types of Sandblasting Enclosure Booths
There are several different types of enclosures that can be supplied based on your sandblasting application.
Free-standing enclosures with floor plates
Four sided enclosures supported from above
Any size of sandblasting curtain height and length
Magnet split entrances
Easy to replace curtain panels if and when damaged
Contain Sandblasting Dust
Material Benefits
The material used in sandblasting curtains is located in a very volatile environment. Sand blasting enclosures from AKON use materials that have the following qualities:
Material must last a long time
Material must be easy to replace
Material must be light weight and easy to move
High Grade Curtain Materials
Material Features
Puncture Resistant
Very Flexible & Lightweight
UV Resistant
Flame & Non-Flame Retardant
Akon utilizes a shot blast curtain which is identical to trucking tarps that are made for the harshest conditions. This material has shown to be extremely reliable for containment of shot blast media and sandblasting dust. Sand blasting curtain enclosures made from this 18oz and 22oz Vinyl are a fraction of the cost of rigid wall systems.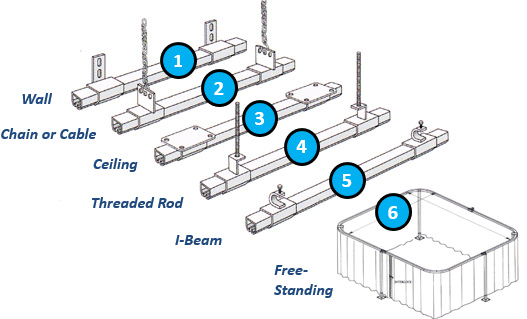 Rolling Hardware
16 gauge galvanized steel tracks
Nylon roller hooks for easy opening
6 mounting styles to connect to various structures
Free standing hardware for up to 20' in height

Static Mount Hardware
Aluminum Angle - Use with self tapping Tek screws to pinch curtain to angle.
Grommets Only - You can then use many DIY methods to hang the curtains.
Beam Clamps - Clamps onto the flange of beams, joists and purlins.