OVERVIEW
Do you need to contain and control smoke? Then our smoke control curtains can help. Smoke can be a serious problem in some facilities where work processes or equipment produce noxious fumes. Long term exposure to smoke fumes can result in many different types of health issues for your workers. Short term exposure results in a poor work environment, reduced morale, and an unnecessary distraction to everyone.
Large Curtains to Control Smoke
Control Smoke at the Source
Our solution is to surround the product, or process with a smoke containment curtain. This industrial smoke containment curtain will control the smoke and prevent it from mixing in with the surrounding atmosphere. The smoke will then be confined to a regional area and can even be vented outside via an exhaust tube and blower.
The atmosphere will then remain clean and free of noxious odors allowing your workers and your visitors to breathe easier. The distraction from the fumes will be eliminated, overall morale will increase, fines from OSHA will be eliminated.
Large Curtains to Control Odor
Odor Control Curtains For Plants
The industrial curtains are quick to install and a lot less expensive than new wall construction. In fact, a smoke control curtain is only a fraction of the cost of a traditional fixed wall. Some other benefits are as follows:
Can be installed very fast, often times in only a few hours
Do not require any building permits
Can be constructed from fire retardant material
Are great for temporary applications that might not exist in the near future
Can be taken down, or pulled back when not needed
Can be equipped with strip doors for quick operator or forklift access
Constructed from durable 18oz industrial vinyl material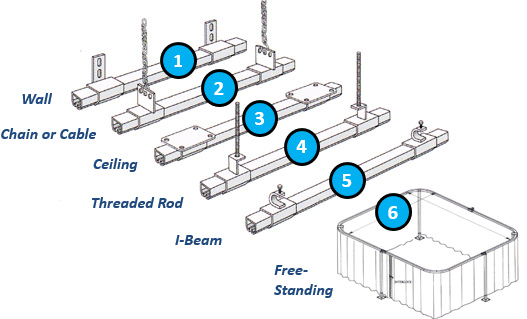 Rolling Hardware
16 gauge galvanized steel tracks
Nylon roller hooks for easy opening
6 mounting styles to connect to various structures
Free standing hardware for up to 20' in height
Static Hardware
Aluminum angle - Use with self tapping Tek screws
I-beam clamps - Clamps onto the flange of beams, joists and purlins