OVERVIEW
When a fixed wall is not feasible or too expensive, an Akon temporary curtain wall can be used. These curtains walls are a lot less expensive and they can be erected in only a fraction of the time.
Temporary Curtain Wall Benefits
Much less expensive than traditional fixed walls
A lot easier to install as contractors are not needed
Minimal downtime is required as they are quickly installed
No expensive concrete foundation is required
They have very small footprints which is only a fraction of the overall width of a fixed wall
A lot less expensive to ship to your facility versus construction materials
Delivery is only a few weeks versus the extensive time it takes to erect fixed walls
Temporarily Divde Your Space
Why Use Temporary Curtain Walls?
The temporary curtain partitions are very easy to take down once they are no longer needed. They simply detach from the mounting fixture and can then be folded up and put into storage until they are needed once again.
The rapid install and take down times are what makes these industrial curtains so cost effective and popular for companies with tight budgets and timelines. In fact, the curtains work so well, and last so long that many owners choose to simply leave them up and tie them back when not in use.
Common Applications
There are many different uses which the curtain partitions can be used for as it is a very versatile product. Some of the most common uses are as follows:
Partitioning Spaces – Partition off unused floor space, or divide up your work areas
Control temperatures – Prevent cold or warm air from blowing around the facility
Contain debris – Prevent flying debris from injuring nearby workers or visitors
Contain over spray – Keep paint or power washing over spray from damaging the surroundings
Designed For Speed and Flexibility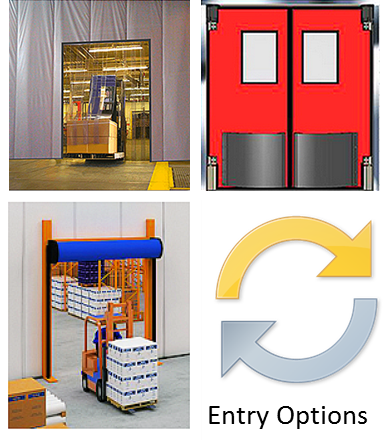 Entry Options
Insulated warehouse dividers are static position curtains. That means they do not roll side to side to allow people or material in. Rather, the curtains feature entry and exit locations. The most common entry and exits are strip curtains, swinging doors or powered roll up doors. Strip doors being the most common and economical. Each version features a freestanding frame that anchors into the floor and seals to the curtain wall.
Quick to Deploy and Take Down
Easy Install
Industrial curtains come with grommets at the top making hanging the curtains quick and easy with or without the curtain track.
 Inexpensive
Industrial curtains are about 1/3rd of the cost of other separation methods such as rigid walls or panel systems and are easy to store.
Separate Workers
Industrial curtain walls are ideal for separating workers for welding, washing, packaging and many other operations.
Control Noise
Industrial curtains help reduce noise due to the thick PVC they are made from which makes for a more comfortable work environment.
Curtain Track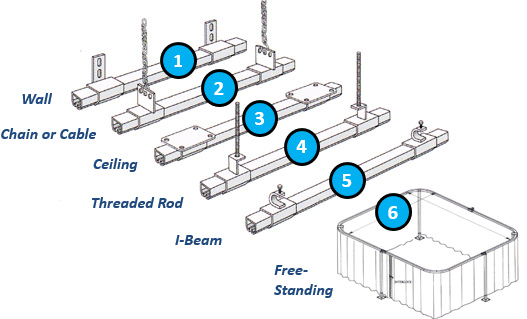 16 gauge galvanized steel tracks
Nylon roller hooks for easy opening
6 mounting styles to connect to various structures
Free standing hardware for up to 20' in height
Static Mount Hardware

Aluminum Angle - Use with self tapping Tek screws to pinch curtain to angle.
Grommets Only - You can then use many DIY methods to hang the curtains.
Beam Clamps - Clamps onto the flange of beams, joists and purlins.
Click Below For A Rapid Quote