OVERVIEW
Our lines of vinyl curtain wall are typically used as a partition or a divider that separates space inside of a building and is non-load bearing. These industrial curtains are a lot less expensive than a fixed wall and can be installed in a fraction of the time.
Divide Your Facility Quickly
Common Uses for Vinyl Curtain Walls
While the uses for these curtains vary greatly, the most common uses are as follows:
Temperature zones – Separate heated portions of the building from non-heated
Dust control – Dust control curtains keep dust confined to the source
Odor control – Odor control curtain walls keep odors confined to the source
Privacy – Privacy curtain walls keep unsightly or private areas out of sight
Installation of the Vinyl Curtain Walls
The materials used for your specific application will vary based on the environment and your objectives. Typically the curtain walls are constructed from 14 to 18oz vinyl which will provide many years of reliable use.
For some applications, such as temperature separation, we might choose to supply you with an insulated vinyl curtain wall material which has a foam filling. This filling is wedged between two layers of vinyl and can separate temperatures up to about 43° F.
Easy Install
Industrial curtains come with grommets at the top making hanging the curtains quick and easy with or without the curtain track.
 Inexpensive
Industrial curtains are about 1/3rd of the cost of other separation methods such as rigid walls or panel systems and are easy to store.
Separate Workers
Industrial curtain walls are ideal for separating workers for welding, washing, packaging and many other operations.
Control Noise
Industrial curtains help reduce noise due to the thick PVC they are made from which makes for a more comfortable work environment.
Mounting Methods
The mounting style which is used also varies based on the structure that you have available in your building. The industrial curtains can hang from the ceiling joists or they can go all the way from the floor to the ceiling and wrap right around the joists. Typically this would be for odor control, dust control, and temperature control curtains as you want an air tight fit between the two areas.
Vinyl Curtain Wall Options
In some instances you will need to include additional features to the curtain to provide you with the functionality that your application requires. Here are some of the features that you can add.
Strip doors – The strip doors will allow a forklift or workers to pass through
Clear strip windows – A see through window allows you to see through the industrial curtain
Modular panels – Velcro panel sections allow for the addition or removal of curtain sections
Floor anchors – The floor anchors keep the curtain "tight" from the ceiling to the floor
Curtain Track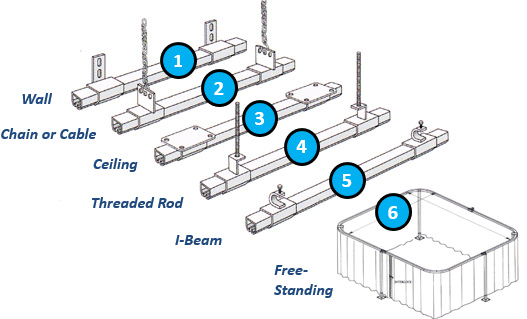 16 gauge galvanized steel tracks
Nylon roller hooks for easy opening
6 mounting styles to connect to various structures
Free standing hardware for up to 20' in height
Static Mount Hardware

Aluminum Angle - Use with self tapping Tek screws to pinch curtain to angle.
Grommets Only - You can then use many DIY methods to hang the curtains.
Beam Clamps - Clamps onto the flange of beams, joists and purlins.
Click Below for More Details