OVERVIEW
Dust buildup is something normal for manufacturing plants. There are countless reasons for its occurrence:
Exhaust gases from combustion engines
Black marking tires leave dust during contact with the floor's surface
Small pieces of cardboard boxes and wooden pallets
And various other causes
Small amounts of dust pose little to no threat for anyone. However, the lack of regular maintenance could be dangerous. As soon as enough dust accumulates, it can become dangerous for the factory's workers and equipment. Our blog will reveal how hazardous facility dust can be and offer efficient solutions to your problems. We will discuss various dust control methods and provide a unique idea.
How Dangerous Can Dust Be For Your Warehouse?
Negative effects on employees
Dust can pose serious health risks for the factory's workers. Regular exposure to dust particles can irritate to the skin, eyes, respiratory system, ears, and more. Allergies are also common. If the employees spend at least a few hours in such conditions every day, they are at risk of developing serious long-term illnesses. Dust on the floor might cause slipping accidents. Different US states and foreign countries have laws which protect employees from exposure to dangerous substances in the air. To meet these laws, companies must create a safe working environment.
Negative effects on your equipment
If enough dust manages to build up, it will cause performance issues. Your equipment will work less efficiently, and the maintenance costs might begin to rise.  The downtime will lead to further losses. If the floor gets too dirty, it will be harder to move materials across your facility. Internal components will also suffer from dust because it can clog air filters, directly damage machine parts, or cause shorts to electric parts. If dust starts building up on higher levels of your factory, your products will be at constant risk. Should the dust wall off, you will suffer from quality control issues.
Direct risks from dust buildup
One specific, deadly accident could be the combustive dust explosion. After long periods of accumulation, dust can become dangerous. If it comes in contact with an ignition source, it might explode and put the wellbeing of everyone in the facility in danger. Such cases are not rare. In recent years, they are becoming more common. OSHA often improves its standards by requiring good housekeeping habits from factories. If you want to avoid a serious incident or a large fine, regularly cleaning the dust is essential. Do not allow it to accumulate over time.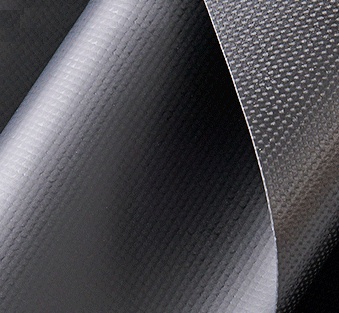 Opaque Vinyl
Industrial grade 18oz opaque vinyl ideal for moderate temperature control and blocking line of sight. $$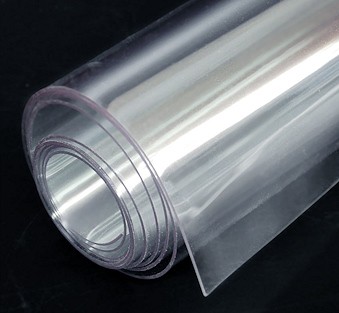 Clear Vinyl
Industrial grade 30mil clear vinyl ideal for moderate temperature control and allowing a line of sight. $$
Insulated Vinyl
Industrial R3 1/2" thick material with 18oz vinyl skins ideal for heavy temperature control and blocking the line of sight. $$
The Best Dust Control Methods
1. Regular checkups and cleaning
They are a part of a normal maintenance routine. While water will do fine for most surfaces, you also need special detergents for the equipment and electronics. Some cleaning products can keep the surface smooth and dust-free for awhile. The use of vegetable oils such as soybean and canola oil could protect the floor from dust. They are eco-friendly. Microfiber cloths can also be useful since they attach themselves to the smallest pieces of dust and leave any surface spotless.
2. Purchase a powerful ventilation system
Ventilation control is another solution. These systems use extractor fans which create air flows inside the facility. When you turn them on, the fans will start pulling small dust particles towards themselves. There is a collection bag at the other end of the ducts. You can turn off the ventilation system at any time and safely remove and dispose of the dust.
3. Fogging can do the trick
Fog makers are an excellent solution for factory dust control. The idea is simple - they create small droplets of water and shoot them in the air. The droplets will interact with tiny pieces of dust and stick to them. When the particles reach a large mass, they will fall on the ground. Fogging systems are good for long-term protection because they can easily prevent dust accumulation from entering or leaving a specific room.
4. Reduce the movement of materials within the facility
The less traffic there is – the better. Friction between tires and the floor's surface could result in the creation of dust. Speed will accelerate that process. Fast-moving objects will stir up more dust. If you can find an efficient solution which reduces the movement and speed of objects without negatively affecting the manufacturing process, your factory will become safer for everyone.
5. Reducing the exposed surfaces will help
Keeping everything orderly and storing smaller materials inside containers will help in the fight against dust. It is an efficient solution. There will be less dust than before. The remaining dirt particles will pile up; waiting for someone to remove them.
6. Using dust control curtains or walls can save you time, efforts, and money
A neat solution to containing dust and preventing it from spreading would be the use of special curtains. They will separate different facility compartments and prevent tiny airborne particles from entering or leaving. The curtains will act as a barrier between people and specific processes. The dust will remain in a controlled environment, so you can quickly and easily remove it later. Such curtain walls will help in securing a healthy working environment with high standards.
AKON's Industrial Dust Control Curtains
The best solution for your needs
Another great solution for dust control would be AKON's Industrial Dust Control Curtains. They are strong, long-lasting, and effective. If some process in your factory releases too much dust into the air, our industrial curtains will help in keeping the space as clean as possible. Make a wise choice and consider a purchase. Our curtains are easy to set up. Once ready, they will surround any source of dust in the factory while maintaining good air quality. Keeping the working environment clean and safe is of vital importance to your employees. The dirt will stay near its source. Staff members will safely remove it afterward. Keep the nasty dust particles at bay with our curtains.
Easily contain these hazardous particles
By surrounding the dust's source, you will keep your factory safe and clean. The air quality will remain high and appropriate for employees and equipment. Here is a list of some airborne particles while our industrial dust control curtains can easily contain:
Woodworking dust
Food processing dust
Smoke and fumes
Offensive odors
Sanding dust
Pesticides
Moulds and spores
Our curtains offer amazing benefits
The dust control curtains will prevent air contamination from spreading outside its source. Your workers and guests will enjoy a safe environment. The curtains will prevent anyone from breathing in hazardous dust, fumes, odors, and other chemicals. Your facility will remain safe, clean, and professional looking. By purchasing our curtains, you will save time, energy, and money in the long run. The curtain walls are an efficient solution for dust and debris control, as you will spend less on cleaning, and more on the production process. We can offer you a rare and unique method of saving money by improving your working conditions.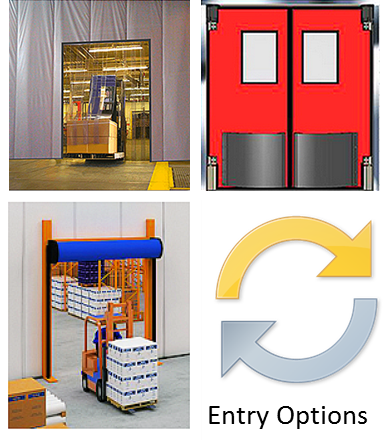 Entry Options
Warehouse dividers are usually static position curtains. That means they do not roll side to side to allow people or material in. Rather, the curtains feature entry and exit locations. The most common entry and exits are strip curtains, swinging doors or powered roll up doors. Strip doors being the most common and economical. Each version features a freestanding frame that anchors into the floor and seals to the curtain wall.
Dust Control Where You Need It
Our curtains have different features
Depending on what applications you use, there could be a few unique configurations. You are free to explore these ideas and choose the most efficient ones. You can either go with the standard features or go for a full custom curtain. We will design and supply it to you as quickly as possible.
Our curtains come with a large selection of materials and mounting options. You can choose custom sizes, accessories, colors, and other details. The goal is to provide you the maximum amount of freedom in choosing what works best for you. Every curtain is custom made to fit in your factory environment.
Here are some examples of what we offer:
Clear window panels so you can easily see through them
Strip doors which will allow easy access for anyone passing from one side to the other
You can use powerful fire retardant vinyl
You can also choose to use anchoring floor mounts which will keep the curtains rigid
Choose a curtain with one or multiple sizes as well as custom dimensions
Floor sweeps will touch the floor and provide better room separation
Stick on seal Velcro for attaching your curtain edges to a solid surface such as a beam or wall face
You can add a 3/16" chain at the bottom of the curtain for additional weight. It is ideal for wash bays and drafty areas
Our industrial dust control curtains are:
Quick and easy to install
Less expensive than fixed walls
Great at controlling dust and debris
They have a modular in design
They can integrate doors and windows
Curtain Track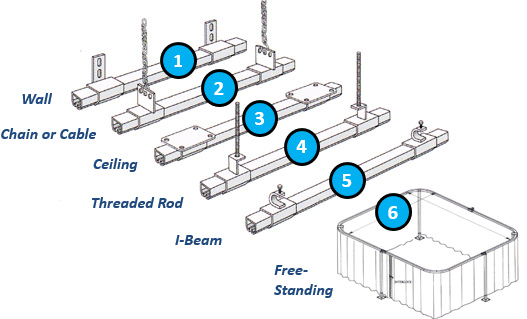 16 gauge galvanized steel tracks
Nylon roller hooks for easy opening
6 mounting styles to connect to various structures
Free standing hardware for up to 20' in height
Static Mount Hardware

Aluminum Angle - Use with self tapping Tek screws to pinch curtain to angle.
Grommets Only - You can then use many DIY methods to hang the curtains.
Beam Clamps - Clamps onto the flange of beams, joists and purlins.