OVERVIEW
You can effectively divide up the space in your facility with the use of the building divider curtains. These commercial curtains are ideal for dividing up space for privacy, work areas, and containment of noise, odors, dust, and other undesirable elements.They are fabricated from high grade vinyl which resists tearing and ripping like other fabrics. In fact, this same material is used in our line of industrial vinyl curtains.
Divide Your Building Quickly
Divide Buildings with These Curtains
The curtains can be designed for any length and any height based on your building dimensions. In fact, it is not uncommon for us to supply 200' long x 40' tall curtain dividers. For building curtains of this size, they are supplied in sections that simply Velcro together to form one large panel.
Easy Install
Industrial curtains come with grommets at the top making hanging the curtains quick and easy with or without the curtain track.
 Inexpensive
Industrial curtains are about 1/3rd of the cost of other separation methods such as rigid walls or panel systems and are easy to store.
Separate Workers
Industrial curtain walls are ideal for separating workers for welding, washing, packaging and many other operations.
Control Noise
Industrial curtains help reduce noise due to the thick PVC they are made from which makes for a more comfortable work environment.
Quick To Install And Move
The mounting is also very simple. You have two options for hanging the curtains.
Fixed Position – With this mounting style, the curtain will not move back and forth. It will be fixed and will serve as a more permanent structure.
Movable – With this mounting style the building divider curtains will be supported by nylon roller hooks on a trolley track. This will allow them to move back and forth, much like a shower curtain. This will allow them to be pushed to the side and stored when not needed.
The Leader In Building Divider Curtains
Insulated Building Divider Curtains
There are many material thicknesses to choose from based on your application and your personal preference. Some materials are thicker than others and will serve your needs better than the thinner materials. In fact, insulated building dividers are available to separate temperatures from one area to another. You can separate these temperatures up to 40 degrees. This type of building curtain divider is ideal for facilities that are looking to close off a portion of the building. This can result in large savings in utility costs.
Quick Access Entry Points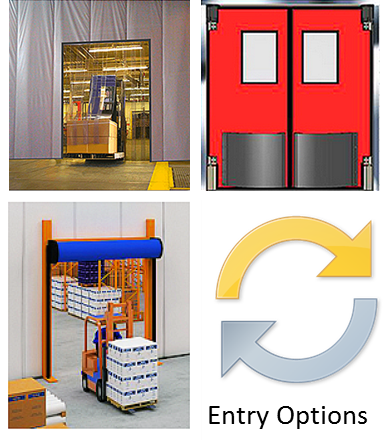 Entry Options
Akon uses several entry and exit options for our building divider curtain walls. Most of these entry options are used with large static mounted divider curtains. That means they do not roll side to side to allow people or material in. Rather, the curtains feature these entry and exit locations. The most common entry and exits are strip curtains, swinging doors or powered roll up doors. Strip doors being the most common and economical. Each version features a freestanding frame that anchors into the floor and seals to the curtain wall.
Curtain Track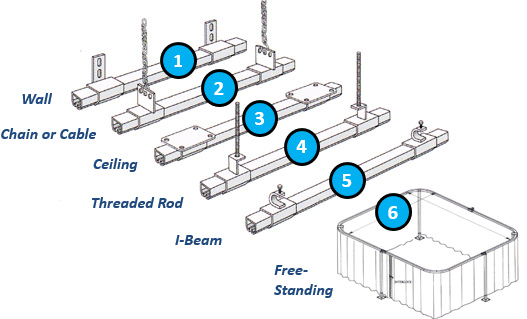 16 gauge galvanized steel tracks
Nylon roller hooks for easy opening
6 mounting styles to connect to various structures
Free standing hardware for up to 20' in height
Static Mount Hardware

Aluminum Angle - Use with self tapping Tek screws to pinch curtain to angle.
Grommets Only - You can then use many DIY methods to hang the curtains.
Beam Clamps - Clamps onto the flange of beams, joists and purlins.