OVERVIEW
Curtains are of vital importance for every place of worship. From the moment our team begins designing the curtain to the final installation, we will take great care of every little detail. If you want a specific design, feel free to share it with us. We can offer custom layouts, dimensions, valance, curtain tracks, and other applications. You can choose between vinyl and velour. Our team will work with you to design and provide the best curtain for your church. The curtain will meet every safety requirement. If you want to learn more about our production process or ask questions, contact us right away. AKON's church divider curtains are the ideal solution for keeping light out of specific areas.
Church Divider Curtains Made to Order
Many Applications
Use On Walls And Windows. You can add the curtains on either the walls or windows. By doing that, you will greatly improve the overall look of your church.
For The Stage. You can use the curtains to cover the stage. Adding valance will give your church a classy and decent look.
Room Dividers And Partitions. A church may need partitions for multiple reasons. The best way to divide space would be with the use of special curtains. They are quick and easy to set up. Our church curtains are not only efficient and convenient but also have an elegant look.
Reduce Noise
Sound Absorption. A great reason to use curtains for churches would be to reduce incoming sounds. By doing that, you will create a peaceful and pleasant indoor environment; perfect for visitors. Noise reducing church curtains are ideal for keeping the noise levels from singing, plays, meetings, conventions and more to a minimum.
Thicker Velour. While the standard 14 ounces velour does a good job at reducing noise levels in the church. Our 21oz velour is the ideal material as it is thicker and has better sound blocking abilities.
Use More Fullness. We recommend 50% fullness for applications where sound blocking is the primary objective. This means the curtain have more of a wavy look to them. The waviness catches and redirects more sound than a flat less full layout.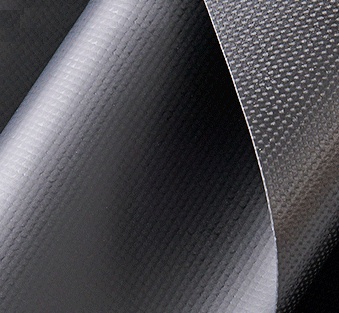 Vinyl
In areas where getting the curtain dirty is a concern we have the 18oz Vinyl curtains. Its slick surface makes it easy to clean and it is resistant to water spray. Unlike the fabric materials its surface is more reflective and shiny. This is the workhorse material that is made for less than ideal conditions.  100% Visual blackout, 90%  Light blackout. $$
Fabric | Poly Stretch
Poly Stretch 6oz is a soft material commonly used in many commercial applications. It's a two-way stretch fabric with zero, to minimal wrinkle and it has a flat matte finish. It is commonly used to create backdrop walls for a variety of applications. 75% Visual blackout, 50%  Light blackout. $$
Fabric | Premium Velour
This luxurious 14oz fabric is ideal for stage backdrops, church backdrops, dividing a space or creating a high-end look with fabric. It's inherently flame resistant, lightweight and washable. It's the ideal fabric for commercial curtains that need to look great at a reasonable price. 100% Visual blackout, 90%  Light blackout. $$$
Fullness
Curtains have 3 options of fullness (also known as drape) as shown below. The 50% fullness is the most common for commercial curtain applications. To calculate fullness, you take the distance that you are trying to span and multiply that by the desired amount of fullness. For instance, if you want to cover 75' and you want 50% fullness you would use 75' x 1.5 = 112.5' of curtain. We do the math for you to make it easy. Just use our fill in form button at the bottom of the page.
Fullness Options
Flat - Nothing is added to the curtain width to span the opening.

$

50% Fullness

- 50% more material is added to the curtain width to span the opening.

$$

100% Fullness

- 100% more material is added to the curtain width to span the opening.

$$$
Decorate Your Church And Give It A More Elegant Look
What Are The Benefits?
The common application includes church stages, windows, altars, and more
And a range of accessories for mounting on your new curtain
You can choose between modern and traditional styles
We use top-quality materials such as vinyl and velour
You can customize the curtains as much as you like
Fireproof and flame retardant curtains
NFPA-701 approved for flame resistance
Quick and easy to install
A great long-term investment
All our church divider curtains are proudly made in the USA
There are lighting and audiovisual solutions for every venue size
Contact us today and we will assist you in designing the perfect curtain for your church
Other Useful Features
Rolling hardware to move side to side
Grommets on 12" centers at top of the church divider curtains
We can add Velcro connections if you need them
Optional valance curtains for above the main curtain
Optional floor sweeps to engage the floor
We can also provide optional blackout ceiling curtains
Top-Quality
Our special vinyl and velour church divider curtains are the perfect, long-lasting solution. With good care, these curtains can prove themselves as a one-time investment. Our amazing team will help design and ship the best curtain for your church. We understand many clients have budget requirements. Therefore, we have a commitment to provide the best value for your money.
Optional Valance
A valance is used in some applications where there is a large gap from where the hardware is mounted to the top of the curtain. Ideally you want this opening covered 6 to 12" of overlap.
Poly Stretch - Fabric

$
75% Visual blackout
50%  Light blackout
Wrinkle-resistant and hangs beautifully
Lightweight and washable
Inherently Flame Resistant (I.F.R.)
Passes NFPA 701 Small Scale, CA Title 19, Section 1237 Small Scale, CAN/ULC-S109-14 Small and Large Scale
Non-reflective
Finished edges for clean crisp appearance
All colors are the same price
---
Premium Velour - Fabric

$$
100% Visual blackout
90%  Light blackout
100% Polyester Fabric with a plush feel
Lightweight and washable
Inherently Flame Resistant (I.F.R.)
Passes NFPA 701 Small Scale, CA Title 19, Section 1237 Small Scale, CAN/ULC-S109-14 Small and Large Scale
Non-reflective
Finished edges for clean crisp appearance
All colors are the same price
---

16oz - Vinyl

$$
100% Visual Blackout
100% Light Blackout
Vinyl coated polyester reinforced with scrim
NFPA fire retardant, CFM fire retardant
Outdoor rated
Lightweight
Finished edges for clean crisp appearance
Double hems used where needed for longevity
All colors are the same price
Slightly shinny
Color Options: White or Black
Need Help Deciding