OVERVIEW
At AKON, we can offer you the best extra large commercial curtains; perfect for any business or industry. You can use them as a decoration during events, to separate facility space, or to reduce noise levels in the office. We have worked with companies from different industries and can guarantee the curtains are great for both interior and exterior use. The curtains will surely add a touch of style and luxury to any environment. If you don't want to search for something specific, our extra large commercial curtains are a great choice - they are designed for general use of all sizes and shapes.
Commercial Curtain Applications
Extra Large Commercial Curtains
Made to Order Any Size

All commercial curtains are custom made for a perfect fit. Unlike others, the extra large curtains can cover huge stages, rooms, churches, theatres, and more. Our curtains go through laboratory tests and meet commercial standards for flame resistance.
We will meet your budget and deadline. From the moment our team begins designing the curtain to the final installation, we will take great care of every small detail. If you want a specific design, feel free to share it with us. We can offer custom layouts, dimensions, valance, curtain tracks, and other applications.
Ideal For
Hotels, motels, and restaurants
Theaters and operas
Trade shows
College and university events
Concerts
Condo units
Casinos and betting clubs
Weddings
Classrooms
Auditoriums
Meeting and conference rooms
Churches and places of worship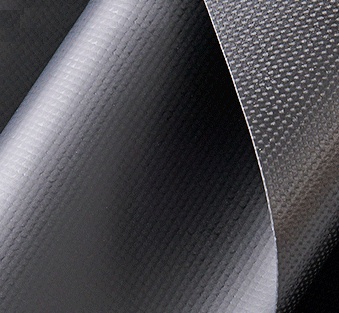 Vinyl
In areas where getting the curtain dirty is a concern we have the 18oz Vinyl curtains. Its slick surface makes it easy to clean and it is resistant to water spray. Unlike the fabric materials its surface is more reflective and shiny. This is the workhorse material that is made for less than ideal conditions.  100% visual blackout, 90% light blackout. $$
Fabric | Poly Stretch
Poly Stretch 6oz is a soft material commonly used in many commercial and industrial fabric curtain applications. It's a two-way stretch fabric with zero, to minimal wrinkle and it has a flat matte finish. 75% visual blackout, 50% light blackout. $$
Fabric | Premium Velour
This luxurious 14oz fabric is ideal for creating a high-end look with fabric. It's inherently flame resistant, lightweight and washable. It's the ideal fabric for commercial curtains that need to look great at a reasonable price. 100% visual blackout, 90% light blackout. $$$
Fullness
Curtains have 3 options of fullness (also known as drape) as shown below. The 50% fullness is the most common for commercial curtain applications. To calculate fullness, you take the distance that you are trying to span and multiply that by the desired amount of fullness. For instance, if you want to cover 75' and you want 50% fullness you would use 75' x 1.5 = 112.5' of curtain. We do the math for you to make it easy. Just use our fill in form button at the bottom of the page.
Fullness Options
Flat - Nothing is added to the curtain width to span the opening.

$

50% Fullness

- 50% more material is added to the curtain width to span the opening.

$$

100% Fullness

- 100% more material is added to the curtain width to span the opening.

$$$
Top of Curtain Mounts
Curtains have 3 options for top of curtain hardware. Large rings, top pocket, and small grommets. Choose a style based on the hardware you have already or want to use.
Large Commercial Curtains Benefits
What Are The Benefits?
Compliance with fire retardant standards
NFPA-701 approval for flame resistance
We use top-quality materials such as vinyl and velour
These fabrics are lightweight and strong
The curtains will help prevent the spread of dust, infections, and other harmful elements
6 mounting styles to connect to various structures
You can add different applications such as valance or a drop ceiling mount
You can customize the curtains as much as you like
Long-lasting solution
Quick and easy to install
Manual operation
Fully bespoke
A great long-term investment
Proudly made in the USA
There are lighting and audiovisual solutions for every venue size
Great for large applications
Contact us today and we will help you design the perfect curtain for your commercial needs
Other Useful Features
Rolling hardware to move side to side
Grommets on 12" centers at top of the church divider curtains
We can add Velcro connections if you need them
Optional valance curtains for above the main curtain
Optional floor sweeps to engage the floor
We can also provide optional blackout ceiling curtains
Cover Large Areas Or Stages With Ease
Our commercial fabric curtains are great for industrial purposes. The general use extra large curtains are no exception. They are custom made with the highest quality and meet every performance and safety standard. Our special vinyl and velour commercial curtains are the perfect, long-lasting solution. With good care, these curtains can become a one-time investment. Our amazing team will help you create the perfect curtain. We understand many clients have budget requirements and have a commitment to provide the best value for your money.
Optional Valance
A valance is used in some applications where there is a large gap from where the hardware is mounted to the top of the curtain. Ideally you want this opening covered 6 to 12" of overlap.
Poly Stretch - Fabric

$
75% Visual blackout
50%  Light blackout
Wrinkle-resistant and hangs beautifully
Lightweight and washable
Inherently Flame Resistant (I.F.R.)
Passes NFPA 701 Small Scale, CA Title 19, Section 1237 Small Scale, CAN/ULC-S109-14 Small and Large Scale
Non-reflective
Finished edges for clean crisp appearance
All colors are the same price
---
Premium Velour - Fabric

$$
100% Visual blackout
90%  Light blackout
100% Polyester Fabric with a plush feel
Lightweight and washable
Inherently Flame Resistant (I.F.R.)
Passes NFPA 701 Small Scale, CA Title 19, Section 1237 Small Scale, CAN/ULC-S109-14 Small and Large Scale
Non-reflective
Finished edges for clean crisp appearance
All colors are the same price
---

16oz - Vinyl

$$
100% Visual Blackout
100% Light Blackout
Vinyl coated polyester reinforced with scrim
NFPA fire retardant, CFM fire retardant
Outdoor rated
Lightweight
Finished edges for clean crisp appearance
Double hems used where needed for longevity
All colors are the same price
Slightly shinny
Color Options: White or Black
Need Help Deciding