Overview
AKON's garage wash bay curtains are the perfect solution for homeowners who want to wash their cars inside the garage. These are industrial grade curtains. If you want to wash your car inside the garage, what better way to do so than with our wash bay curtain? The curtain will keep outside grime from coming into contact with your freshly-washed car. These curtains are far more efficient and convenient than rigid walls. Why bother building brick walls, when a curtain will do as good a job for a fraction of the cost? And, if you plan on moving to a new location, simply pull back the curtain and reinstall it at the new place.
Benefits To The Homeowner
Garage Wash Curtain Features
The garage car wash bay offers unique features. If you want a long-lasting and economical solution for your garage, look no further:
Durable 18oz Vinyl reinforced with a polyester mesh scrim
Clear 20mil Vinyl vision panel to allow a line of sight
Optional Floor sweeps for better separation of environments
The curtains meet NFPA 701 & California State Fire Marshall Standards
Strong 16-gauge galvanized steel track which resists rusting
Hemmed edges for a clean, finished look
Superior resistance against almost all wash down chemicals
Optional strip door entrances
Optional anchor straps for better durability
5 year Warranty on all curtains!
Lifetime Warranty on all Hardware!
Notable Benefits
The curtains will keep your personal belongings from getting wet
They contain the wash overspray away from the garage walls
No need to use costly brick and mortar permanent walls
Create a privacy area for yourself
Quick to install because the curtain comes as a kit
You can pull the curtain back when not in use to free up the entire garage
A nice, clean professional look unlike tarps
Helps to control contaminants, temperature, odors, sound, and light
Protect your own vehicle from potential damage
Save some cash on heating and cooling
You can always reposition the garage washing line elsewhere in your house
Extremely fast and easy to clean
Long-lasing and future-proof materials
Industrial-grade strength and durability
Easy Install
Garage wash bay curtains come with grommets at the top making hanging the curtains quick and easy with or without the curtain track.
 Inexpensive
Garage wash down curtains are about 1/3rd of the cost of other separation methods such as rigid walls systems and are easy to store.
Separate Areas
Garage wash bay curtains are ideal for separating people and areas in your garage so that dry areas are not sprayed with water.
Guard From Spray
Garage wash curtains are quick to deploy which will keep your non-wash down areas clean and dry and away from bystanders.
Full Customization

We provide a fill-in form which you can use to choose the exact specifications of your new wash bay garage curtain. The quote form allows you to pick specific layouts, dimensions, track types, colors, floor sweeps, clean vision panels, Velcro seals, chain weights, anchor straps, filter panels, strip door entrances, and other accessories. Our team will work with you to design the perfect curtain.
Transform Your Garage For The Better
It does not matter how dirty or grimy an automobile is because AKON's garage car wash system will keep dirt and moisture in check; ensuring nothing goes past it. Use them to give your garage a new, professional look. You can also customize the curtains by choosing specific layouts, dimensions, colors, and so much more.
Watch The Curtains in Action
The Industry Leader In Wash Bays
Curtain Track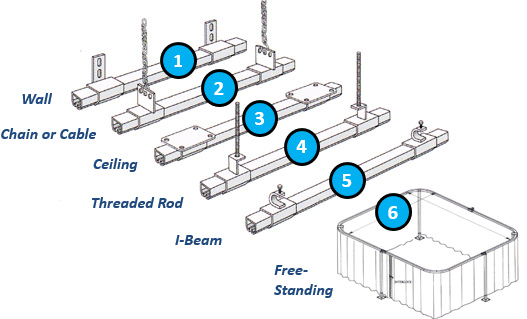 16 gauge galvanized steel tracks
Nylon roller hooks for easy opening
6 mounting styles to connect to various structures
Free standing hardware for up to 20' in height
Static Mount Hardware

Aluminum Angle - Use with self tapping Tek screws to pinch curtain to angle.
Grommets Only - You can then use many DIY methods to hang the curtains.
Beam Clamps - Clamps onto the flange of beams, joists and purlins.