OVERVIEW
AKON has an economical solution to control humidity levels within your warehouse or small shop. These humidity control curtains can cost as much as ten times less money than rigid fixed walls. The installation process lasts only a fraction of the time. You can set them up in no time and focus on your other activities. The curtains are common in food distribution centers and smaller shops as a more economical solution to high humidity problems. You can use the curtains for temperature control as well. Our insulated warehouse curtains will partition and divide the floor with ease. Unlike fixed rigid walls, you can take down the panels when not in use or reconfigure them for new projects.
Humidity Benefits
Ideal for food distribution plants to preserve food quality
Increases comfort for employees
Curtain walls have Vinyl skins which are not harmed by condensation
Certain versions have an anti-microbial agent to prevent mold or mildew
Allows mechanical chilling equipment to operate using less energy
Keep Moisture In Control For Specific Areas
Temperature Zoning
Create temperature zones for storing products at different temperatures or to create a more comfortable work environment.
Humidity Control
Effectively control humidity levels within your facility for food products or for better manufacturing processes.
Separate Tenants
Zone or lease out your warehouse to tenants who need to be kept separated due to their different operations.
Control Noise
Insulated curtains are also dual purpose noise control curtains due to the thick batting they are made from.
Keep Moisture In Control For Specific Areas
Other Key Benefits
A lot less expensive than brick-and-mortar walls
Humidity control curtains are available in any length and height
The humidity curtains can be fitted around obstructions such as air ducts
R10 insulation value for up to 40°F temperature separation
Fixed non-moving humidity curtains and sliding curtains are available
You can request strip or rollup doors to allow access to both sides
Create temperature zones for employee comfort
Create temperature zones for food products or materials
Easy to install behind your loading dock to reduce heat or cold loss
Keeps consistent temperatures in various zones to save energy
Custom-made to your exact specifications
You can make spaces larger or smaller with modular 5′ wide panels
Quick to install with 5 feet wide Velcro panels
Modular in design for future use
Quickly create temperature-controlled zones
When not in use, you can store the wall in pallet boxes
Unlike fixed walls, you do not need demolition when redesigning the layout
Warehouse insulated curtains are ideal for temporary tenants
If you lease out your warehouse, the curtains can divide the workspace
They are also ideal at creating work areas for designated products
There are other customization options you can choose from
Typical Applications
Some applications could include: food storage curtains, food processing curtains, grocery distribution curtains, curing rooms curtains, pharmaceutical curtains, and more. With today's manufacturing and processing requirements for flexible solutions, the AKON line of humidity control curtains is an ideal solution. The rapid installation, economical pricing, and quick removal make these dividers the logical solution for today's fast-changing processes.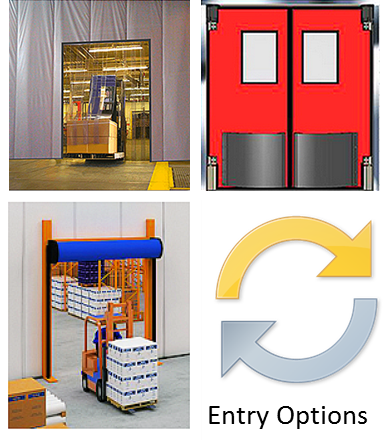 Entry Options
If you are using larger static position curtain walls that will not roll side to side then using entry points is ideal. These openings allow people and product into the curtained area quickly and with little effort. The most common entry and exits are strip curtains, swinging doors or powered roll up doors. Strip doors being the most common and economical. Each version features a freestanding frame that anchors into the floor and seals to the curtain wall.
The Importance Of Climate Control In Warehouses
OVERVIEW
Products such as leafy greens or frozen items have a need for climate control while staying inside a warehouse. Whether through the use of air conditioning, dehumidifiers, or special dividers, you will need to set up a system in place. The process could be challenging. Any professional from the logistics industry will advise you to prepare in advance. Failing to do so could put the goods you are storing in danger and cause severe financial losses. An important thing to note would be climate-controlled warehousing doesn't protect only leafy greens such as vegetables. The system will keep your electronics safe, protect workers from unhealthy temperatures, and lower electricity expenses. Even non-perishable goods such as paper, furniture, and metals will benefit and last longer.
Climate Control Benefits
Warehouse storage is a complex task. New entrepreneurs who want to start their own business in the industry often the importance of interior climate control for storage areas. The lack of preparation can lead to unexpected costs such as material damage or the need to integrate a more powerful climate control system. The lack of preparation measures is not the only danger. Outside climate fluctuations could pose serious risks as well. Even non-perishable items can suffer from heat, moisture, and humidity. Regardless of how long the products stay inside the storage area, good climate and humidity control will have a lot of money in the long run. Specific benefits could include:
Reduce heat or cold loss
Create and maintain stable temperatures throughout the facility
Keep moisture from entering
Prevent dust buildup
Prevent mold and mildew buildup
Extend the life of your valuables
Reduce electricity costs and more
Cases In Which You Could Benefit From Climate Control
The two largest threats warehouses face are temperatures and humidity. These factors can greatly impact your goods; causing long-term losses. When it comes to temperature and humidity, some products require specific storage conditions. For instance, electrical goods and high humidity levels do not go hand in hand. If you want to avoid any damage, there must be a system which prevents moisture from entering the storage area. Medicaments are also sensitive to most climate conditions; requiring temperatures between 0 and 10 degrees Celsius (between 32 and 50 degrees Fahrenheit). A difference with only a few degrees on either side could ruin these products by causing chemical instability.
Products from food & beverage producers also rely on specific storage conditions. Most food preservatives are unhealthy. Their use has been on a decline in recent years by popular demand. More and more foods skip these unnecessary additives. While the end product becomes healthier, it can spoil faster as well. Because of these events, warehouses are now a major tool in the prevention of premature spoliation. The importance of cool storage conditions is higher than ever before.
How To Implement A Climate Control System?
R-Values
R3 - 15°F of temperature separation
R6 - 25°F of temperature separation
R9 - 35°F of temperature separation
R15 - 40°F of temperature separation
Weight | Thickness
R3 - .41 lbs/sq ft | .60" Thick
R6 - .48 lbs/sq ft | 1" Thick
R9 - .82 lbs/sq ft | 4.2" Overall Thickness (Two R3 panels with a 3" air gap between them)
R15 - .96 lbs/sq ft | 5" Overall Thickness (Two R6 panels with a 3" air gap between them)
Fire Codes
Fire retardant: Exterior and interior ASTM E84 Class A Rating
The Effects Of Temperature And Humidity
If you want to keep your inventory in good condition, there must be a system in place which controls indoor temperature and humidity levels. California has searing hot summers while Alaska has harsh winters. Regardless of where your warehouse lies, the need for optimal temperature control is of vital importance. When the outside temperatures go up, the humidity levels increase as well. Leafy greens and perishable goods might be in huge danger if left without protection. High humidity levels can spoil medicines which are often in need of sub-zero temperatures. The largest and most advanced warehouses use industrial dehumidifiers to keep temperature and humidity levels in check. Dehumidifiers will also prevent mold and mildew buildup.
The Importance Of Dehumidifiers
Should you decide on purchasing a dehumidifier, there are two types to choose from: desiccant and mechanical. Desiccant dehumidifiers have specific drying chemicals such as silica gel. These substances are great at absorbing air moisture. As a result, the inside temperature levels will remain stable throughout the months. Such dehumidifiers are ideal for goods with a long shelf life. Mechanical dehumidifiers are heavy duty and made for extreme conditions. They are great for milk factories, raw meat processing shops, and similar facilities. They can absorb air moisture with ease; maintaining constant temperature rates.
What Is The Ideal Humidity Level?
Every product requires a specific humidity level. Going way above or even below it could pose serious risks. A few notable examples include: 50% for paintings; 55% for most fabrics; 35% for paper; 60% for electrical appliances; 55% for most metals; 65% for wine; and 40% for wood. Regardless of where your goods are right now, they need proper heat and moisture protection. If you have large quantities of products, the best bet would be to use a climate-controlled warehouse.
Damaged or inferior goods can lead to unsatisfied customers and lower profits. Even if climate control solutions seem expensive, they will prove vital in the long-run. Special climate control solutions must be in place for ant warehouse. The everyday, consumer-grade refrigeration is not enough for such a large scale of operations. A great solution would be AKON's Industrial Humidity Control Curtains. They will reduce the chances of premature spoliation and keep your goods safe. More on that below.
Other Factors
Electricity. Climate control costs can add up over time. If a system consumes too much energy, you might be better off replacing it. Warehouse dividers and curtains are a great solution because they consume no electricity at all (unless if they use an automation door which will barely affect costs anyway).
Employees.  If your warehouse has operators, the temperatures must remain at acceptable levels. If the storage area is too cold, you will have to supply the employees with additional clothing.
The local environment. The weather can make a difference. If it is too hot or humid outside, the climate control system will have to work at full power. If the weather is favorable, you can turn the system off for a while and save some money. The best thing to do would be to collect data local average temperatures and humidity levels.
Monitoring Warehouse Humidity
How Dangerous Can Humidity Be?
Humidity can be a tricky issue. Its direct effects might be small and hard to notice, but dangerous over time. You could pile up unexpected losses from product damage. Without warehouse humidity monitoring, the profits will go down. By the time someone takes action, it might be too late. Prepare in advance and set up a system for humidity monitoring and prevention.
The optimal humidity levels inside a warehouse would normally be between 30 and 50%. The blog mentioned some examples above. Should the humidity levels reach high levels, there could be mold and mildew buildup, corrosion, and rust. There are risks of client insurance costs for rotten goods.
During the day, humidity levels tend to go down to around 30% but go back up to 70% later in the evening. A constant monitoring system must be in place to track and issue warnings.
Are There Cost-Effective Methods For monitor Monitoring Warehouse Humidity?
Wireless monitoring systems could be the best possible choice. They are easy to install, cost-effective, and rarely require maintenance. With such a system in place, you can keep track of interior temperatures and humidity levels. These solutions often have a base station and multiple wireless sensors around the facility. The sensors can keep on operating as much as 10 years with their original batteries.
One great benefit from wireless monitoring systems would be the data analysis tool. Thanks to the installed software, you can access data anytime and anywhere you want. Even on your mobile phone. The wireless system will keep track of multiple storage areas at the same time and help you stay alert. Companies with a global presence can benefit greatly from deploying such systems.
The Difficulties Of Humidity Control In Storage Areas
Why Is Humidity Control So Difficult In Cold Chain Facilities?
Humidity is one of the biggest threats to safety in cold chain facilities. To avoid product damage, there must be a system in place. However, implementing one can be a difficult task. One thing to note would be the facility construction. The inner spaces are tight and sealed to maximize cooling efficiency. Water can enter the room in these conditions:
When the doors open
From gassing by some products or the occupants
During wash down
During maintenance
Since there is no ventilation system, water cannot escape the cold space. If there are no dehumidifiers, the moisture will remain inside and threaten your goods. The result is simple – mold, mildew, and small pests will begin infecting the facility. The environment will become unsafe not only for your products but for the employees as well. When the door opens, the warmer, moist air will move inside the cold storage area. Next thing you know, condensation will start building up on items, walls, ceilings, and floors, and machinery.
Is There A Way To Solve Cold Chain Facility Humidity Problems?
There is a rich choice of tools to use for cold room humidity control. Some notable examples are air conditioners, fans, industrial curtains, and implementing a storage facility rotation plan. A solution which sticks out would be a commercial desiccant dehumidifier. Commercial desiccant dehumidifiers are long-lasting and cost-efficient. You can connect them to an existing HVAC system if you want superior automatic water vapor removal. Another great solution would be to use our custom made humidity control dividers. These special curtains will block moisture from entering a specific area while keeping interior temperatures stable.
Curtain Track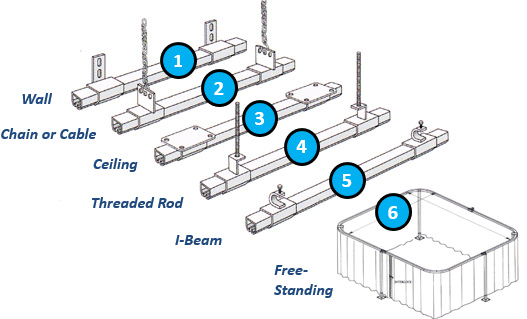 16 gauge galvanized steel tracks
Nylon roller hooks for easy opening
6 mounting styles to connect to various structures
Free standing hardware for up to 20' in height
Static Mount Hardware

Aluminum Angle - Use with self tapping Tek screws to pinch curtain to angle.
Grommets Only - You can then use many DIY methods to hang the curtains.
Beam Clamps - Clamps onto the flange of beams, joists and purlins.