OVERVIEW
Do you have a work process which is releasing a lot of dust into the air? If so, then you might want to consider the Akon line of Industrial Dust Control Curtains.
These curtains are easy to install and can completely surround the source of the dust which will keep the air quality in your facility clean. Here are some of the airborne particles which are commonly contained.
Woodworking dust
Food processing dust
Smoke and fumes
Offensive odors
Sanding dust
Woodworking Dust Control Curtains
Industrial Dust Curtain Benefits
The curtain cubicles or one sided curtain walls can keep the contaminated air from harming your workers and your guests. The curtain will prevent them from breathing in the dust, fumes, or any other airborne contaminant. In addition, you will be keeping your facility clean and professional looking.
Our industrial dust control curtains are a proven way of creating contamination free environments. They are also the most viable economical alternative to more expensive hard wall structures. They perform just as well, and will not compromise your limited budget.
With our large selection of materials and mounting options, we can ensure you that you will receive exactly what is needed to contain the dust which your processes are creating. Each curtain is custom made to your environment and dimensions.
Designed For Speed and Flexibility
Dust Control Curtains Features
There are several configurations that you can choose from based on what your application requires. While there are standard features which you can choose from, you also have the option of having a completely customized industrial dust control curtain solution designed and supplied.
Clear see through window panels
Strip doors to allow workers access from one side to the other
Fire retardant vinyl
Anchoring floor mounts to keep the curtain wall rigid
Installation sections – Come 40' wide sections which attach to one another with Velcro
You can see that there are a variety of options for you to choose from to match your needs. If you are unsure what options are best for you, simply give us a call and we will talk through your application and the type of dust environment that you have. We can then make a recommendation based on our experience and your budget.
Quick to Deploy and Store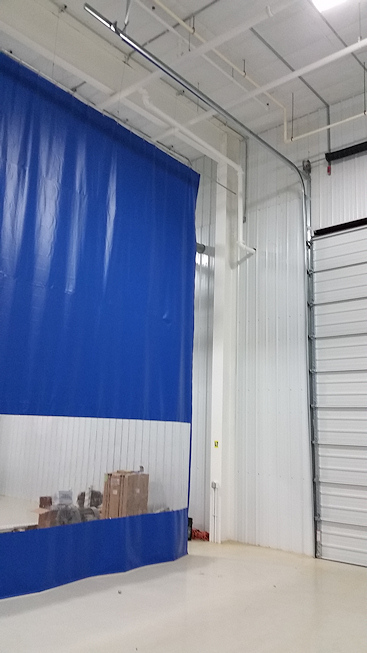 Dust Control Curtains Features
Create a safer work environment
Protection from airborne dust particles that can harm your lungs
Expertly engineered, easy gliding track system to provide the ultimate in work space efficiency and flexibility
Industrial space utilization and organization
Increases Productivity
Not as expensive as rigid dust containment enclosures
Creates Privacy
Maximizes usable floor space by allowing dust free activity areas
Industrial dust control curtains rolls easily out of the way when you don't need it
A unique solution for customers needing to clean up their work air
Our goal is to help you find a custom, cost effective dust containment solution
Curtain Track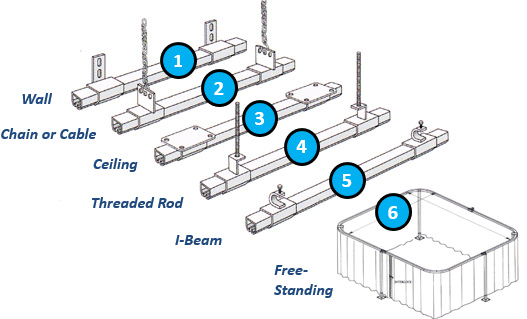 16 gauge galvanized steel tracks
Nylon roller hooks for easy opening
6 mounting styles to connect to various structures
Free standing hardware for up to 20' in height
Static Mount Hardware

Aluminum Angle - Use with self tapping Tek screws to pinch curtain to angle.
Grommets Only - You can then use many DIY methods to hang the curtains.
Beam Clamps - Clamps onto the flange of beams, joists and purlins.