OVERVIEW
You can use our line of industrial flame retardant curtains which are ideal for dividing up your work areas. They can be used to create a safer work environment and are expertly engineered with easy gliding tracks which allow them to be rolled out of the way when not in use. They conserve space, increase productivity and create privacy wherever they are installed.
They also maximize your usable floor space by allowing different activities and processes to take place near each other. Fire retardant industrial curtains are also designed to meet fire codes from building inspectors. We even offer ASTM E84 Class A curtains upon request.
Flame and Fire Retardant Curtain Options
The curtains are designed from high grade FR rated vinyl
You can customize your work space with many different colors and configurations
The curtains can be moved in the future with little downtime and expense
Floor sweeps can be added to contain odors, airborne particles and light
Larger divider curtains can be split into Velcro sections for quick access
Chain weights can be added to the bottom of the industrial room dividers to minimize sway
For a more rigid curtain wall, floor anchors can be added to keep the curtain tight and in a fixed position
Sliding curtain partition increases safety and presents a cleaner nicer looking work area
Large Fire Retardant Curtains
NFPA 701 Test Passed Curtains
Specific AKON industrial flame and fire retardant curtain fabrics have passed the NFPA 701 test successfully and are certified as Fire Retardant. What is NFPA 701? NFPA (National Fire Protection Association) has developed various standards to certify fabrics that are used in public access buildings including schools, churches, industries, theaters as fire retardant. It is necessary to use only NFPA certified products as nearly all states and municipals have made it compulsory to use only fire retardant textiles in public structures. NFPA 701 is the standard specifically reserved for curtains and other similar hanging fabric.
The curtain fabric is certified to pass NFPA 701 test when it is exposed to a flame for 12 seconds and it shows the following characteristics:
Less than 0.2 seconds after flame
Less than 6.5" char length
The fabric isn't inflamed when it touches the test floor
The industrial flame and fire retardant curtains from AKON conforms to the above standards and are fully certified having passed the NFPA 701 test.
AKON is available for you
Contact AKON today to get NFPA 701 test certified industrial flame and fire retarded curtains without any delay. With AKON curtains you never will have to worry about the fine your company would face by using standard curtains at your facilities.
If you are still not sure how to pick the best curtain according to your requirements, remember that AKON also provides custom made curtains to meet different needs. Get more information about our vast industrial curtain range, or ask for a free no obligation quote now. You can also call AKON customer care staff on the company number and we will help you pick the best product for you respecting your budget constraints.
Do they meet NFPA 33 regulations?
Our industrial curtains are fire retardant which is one step in the process of being NFPA 33 approved. The code deals more with onsite fire suppression from our understanding. This would include fire sprinklers and other fire suppression methods. So it is really more of a checklist type procedure achieve NFPA 33 code. Our curtains are fire retardant which is what is required for products being used to meet NFPA 33 regulation.
Are the curtains UL rated?
UL stands for Underwriters Laboratories. AKON does not offer any UL rated curtains. Those types of curtains are usually only required as a Fire Wall Curtain which means the curtains primary use is to block a fire for up to an hour.
Class A fire rated fabric
Yes we have Class A fire rated curtains. Please inquire with sales after you get your code to ensure that material is quoted as it has to be specifically requested. Ask for the ASTM E84 Class A material.
Curtain Track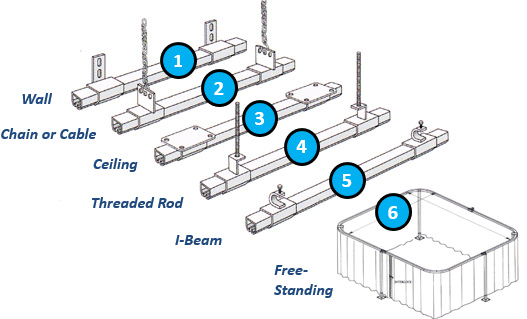 16 gauge galvanized steel tracks
Nylon roller hooks for easy opening
6 mounting styles to connect to various structures
Free standing hardware for up to 20' in height
Static Mount Hardware

Aluminum Angle - Use with self tapping Tek screws to pinch curtain to angle.
Grommets Only - You can then use many DIY methods to hang the curtains.
Beam Clamps - Clamps onto the flange of beams, joists and purlins.