OVERVIEW
AKON's custom made industrial mezzanine curtains are a great choice if you want to create a safe working environment. These curtains are exceptionally useful in facilities with high ceilings such as warehouses or large factories. You are free to choose a custom layout, the materials, colors, applications, and more. Our industrial mezzanine curtains will keep dust, moisture, and other nuisances at bay. What we offer is a great, short or long-term protection solution with affordable prices. If necessary, you can deconstruct and move them to a different location.
Industrial Mezzanine Curtains Key Benefits
Dust control
Industrial mezzanine structures often suffer from dust. Numerous issues could occur from it. Dust buildup can create a dangerous working environment for employees. Irritations to the skin, eyes, or the respiratory system are possible issues. A dusty floor might cause people to slip. Allergies are also possible. Dust buildup can also damage the equipment. Your machines might work less effectively and maintenance costs will rise significantly. A less common, but dangerous scenario would be the combustive dust explosion. Should it happen, there could be dire consequences. Keep everything tidy and safe by preparing in advance.
Temperature control
Temperature control could be expensive during summers or winters. Allowing the area to become too hot or cold might be dangerous for the health of your employees or cause damage to your equipment. Air conditioning is a solution, but it alone is often not enough. It is not an energy efficient solution, as costs will skyrocket if you want to heat up or cool down the entire building. By setting up a curtain around your mezzanine, the temperatures will remain stable and thus keep the employees, equipment, and products safe. The curtains also allow for airflow from the outside.
Visual and noise control
With AKON's industrial mezzanine curtains, you will be able to easily hide unsightly equipment for storage. Keep anyone on the outside from interfering. Easily store equipment and materials and thus create a tidy working space. Separate the mezzanine into different, smaller areas. The curtains will also help in keeping a comfortable working environment by blocking outside noise. The lack of noise will make it easy for employees to concentrate.
Humidity control
Humidity control is of vital importance for different industrial complexes. Sometimes, you need to keep the air as dry as possible to avoid equipment damage. Sometimes, you need a higher level of air humidity which is important for keeping specific food products fresh. No matter the reason, our curtains will ensure moisture does not enter or leave the area. Moisture could be dangerous for your equipment, so the working environment must remain dry at all times. Our industrial mezzanine curtains will keep the facility cleaner, and ensure air pollution does not infiltrate the mezzanine.
An Efficient And Flexible Design
Close Off Warehouse Space Above Offices
The industrial mezzanine curtains are custom made after your specifications. Clicking on the quote form will help you choose a layout, color, material, special application, size, and more. The curtains are a great solution if you need to set up a wall quickly or to close of space above an office in your warehouse. You can easily move and re-purpose them in other areas or facilities. You will be able to easily divide different areas and create a safe working environment for all. These curtains are less costly than rigid walls, durable, and require few maintenance efforts. The Industrial mezzanine curtains are also ideal for separating workers for welding, washing, packaging, and other operations. One great benefit to our curtains would be their ease of use. You can set up and utilize them for almost any facility regardless of building height or width. We can also offer you different accessories such as clear vision panels for better visibility, valances for seal the empty space above the curtain, sweeps to seal off the empty floor space, anchor straps to hold the curtains stable, chain weights, Velcro, and others.
Curtain Track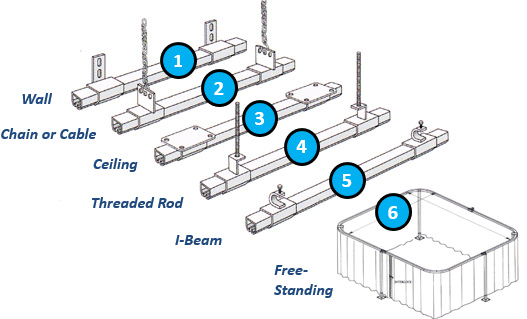 16 gauge galvanized steel tracks
Nylon roller hooks for easy opening
6 mounting styles to connect to various structures
Free standing hardware for up to 20' in height
Static Mount Hardware

Aluminum Angle - Use with self tapping Tek screws to pinch curtain to angle.
Grommets Only - You can then use many DIY methods to hang the curtains.
Beam Clamps - Clamps onto the flange of beams, joists and purlins.