OVERVIEW
Made from the same material as the industrial curtain walls, these industrial partition curtains are smaller and ideal for work cells, small enclosures, and shop work areas. The curtains will help you better manage your work area.Modular in design, you can design the partition which meets your needs.
Industrial Partition Curtains Are Fast
Ideal Solutions For
This partition work curtain is ideal for the following applications:
Protecting associates from flying debris
Control dust creating activities
Separating work area
Preventing access to unsafe areas
Guarding the perimeter to work areas
Controlling dust, paint over spray, and privacy
Also available in large warehouse divider curtains.
Temperature Zoning
Create temperature zones for storing products at different temperatures or to create a more comfortable work environment.
Humidity Control
Effectively control humidity levels within your facility for food products or for better manufacturing processes.
Separate Tenants
Zone or lease out your warehouse to tenants who need to be kept separated due to their different operations.
Control Noise
Insulated curtains are also dual purpose noise control curtains due to the thick batting they are made from.
Control Dust
Warehouse curtains are also dual protect workers lungs by preventing inhalation of airborne dust.
Partition Space For Worker Areas
Industrial Partition Curtain Features
Sliding track design allows for easy movement to gain access into and out of the partition
Several mounting options allow for the industrial partition to be mounted to the ceiling, beams, joists, walls, or a free standing version
Lockable cane bolts and lock-down wall brackets prevents unauthorized access
Full vertical length Velcro, allows multiple sections to be connected
Several material choices and color configurations: Solid vinyl, heat resistant material, transparent material, clear view windows..and more
Curtains are available up to any height and width
Just so you know, the industrial curtain can hold airborne contaminants which are spontaneous in production facilities. They shielding production lines from cross contamination which improves the working condition of a facility.
Quick to Extend and Retract
How to Choose Your Configuration?
Choosing the layout and features of your industrial partition is very easy. Just answer these questions.
How many sides you want to cover?
What color of vinyl do you want?
Do you want a clear vinyl see through strip?
What curtain track style will hang the curtain?
What environment the partition curtain will be in?
Once you are armed with answers to these 5 questions you can click below for a fill-in quote form.
Tips For Choosing The Right Curtain
As a longtime supplier of industrial partition curtains, we recommend that our customers follow these simple tips to ensure a successful installation and a functioning curtain.
Tip #1 - Take note of the environment where the industrial vinyl curtain will be installed. Some industrial facilities can have very harsh conditions. These harsh conditions can result in premature wear of the industrial sliding curtain which could be a tremendous waste of time and resources. To ensure that the curtain wall will last many years, it is a good idea to take pictures of installation area and make note of what kind of elements are present. For instance, excessive welding sparks, extreme temperature variations, and the type of objects which will come in contact with the curtain. Armed with this knowledge, we can ensure that the industrial sliding curtain is constructed of the correct material.
Tip #2 - How do you want to hang the industrial curtain? Typically curtains hang straight down from structure above where they are bolted to. This can be threaded rod for tall ceilings or a direct mount for low level ceilings. There are also connectors which can connect to I-beams and roof decks. Take note on the type of structure that would be above the curtain and then we can make the correct recommendation based on your application.
Tip #3 - If you need access from one side to the other then make sure you are asking for a side to side trolley track. This style of track allows for the curtain to slide side to side via roller hooks with nylon roller wheels. For very large curtains, such as warehouse divider curtains, strip doors can be added which allows for forklifts and people access to both sides without actually moving the curtain.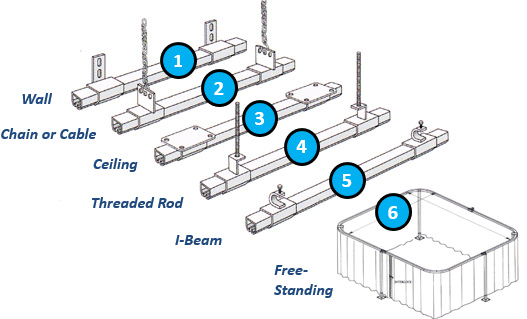 Rolling Hardware
16 gauge galvanized steel tracks
Nylon roller hooks for easy opening
6 mounting styles to connect to various structures
Free standing hardware for up to 20' in height

Static Mount Hardware
Aluminum Angle - Use with self tapping Tek screws to pinch curtain to angle.
Grommets Only - You can then use many DIY methods to hang the curtains.
Beam Clamps - Clamps onto the flange of beams, joists and purlins.