Styles of Privacy Curtains
OVERVIEW
The small privacy curtains are great if you want to separate a normal room and create a private area. Most-commonly used in offices, smaller garages, or welding stations. They will prevent visual access to secure areas, or "unappealing" areas of your facility. The small industrial privacy curtains are quick to install and inexpensive to deploy. Unlike permanent walls, our curtains can be taken down, re-positioned, or repurposed at any time. The curtains will prevent your associates or your guests from gaining visual access at any areas which you want to separate off.
OVERVIEW
The large privacy curtains are good for all sorts of facilities or stores. They are commonly used for warehouses, garages, sanding stations, and chemical plants. They offer more in regard to temperature control, contamination prevention, and noise control. With then, you will be able to seal off or separate entire sections of your facility in no time. The large industrial privacy curtains are also quick to install and will prove to be a valuable long-term investment. They are made out of durable materials which will last even during heavy-duty operations.
OVERVIEW
The large privacy curtains have the potential to divide huge facilities with hundreds of employees. They can cover vast distances with ease, and nobody will be able to sneak in. The large industrial privacy curtains offer superior temperature and noise control, but will also divide any warehouse into specific areas and thus boost production efficiency.
OVERVIEW
Large fabric privacy curtains Are great for commercial and industrial applications. They have a more professional look when privacy is required inside an office or auditorium type of area. The fabric privacy curtains are also custom fabricated to your exact size so it is a perfect fit for your area.
OVERVIEW
The mobile privacy screens are amazing for projects on the go. They are a trusty companion to truck drivers who need to repair something but also prevent people from getting too close. Once you arrive on the job site, take them out of the truck, position them on the ground, and do your thing. These screens make welding or repairing so much easier for everyone.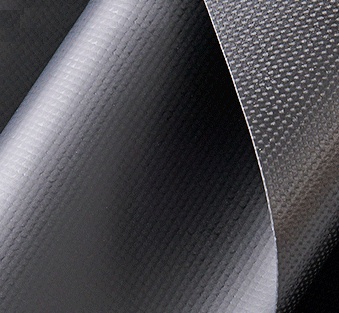 Vinyl
In areas where getting the curtain dirty is a concern we have the 18oz Vinyl curtains. Its slick surface makes it easy to clean and it is resistant to water spray. Unlike the Poly Premiere its surface is more reflective and shiny. This is the workhorse material that is made for less than ideal conditions. $$
Premium Velour
This luxurious 14oz fabric is ideal for stage backdrops, dividing a space or creating a high-end look with fabric. It's inherently flame resistant, 100% blackout, lightweight and washable. It's the ideal fabric for commercial curtains that need to look great at a reasonable price. $$
Easy Install
Privacy curtains come with grommets at the top making hanging the curtains quick and easy with or without the curtain track. Screens can stand on their own and take seconds to set up.
 Inexpensive
Privacy curtains are about 1/3rd of the cost of other separation methods such as rigid walls or panel systems and are easy to store. The privacy screens are good for mobile applications and can fit in any truck.
Separate Workers
Privacy curtains and screens are ideal for separating workers for welding, washing, packaging, and many other operations. Different workers will be able to conduct their operations in piece.
Control Noise
Privacy curtains help reduce noise due to the thick PVC they are made from which makes for a more comfortable work environment. Other benefits include temperature, dust, and pest control.
Roll Open When Not Needed
The work area privacy curtains can also feature a sliding track and trolley. With this feature, you can slide the curtains back with ease just like you would with a shower curtain. In fact, each industrial privacy curtain is custom made to your requirements using a wide choice of vinyl materials, configurations, and colors. You tell us what you want to accomplish, and will provide you with exactly what you need.
For Ultra Secure Areas
For secure areas, the privacy curtains can feature any graphic or text that you want displayed on them to warn anyone who might enter that the area is a secure area.
Anchoring straps with steel floor anchor mounts can be installed for a more permanent structure.
The industrial privacy curtain can be equipped with a key and lock which will allow only authorized persons to enter. (This can be purchased with the floor anchor straps)
Keep Eyes Out of Private Areas
For Unsightly Areas
Choose from a wide range of materials and integrated features.
Strip doors can be added to the industrial curtains to allow people and forklifts to pass through.
Curtains can be freestanding or they can be hung from any above structure.
Use one curtain wall or 4 curtain walls to form a complete cubical of industrial work area privacy.
Work Area Privacy Curtains Benefits
If you take pride in your work area and are concerned about a particular area which is unsightly, then you can install our privacy curtains to keep a professional looking work environment. Why curtains? Because they are a lot less expensive than traditional fixed walls and a lot more flexible. Also, when you no longer need the privacy curtains, you can quickly take them down and use them somewhere else.
With a low initial investment and a professional look, they are the best option for large work areas up to 100' x 100' down to small work cells which maybe only 8' x 8'. In addition, you generally will not need a building permit for work area privacy curtains, unlike rigid walls.
Curtain Track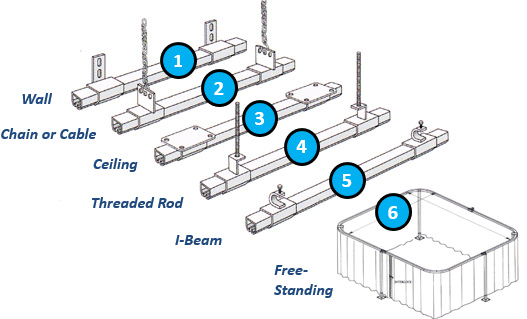 16 gauge galvanized steel tracks
Nylon roller hooks for easy opening
6 mounting styles to connect to various structures
Free standing hardware for up to 20' in height
Static Mount Hardware

Aluminum Angle - Use with self tapping Tek screws to pinch curtain to angle.
Grommets Only - You can then use many DIY methods to hang the curtains.
Beam Clamps - Clamps onto the flange of beams, joists and purlins.