OVERVIEW
Are you looking to prevent visual access to secure areas, or "unappealing" areas of your facility? If you are, then you can use our industrial privacy curtains which are quick to install and inexpensive to deploy. The curtains will prevent your associates or your guests from gaining visual access at any areas which you want to separate off.
For Ultra Secure Areas
For secure areas, the privacy curtains can feature any graphic or text that you want displayed on them to warn anyone who might enter that the area is a secure area.
Anchoring straps with steel floor anchor mounts can be installed for a more permanent structure.
The industrial privacy curtain can be equipped with a key and lock which will allow only authorized persons to enter. (This can be purchased with the floor anchor straps)
Keep Eyes Out of Private Areas
For Unsightly Areas
Choose from a wide range of materials and integrated features.
Strip doors can be added to the industrial curtains to allow people and forklifts to pass through.
Company logos or motivational sayings can be printed onto the material.
Curtains can be freestanding or they can be hung from any above structure.
Use one curtain wall or 4 curtain walls to form a complete cubical of industrial work area privacy.
Work Area Privacy Curtains Benefits
If you take pride in your work area and are concerned about a particular area which is unsightly, then you can install our privacy curtains to keep a professional looking work environment. Why curtains? Because they are a lot less expensive than traditional fixed walls and a lot more flexible. Also, when you no longer need the privacy curtains, you can quickly take them down and use them somewhere else.
With a low initial investment and a professional look, they are the best option for large work areas up to 100' x 100' down to small work cells which maybe only 8' x 8'. In addition, you generally will not need a building permit for work area privacy curtains, unlike rigid walls.
Roll Open When Not Needed
The work area privacy curtains can also feature a sliding track and trolley. With this feature, you can slide the curtains back with ease just like you would with a shower curtain. In fact, each industrial privacy curtain is custom made to your requirements using a wide choice of vinyl materials, configurations, and colors. You tell us what you want to accomplish, and will provide you with exactly what you need.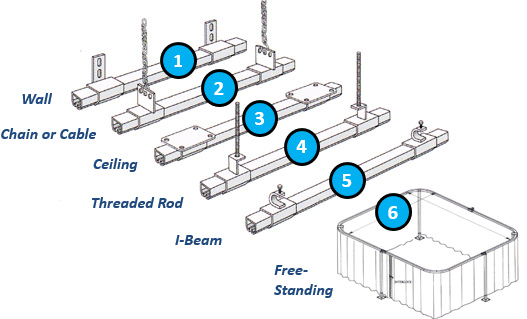 Rolling Hardware
16 gauge galvanized steel tracks
Nylon roller hooks for easy opening
6 mounting styles to connect to various structures
Free standing hardware for up to 20' in height
Static Hardware
Aluminum angle - Use with self tapping Tek screws
I-beam clamps - Clamps onto the flange of beams, joists and purlins