OVERVIEW
Akon can supply your facility with industrial sliding curtains to provide a safer work environment. These curtains are also great for creating privacy and protection from dust, sparks, and other types of flying debris. With the use of the industrial curtain track, the sliding curtains are easy to move from one side to the other. This creates an opening for access where materials or people can walk through.
Curtain Slide Quickly on Rails
Custom Designed
Each industrial sliding curtain is custom designed to your exact needs and is modular in design. This allows the industrial curtains to be moved to a new location in the future should the need arises. Here are some additional benefits:
Quick to install or take down
Expertly engineered to slide easily with the curtain track
Several material thicknesses and colors to choose from
Fire retardant materials
Several different mounting options to choose from
Available in any height and length – Warehouse Divider Curtains
Can be used to separate temperatures – 

Industrial Insulated Curtains
Designed For Speed and Flexibility
Industrial Sliding Curtains Features
Depending on your needs there are several different features which we can include with your curtains to make them work perfectly for your application. Here are just a few:
Strip doors for forklift or personnel access
Vision panels which allow you to see through to the other side
Insulation for temperature zones
Chain weighted bottoms to minimize draft movement
Vertical Velcro to attach sections – Common for large industrial sliding curtains
Several different track support options
We hope you have enjoyed this week's product focus, for more information, please click on one of the buttons below.
Easy Install
Industrial curtains come with grommets at the top making hanging the curtains quick and easy with or without the curtain track.
 Inexpensive
Industrial curtains are about 1/3rd of the cost of other separation methods such as rigid walls or panel systems and are easy to store.
Separate Workers
Industrial curtain walls are ideal for separating workers for welding, washing, packaging and many other operations.
Control Noise
Industrial curtains help reduce noise due to the thick PVC they are made from which makes for a more comfortable work environment.
Curtain Track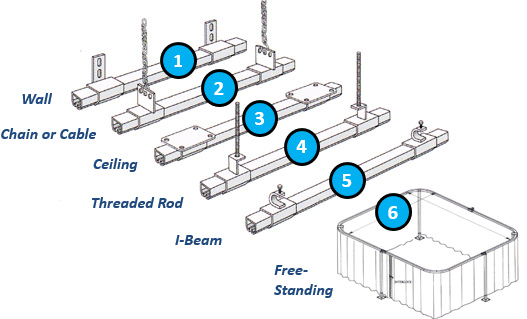 16 gauge galvanized steel tracks
Nylon roller hooks for easy opening
6 mounting styles to connect to various structures
Free standing hardware for up to 20' in height
Static Mount Hardware

Aluminum Angle - Use with self tapping Tek screws to pinch curtain to angle.
Grommets Only - You can then use many DIY methods to hang the curtains.
Beam Clamps - Clamps onto the flange of beams, joists and purlins.