STYLE 1 |

Temperature / Breeze
The first style of warehouse draft curtains are used for controlling temperatures from airflow / draft as it moves through very large open spaces inside a warehouse. This usually comes from dock bay doors being used with a fairly high frequency which allows cold or hot air (depending on the season) to rush into the warehouse. This causes discomfort for everyone inside and is not ideal for heating and cooling bills. These curtains are made out of fire retardant vinyl and are relatively inexpensive.
STYLE 2 |

Fire
The second type of warehouse draft curtain is one that is used to slow the spread of fire by controlling airflow. They are located at the roof deck high above the floor and hang just below the rafters. They would not normally be exposed to open flames as that is not the intent of their usage. The intent of the draft curtain is to control airflow in the event of a fire in the hopes of reducing its spread. These curtains are typically made from a fireproof material such as fiberglass and have a very high temperature rating.
Temperature Control Draft Curtains
AKON Warehouse Draft Curtains and Industrial Draft Curtains are used to control airflow in your facility. They are an inexpensive solution to an expensive problem.  Cold air in the winter or warm air in the summer blowing through your warehouse makes for an uncomfortable work environment. Not to mention the costs associated with equalizing the temperature for bursts of draft blowing in from outside. Our solution is a large draft curtain which is quick to install and inexpensive to implement.
Components of a Draft Curtain
Draft curtains for factories, warehouses or even smaller industrial shops are all designed in the same fashion. They are fabricated from 13oz, 18oz or 22oz vinyl which is reinforced with a polyester mesh for added strength. Depending on the strength of the drafts in your facility we can also include floor anchor straps. These straps have D-rings which anchor into the floor and then the draft curtains have Velcro anchor straps that loop down into the D-rings then back up to the curtain. This allows for the curtain to be unhooked and moved in the future should the need arise.
Quick to Install and Take Down
No Building Permit Needed
Installing the draft curtains is also a lot less expensive than traditional fixed walls. The curtains generally do not require a building permit, do not require an installation contractor, can be installed in only a couple of days, and can be modified after installation. The curtains can also be taken down quickly once production ramps back up and stored for future use. That simply is not possible with a fixed wall partition. Warehouse draft curtains also have other uses besides energy savings.
Contain odors and smoke fumes from production
Contain dust and other floating debris
Keep workers and guests away from dangerous machines
Keep sensitive areas private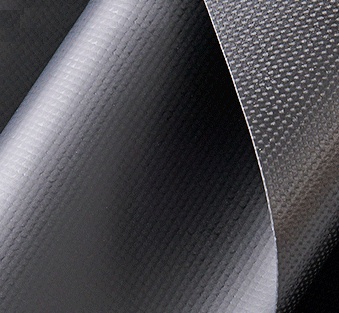 Opaque Vinyl
Industrial grade 18oz opaque vinyl ideal for moderate temperature control and blocking line of sight. $$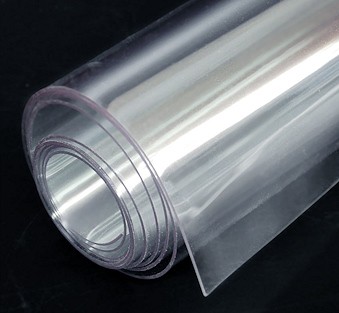 Clear Vinyl
Industrial grade 30mil clear vinyl ideal for moderate temperature control and allowing a line of sight. $$
Insulated Vinyl
Industrial R3 1/2" thick material with 18oz vinyl skins ideal for heavy temperature control and blocking the line of sight. $$
Curtain Track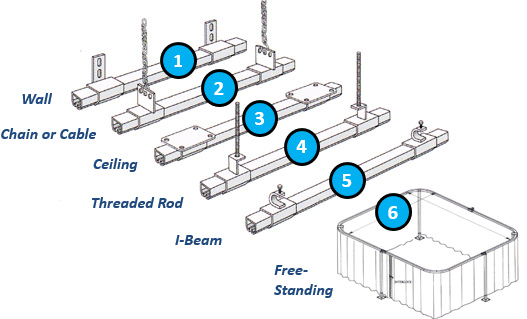 16 gauge galvanized steel tracks
Nylon roller hooks for easy opening
6 mounting styles to connect to various structures
Free standing hardware for up to 20' in height
Static Mount Hardware

Aluminum Angle - Use with self tapping Tek screws to pinch curtain to angle.
Grommets Only - You can then use many DIY methods to hang the curtains.
Beam Clamps - Clamps onto the flange of beams, joists and purlins.