OVERVIEW
AKON specializes in industrial warehouse partition walls which are used to separate space or to form temperature zones. These industrial warehouse partitions are an ideal replacement for fixed walls which are more expensive and not as flexible to take down or install.
Quickly Partition Warehouse Space
Key benefits
less expensive than fixed permanent walls
flexible warehouse partitions install in a fraction of the time
available in any configuration
can be sliding from side to side to allow access
can feature visible see-through vinyl panels
available as insulated warehouse partitions
can be moved to new locations if required
strip doors can be added for quick access
industrial warehouse partition walls ship out in only a few days
can be wrapped around obstructions such as air ducts
Easy Install
Warehouse partition walls come with grommets at the top making hanging the curtains quick and easy with or without the curtain track.
 Inexpensive
Warehouse partition curtain walls are about 1/3rd of the cost of other separation methods such as rigid walls or panel systems and are easy to store.
Separate Workers
Warehouse partition walls are ideal for separating workers for welding, washing, packaging and many other operations.
Control Noise
Warehouse divider partitions help reduce noise due to the thick PVC they are made from which makes for a more comfortable work environment.
Overview of installation
The flexible warehouse partition walls can be supported from our galvanized stainless steel industrial curtain tracks. These curtain tracks feature nylon or steel roller curtain hooks which allow the operator to walk the partition from one side to the other.  This allows for open access when needed or to move product from one side to the other.
Another option for installation is a fixed position install. The flexible warehouse partition has grommets included on 12-inch centers located at the top of the curtain.  These grommets can then be zip tied to any structure which is located above the curtain.
If you are unsure which version would work best for you, you can simply contact us and we can walk you through the most economical solution based on your material movement and budget.
If you'd like more information you can click on one of the buttons below to be taken to the product page or to the request for price page.
How to Divide Warehouse Space
How to Divide Warehouse Space
Its a common question we here "how to I divide warehouse space?" Our answer is simple. Section off large buildings like warehouses and factories for environmental control, safety, and/or noise control using Soft Curtain Walls. Use permanent top valance panels for high ceiling with a moveable curtain below to allow usage and accessibility. If you need a temporary wall for any number of reasons, our curtain wall system can fill your needs. Ideal for manufacturing facilities, warehouses, offices, schools, institutions, wherever control over any area is needed.
Curtain partition walls are easy to install and can be set up by your own personnel without using special tools or skills. They can be designed to suspend from the ceiling or roof bracing structure, mount to walls, or hang from a free standing support system. Curtain material can be stretched over panels or hung from track that allows them to be rolled out of the way when not in use. Form cubicles, booths, partitions or temporary walls. A wide variety of hardware pieces can be used to provide any shape needed to enclose a space.
Quick Access to Both Sides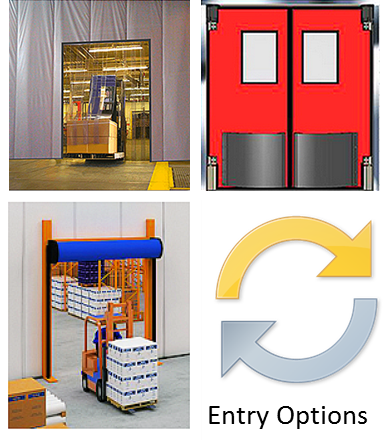 Entry Options
Warehouse partition dividers are usually static position curtains. That means they do not roll side to side to allow people or material in. Rather, the curtains feature entry and exit locations. The most common entry and exits are strip curtains, swinging doors or powered roll up doors. Strip doors being the most common and economical. Each version features a freestanding frame that anchors into the floor and seals to the curtain wall.
Curtain Track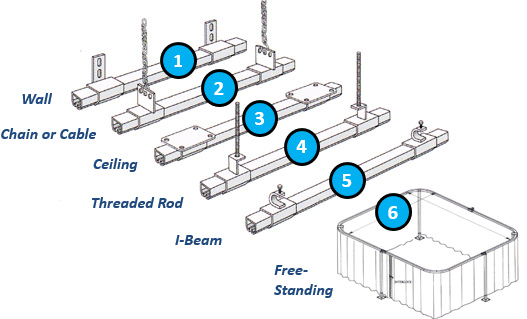 16 gauge galvanized steel tracks
Nylon roller hooks for easy opening
6 mounting styles to connect to various structures
Free standing hardware for up to 20' in height
Static Mount Hardware

Aluminum Angle - Use with self tapping Tek screws to pinch curtain to angle.
Grommets Only - You can then use many DIY methods to hang the curtains.
Beam Clamps - Clamps onto the flange of beams, joists and purlins.