OVERVIEW
Insulated shop curtains contain heat and keep out the cold in your shop. The curtains can divide temperature zones inside of your facility or divide the inside from the outside. The shop insulated curtains come in R3, R6, and R10 ratings based on your temperatures. The R3 and R6 can roll side to side while the R10 is a 1.5″ thick static curtain.
Temperature Zoning
Create temperature zones for storing products at different temperatures or to create a more comfortable work environment.
Humidity Control
Effectively control humidity levels within your facility for food products or for better manufacturing processes.
Separate Tenants
Zone or lease out your warehouse to tenants who need to be kept separated due to their different operations.
Control Noise
Insulated curtains are also dual purpose noise control curtains due to the thick batting they are made from.
Pleated Insulated Shop Curtains
To increase the ease of folding back the insulated curtains we offer a pleated accordion fold version. This R6 rated curtain folds up like an accordion which reduces its footprint when fully retracted. Rolling on industrial curtain track which has 5 different attachment options to mount to your existing structure.
Optional Components
There are several options you can choose from for your insulated shop divider curtain. They include curtain colors, seal Velcro to attach to vertical walls, floor sweeps for a better seal to the floor, and a vision panel so that you can see through the insulated curtain to the other side. The curtains are also custom designed per your dimensions to ensure a proper fit. Simply click on the Request Quote button below and we will provide a detailed quote for your custom shop divider curtain.
Insulated Warehouse Curtains
Thermal Warehouse Curtains
Why increase your heating in your warehouse, when you can simply cut your current heat in half? We run into many engineers and planners looking for ways to reduce their monthly warehouse utility bills by searching for warehouse heating solutions. The fact is, you probably are not using your entire warehouse floor space, or at the very least, need to keep all of that floor space at the same temperature. We find that often times you can simply use a warehouse insulated divider which is a curtain or a soft wall to separate your floor into zones. These zones can then be kept at different temperatures. Take for instance this scenario.
Curtain Track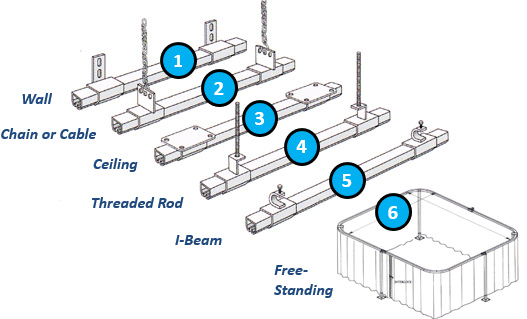 16 gauge galvanized steel tracks
Nylon roller hooks for easy opening
6 mounting styles to connect to various structures
Free standing hardware for up to 20' in height
Static Mount Hardware

Aluminum Angle - Use with self tapping Tek screws to pinch curtain to angle.
Grommets Only - You can then use many DIY methods to hang the curtains.
Beam Clamps - Clamps onto the flange of beams, joists and purlins.