OVERVIEW
Industrial padded sound curtains come in many sizes and custom shapes. Depending on your needs, these thick padded sound curtains can be custom designed to match the exact width and height that you require. They are a great alternative to permanent sound walls as they are quicker to install, move, and take down.
Why Should You Use Sound Insulated Curtains In Industrial Environments?
Risks From High DB Noise Levels
Loss of concentration
Long-term hearing loss
Potential accidents
The noise might interrupt ongoing operations
The noise might increase blood pressure
Stress that might weaken the immune system
Other injuries
Reduced productivity
Potential OSHA fines
Potential lawsuits and more
Sound Blocking Curtain Benefits

The curtains are great large machinery
Protect workers from noise-induced hearing loss
Create a pleasant working environment
Great for HVAC, blowers, and compressors as well
Avoid OSHA fines and other lawsuits
The curtains are cost-efficient
The curtains can act as facility dividers
Moisture, vision, dust, and temperature control
Separate space and tenants with ease
Custom made models to choose from
Useful Curtain Applications
Noise control room separators
Soundproof enclosures
Heavy machine enclosures
Temporary noise barriers during construction
Soundproofing existing walls
Flexible doorways
HVAC, blowers, and compressors
Drive-thru doors
Fan enclosures
Noise control for grinders and compactors
Inexpensive
Sound insulated curtains are about 1/3rd of the cost of other separation methods such as rigid walls or panel systems and are easy to store.
Divide Space
Divide the area with ease - reorganize space by separating it into areas with different sound levels or different manufacturing operations.
Dust Control

Sound curtains will also protect employees' lungs against dust by preventing inhalation of airborne dust or other small particles.
Greatly Improve Working Conditions

Some industries have very noisy projects. Conducting operations creates strong sounds – so strong, there could be health issues. Noise-related hazards can be dangerous. There are different causes – heavy mechanical work, factory production lines, large pipes, steam, and more. The best protection comes from special Noise Control Curtains. They can keep a loud project contained while creating a healthy working environment. Staff outside the noisy area will be able to concentrate on their own responsibilities. Solve the problem of high decibel commercial noise for good. You can also combine our curtains with other sound-reducing systems like partition walls or panels. You can separate one noise level from another; keeping the noise quieter in one room than another. These industrial-grade curtains are a mix of sound wave absorption materials and noise barrier membranes. Add in a powerful outer layer for extra durability. The powerful combination will help block some sounds from spreading into neighboring areas, and generally lower noise levels by a lot.
The Material
Industrial Grade Vinyl
Won't shrink, rot, or cause metal corrosion
Great resistance to adverse environments
Resistant to oils, weak acids, and alkalis
It has antimicrobial agents which will prevent the buildup of mold, mildew, or fungi
Thin, lightweight, and flexible unlike sound panels
Can block light or be transparent
Vinyl can be used in walls beneath drywall for offices and industrial buildings
Flexible Design
The sound blocking industrial-grade vinyl will greatly reduce noise levels in the facility; protecting quieter rooms. This technical fabric is made from a flexible, high density reinforced vinyl. It greatly reduces the transmission of sound waves and airborne noises. You can use our noise insulated curtains to surround the source of the noise. You can also get the material custom cut so it can easily integrate it into the design of your facility.
Keep Noise Levels Low And Avoid Fines
OSHA has strict rules about worker safety in the workplace. Employers need to create and maintain an environment free of recognized hazards. Our sound-insulated curtains will keep workplace ambient noises below 85 DB. You will meet OSHA requirements and avoid fines. Industrial noise can be dangerous and cause hearing loss even at 85 decibels. Keep the workplace ambient sound levels below 85 and offer a pleasant working environment for your employees. The sound control curtains will not only protect employee safety but keep your equipment in good shape too. The curtains can also separate two or more areas with different noise levels. Keep everything in check and make the working environment more healthy.
Floor Engagement
Sound can get under a normal curtain that rests just above the floor and that can reduce the effectiveness of the insulated sound curtain. Using a floor sweep to engage the floor prevents this issue by controlling the sound transmission from one zone to another. The 8" tall sweep Velcros onto the bottom of the curtain and hangs 6" below it. It can be replaced in the future or replaced with a taller or shorter sweep if you need to use the insulated sound curtains in another location with a different elevation.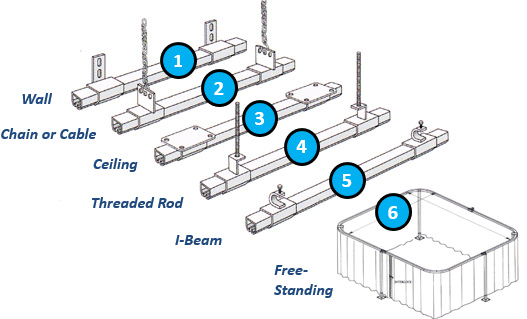 Rolling Hardware
16 gauge galvanized steel tracks
Nylon roller hooks for easy opening
6 mounting styles to connect to various structures
Free standing hardware for up to 20' in height

Static Mount Hardware
Aluminum Angle - Use with self tapping Tek screws to pinch curtain to angle.
Grommets Only - You can then use many DIY methods to hang the curtains.
Beam Clamps - Clamps onto the flange of beams, joists and purlins.