Description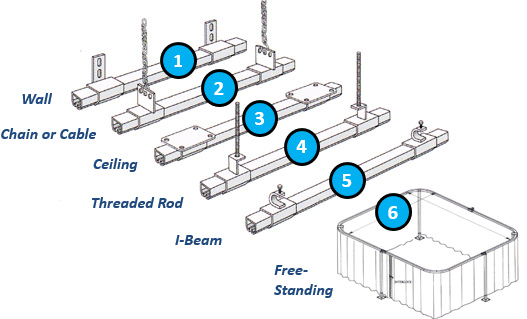 Rolling Hardware
16 gauge galvanized steel tracks
Nylon roller hooks for easy opening
6 mounting styles to connect to various structures
Free standing hardware for up to 20' in height

Static Mount Hardware
Aluminum Angle - Use with self tapping Tek screws to pinch curtain to angle.
Grommets Only - You can then use many DIY methods to hang the curtains.
Beam Clamps - Clamps onto the flange of beams, joists and purlins.
Drop Ceiling Mount
Chain or Cable Track Hardware is made just for drop ceilings
Cables are dropped down from structure above at any height
Track support tab sticks above the ceiling tiles for clean install
Heavier duty than aluminum and light I-Beam tracks
Need Portable and Free Standing?
If you need to create a portable and free-standing church backdrop or dividers please see this page.