Description
40 Mil Clear
40 mil USDA Grade Flexible PVC - Non-Porous
Grommets every 12" located at the top of the curtain - Stainless Steel
Grommet hem is double thick for additional strength
Hems are heat sealed to prevent bacteria growth
Colors: Clear only
Double polished
Operating temperature: -20° to 140°F
Made for safe contact with food
Fire retardant
CFIA Certified
Title 21, SI 5113 Certified
18 Oz White
18 oz USDA Grade Flexible Vinyl
Grommets every 12" located at the top of the curtain - Stainless Steel
Grommet hem is double thick for additional strength
Hems are heat sealed to prevent bacteria growth
Colors: White
Operating temperature: -55° F to 160° F
Made for safe contact with food
Fire retardant
CFIA certified
Title 21, SI 5113 certified
For this material please use our custom quote form
Hardware Options
Choose from 9 different mounting options
Style 1-5 - Square track style

Style 6

- USDA Style (Most Common)

Style 7

- Aluminum angle mount

Style 8

- No hardware just grommet mounted

Style 9

- I-beam clamps
Common Hardware Questions
Which style should I choose for the best USDA Compliance
You would want to choose style 6 which is the tube style track. This hardware is specifically designed for wash down and food dust containment applications. Its unique design with rounded edges allows for food debris and food dust to fall off of the hardware.
Can we use the square curtain track with USDA applications?
If you have an environment where wash down is taking place or there is a substantial amount of food dust in the air then we recommend the tube style 6 track. The square type track can collect debris inside of the track which can then lead to bacteria growth.
Are all styles made from Stainless Steel?
As a standard we quote all hardware styles as stainless steel with the exception of the aluminum angle and the static mount I-Beam clamps. Those however, are also available in stainless.
What kind of radius corner options do you have?
We can make any kind of radius corner for your design. We would just need you to specify the dimensions of radius corner. A simple hand sketch of your design is a quick way to get a quote.
We have an insulated drop ceiling, how do we attach the curtain track to that?
An insulated drop ceiling is common in food processing areas. You would want to use our standard threaded rod track tabs which are either welded on or shipped loose. You would then drop down through the insulated drop ceiling a rod which would go into our mounting tab. You would then weld the rod to the tab. Some installers also prefer no tabs and they just weld to the vertical fin.
The Industry Leader
Key Benefits
Less expensive than USDA rigid walls
USDA curtains can be taken down quickly when not needed
Can be re-purposed in other areas
Ability to purchase more food grade curtains and attach to existing track
Divide wash down areas quickly
Contain allergens
Food safe USDA grade curtains improve worker safety
Quick to roll out of way when not in use
Easy to clean with slick surface of Vinyl
Contain air migration, odors, dust, over-spray
Lifetime warranty on all hardware and 5 year warranty on curtains
Many Layout Options
AKON can supply just about any layout for your USDA curtains that you can think of. Below are some common styles. They can be single sided, double-sided, triple sided, four-sided or multiple straights to create complete enclosures. You simply inform AKON about your desired design and we will have it fabricated exactly as you need it. For customized layouts, sketch your design and upload it using our online RFQ form. See button below.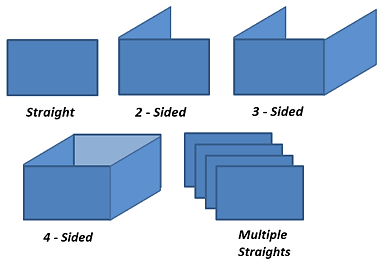 How do I know if I need a USDA Grade Curtain?
As a general rule, any curtain which is going to come in direct contact with food needs to be Title 21 CFR compliant. This is a type of PVC which will not leach any additives into the food.
The USDA passed the onus of compound compliance/approval to be under FDA provisions, specifically Title 21 CFR (Code of Federal Regulations). Since the USDA does not approve equipment or materials, we have material that meets CFR 21, which ensures that the compounds used are FDA certified raw materials. The AKON curtains are Title 21 CFR compliant and carry a UFL-94 Fire Cert.
If your curtains will not be near open food then it is likely you can use the less expensive wash down curtains using standard 18oz Vinyl. Just ask your AKON representative to quote them as "heat sealed" versus stitched.
Does the USDA Approve the curtains?
The USDA does not actually approve the material for the curtains or the track. They stopped doing that several years ago. What they are looking for is that the materials used around open food to meet certain specifications. For our curtains, that would be Title 21 CFR (Code of Federal Regulations) and for the hardware they are looking for stainless steel construction.
Is there a maximum width for the curtain sections?
Yes, there is a maximum width to the curtain sections due to the manufacturing processes we use. It is determined by the overall height of the curtain so we have to check with production to see what the maximum width can be. Also it is worth noting that the 40 mil thick (40 mil - 40mil Thick, 3.95 oz. per square foot) are fairly heavy curtains and for ease of installation is better to keep the width narrower. This makes it easier for the associates to roll them side to side.
How do you connect one curtain to another can you use Velcro?
Velcro cannot be used in  food processing environments as it will collect and Harbor food debris which will then result in bacteria growth. If you have a long stretch of curtains then we recommend simply overlapping the curtain sections by 12 inches where they come together. While it is not "physically" attached it is a good seal that keeps dust and water from getting through.
Can you field cut the curtains?
Yes you can feel the cut the food processing curtains. This does not affect your warranty and is a very common practice.
We need to use the curtains as an allergens divider for food dust. Is that common?
Yes, that is very common. Controlling allergens in food manufacturing plants is becoming more of problem for plants. Its the number one reason for food safety recalls in the U.S according to the U.S. Department of Agriculture Food Safety and Inspection Services (Source). We work with many plants that us our curtains to control and divide food production lines to control these allergens.
Lead Time
Curtain ships in 10-12 work days
Hardware ships in 15-20 work days
Ships on a pallet due to weight and size
You can also specify your shipping account
Warranty
Curtains - 5 year warranty on manufacturing defects
Hardware - Lifetime warranty on manufacturing defects